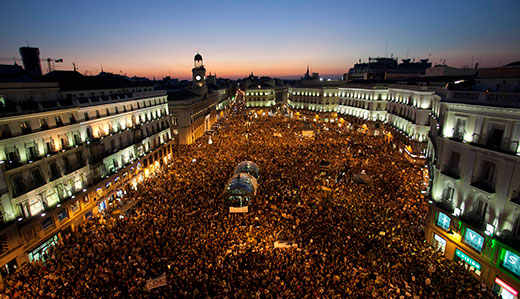 CHICAGO – Chicago police arrested 175 Occupy Wall Street supporters in Grant Park here early Sunday morning. Hundreds had set up tents and sleeping bags in the famous park as part of the now worldwide protest that began a month ago in New York City. Their action was part of a global day of demonstrations on Saturday that erupted over the United States and Canada and swept across Asia, Europe and Australia.
In Chicago, some 3,000 had marched Saturday night to the downtown park from the occupiers' 23-day-old center of operations in this city's financial district.
For three weeks none had been arrested in Chicago. With the decision on Saturday night, however, to occupy a new public space, which technically violated 11 p.m. park closure regulations, all of that changed.
After 11 p.m. police informed the occupants that they were in violation of the ordinance and that they needed to vacate or be arrested. Demonstrators locked arms, forming a barrier around the encampment as thousands across the street on Michigan Ave. chanted their support. The crowds clapped, chanted and cheered. They sang "This land is Your Land" and "The Times They Are a-Changing."
The Chicago police began their arrests at 1 a.m., but unlike brutal police actions in New York, they asked demonstrators if they would like to leave. If they said no, the police explained, they would be arrested.
Crowds gathered at the police station and cheered as those who had been brought in for booking were released.
Just hours after the arrests, demonstrators were back out on the streets, saying they will not be deterred.
Millions protested at more than 950 demonstrations in 80 countries marking a full month since the rallies against the global financial system began.
In the U.S. and Canada dozens of cities saw demonstrations Saturday, including Washington, Boston, Chicago, Los Angeles, Miami and Toronto.
More than 40 people were arrested in New York's Times Square after more than 20,000 had marched from the city's financial district to midtown Manhattan. Traffic stalled in every direction as they packed into the square in what was the largest Occupy demonstration in the U.S. so far. Thirty-two more were arrested in New York on Sunday in an occupation of Citibank.
Violence that broke out in Rome was the exception, rather than the rule, as demonstrations all over the world were generally peaceful. Italians were angry about a 60 billion euro austerity package that has raised taxes and will make the public health care system more expensive.
Marchers jammed the main street in Auckland, New Zealand's largest city Saturday. Some 5,000 rallied in that city where they chanted and denounced corporate greed.
Thousands rallied in Sydney, Australia, where Aboriginal groups and trade unionists joined the rallies outside the Central Reserve Bank. "They don't want corporate influence over their politicians," Nick Carlson, a leader of Occupy Melbourne, told the international press.
Hundreds of Occupy Tokyo demonstrators, joined by anti-nuclear protesters, marched on the Tokyo Electric Power Co., which operates the earthquake- and tsunami-shaken Fukushima nuclear plant.
In Manila, capital of the Philippines, there was a march on the U.S. embassy. People waved banners reading, "Philippines not for sale" and other banners demanding the ouster of U.S. troops.
Demonstrators swamped the Taipei Stock Exchange, chanting "We are Taiwan's 99 percent."
Tens of thousands converged on the London Stock Exchange. There were hundreds of banners reading "Occupy the Stock Exchange."
Speakers at the enormous rallies in Greece warned the people of countries all over the world that the economic nightmare in Greece would spread around the world if people fail to curb the power of Wall Street.
In Germany people marched on the financial center of Frankfurt and the European Central Bank.
Demonstrators in Seoul, South Korea, clogged the main financial district for two days straight.
Photo: Demonstrators fill Madrid's Puerta del Sol square as part of the worldwide Occupy the City protests Saturday, Oct. 15. AP/Arturo Rodriguez