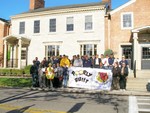 BIRMINGHAM, Mich. — To wear a lemon costume in public you have to be pretty serious about your cause. So upset was Terry Templeton with the inferior construction of her Pulte-built home that the Arizona resident traveled all the way to Michigan to air her complaints at a shareholders meeting of Pulte Homes Inc.
At a demonstration outside the meeting, Templeton said, "I'm here because I don't want another family to go through the suffering we've gone through. I thought they were a quality reputable company. They lied to me, they lied to my family and they are doing it to other folks. I cannot let that happen to one more person."
After being told so many times by the company that it was only her house that had the problems (minimum of eight to 10 plumbing leaks, entire ceiling fell downstairs, electrical arcs, mold, stucco problems and more), Templeton began talking to her neighbors and discovered the problems are "pretty much throughout the entire subdivision."
It's easy to see where those problems come from after talking to the workers who actually build the homes. Speed-up and denial of rights on the job are a big problem. "They ask us to finish homes in less time than is possible" and deny workers basic necessities like drinking water, all of which makes conditions unsafe, said Gilberto Lopez, who worked for a Nevada Pulte subcontractor doing painting and drywall work.
Building trades workers from Michigan who participated in the rally said they see the growth of non-union builders like Pulte (who have a big presence in the state) as a threat to their jobs.
With non-union builders, worker safety and home quality suffer, said Martin Brna and Tony Morgan, members of Painters District Council 22 in Michigan. They told this reporter, "You have to know the material you're dealing with, the hazards you're dealing with — there are lots and lots of different factors."
"We have strict safety standards on union jobs," they said, but, in contrast, "you won't see OSHA on a lot of these non-union jobs. Pulte has a terrible reputation in how they treat their workers."
Detroit Metro AFL-CIO President Saundra Williams said Pulte must stop building "lemons." She said, "They must provide better pay, the proper equipment, and make worksite safety a higher priority. Is that too much to ask?"
In spite of the economic downturn, Williams said, Pulte Homes has been an extremely profitable company. "This company rode the wave of the building boom and its top officers and shareholders were rewarded very, very handsomely. I wish I could say the same for the workers who build these homes," she said.
Before a delegation representing workers and homeowners went into the stockholders meeting, Father Norman Thomas, from the Interfaith Committee on Worker Issues, said that like others in Catholic circles around Detroit, he thought the Pulte name was a good name — "until I went to Las Vegas." He said, "I want to tell them [the stockholders] what I experienced there because we met with the workers and we saw the homes. I want to let them know a lot of people know the other side."
jrummel @ pww.org