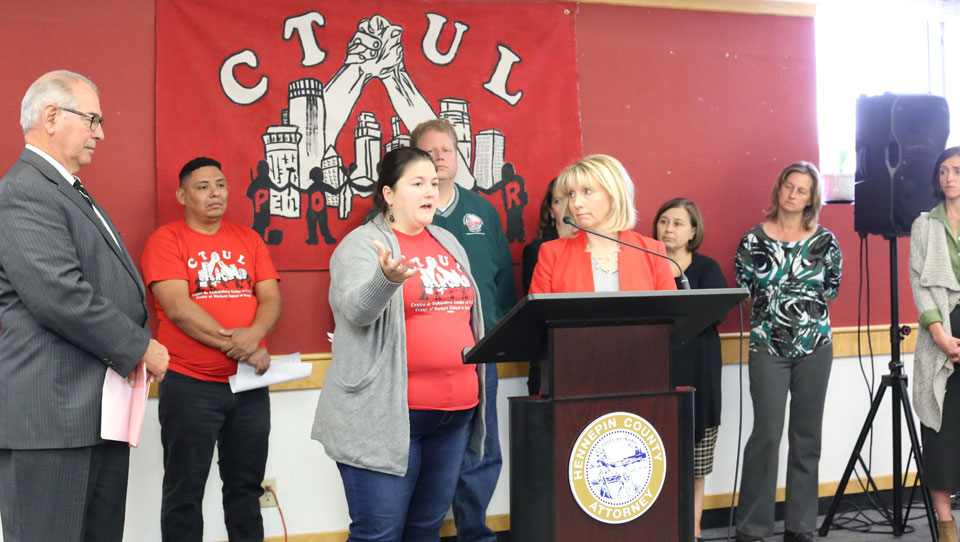 MINNEAPOLIS—In an extreme case of worker exploitation, Hennepin County (Minneapolis) District Attorney Mike Freeman charged construction contractor Ricardo Batres, whose American Contractors and Associates was working on projects for two of the Twin Cities' biggest building firms, with human trafficking, fraud, and other crimes.
And the Centro Trabajadores Unidos en la Lucha (CTUL), the Twin Cities worker center which amassed the evidence for the DA and which went to bat for the exploited workers, says Batres's firm is not the sole violator, based on stories it gathered from other workers who have come forward since then.
Freeman charged Batres and ACA with human trafficking, theft by swindle and insurance fraud in early November. No date has been set for Batres's trial. But related problems, CTUL said at a press conference with Freeman and several oppressed workers, include not just that such practices exist among other contractors, but that Batres's firm was a subcontractor for two of the Twin Cities' biggest construction firms, Reuter Walton and Lennar.
Those companies said they were unaware of what Batres was doing, even though they hired his firm for the work. So the two were not charged.
Batres's arrest and the DA's charges were one reason the Partnership for Freedom gave CTUL a 2-year grant for its work against both labor and sex trafficking, several days later. Partnership program manager Megan Tackney particularly praised CTUL "because they put workers at the center of all they do." She cited "CTUL's ability to reach thousands of low-wage workers in industries that have frequent violations of worker rights, and those who have traditionally been vulnerable to exploitation, including immigrants, communities of color, and women." Unions strongly support CTUL, including financially.
Batres' firm recruited workers, often from other parts of Minnesota, to do framing on multi-family residential construction projects in the Twin Cities area. The workers who went to the DA, with CTUL's help and evidence, said Batres offered them $18-$23 an hour and free housing.
But once he got them to work, Batres forced them to file false documents so he could avoid paying state and federal taxes, thus reducing his labor costs. If they complained about wage theft or reported workplace injuries, Batres threatened to call the federal Immigration and Customs Enforcement (ICE) on them.
That's a typical response from low-road employers with many Spanish-speaking workers, native, naturalized or immigrant.
"We decided to fight back because we are human beings who deserve to be treated with dignity, regardless of where we come from, what language we speak, or how we earn the bread we eat, we have basic rights that should never be violated," worker Yimer Iriarte Banegas, a worker who went to CTUL for help.
"All too often, crimes like labor trafficking go unreported, and victims – usually the most vulnerable members of our city – are denied justice," said Minneapolis Mayor Jacob Frey. "In Minneapolis, we are committed to enforcing our labor laws and holding accountable bad actors who attempt to deny workers the respect and dignity they deserve. Anyone involved in the construction industry should be held to a set of standards that ensures workers are treated with dignity and issues like labor trafficking and wage theft are eradicated."
Firms like Batres's ACA also undercut honest construction contractors who follow the law. "Unethical employers and the developers who use them harm workers," University of Minnesota professor Aaron Sojourner told Workday Minnesota. "This low-road strategy puts ethical employers at a competitive disadvantage, creating a race to the bottom."
"The economy runs on trust," Sojourner told Workday. "Cheaters corrode it."
Batres is not the only law-breaker, and the big firms should not be allowed to get away with disclaiming responsibility for misdeeds of their subcontractors, CTUL said.
"Construction workers have come forward telling CTUL of similar experiences with" Batres. "In addition, workers are sharing stories on social media of extreme abuses by other contractors in the industry. Clearly, this is not an isolated case but is a symptom of a widespread and systemic problem" in construction.
Big contractors' denials that they directly contracted Batres's company "and therefore had no knowledge of the reported abuses taking place on their projects, is highly disappointing," CTUL added. "This does not offer any meaningful solution to the problems faced by construction workers, beyond cooperation with law enforcement once such abuses are uncovered."
"Let's be clear. This approach from developers and general contractors does nothing to detect and remedy existing abuses or to prevent future abuses. Worse, by denying ultimate responsibility for the working conditions on their projects, it is all but guaranteed that such abuses will continue to take place unchecked," CTUL warned.
Labor trafficking in the U.S., including in the construction industry, is probably underreported, the U.S. State Department's most recent report on human rights worldwide shows. Most labor trafficking is intertwined with the illegal sex trade, and most of it involved communities of color, the data adds. Native American workers were particularly vulnerable, it noted.
"Non-government organizations (NGOs) and survivor advocates called for increased collaboration between law enforcement, service providers, and survivors, including in preparation for enforcement actions. They also called for the development of best practices to identify and respond to the increased use of technology, including social media," to find and aid victims of labor trafficking, the report adds.
In fiscal year 2017, which ended Sept. 30, 2017, the federal Homeland Security Department "opened 833 investigations possibly involving human trafficking, a decrease from 1,029 in FY 2016." The Justice Department "formally opened 782 human trafficking investigations, a decrease from 843 in FY 2016." Justice started 282 prosecutions in fiscal 2017, up 41 from the year before. But only 16 of the 282 involved labor trafficking.  The feds have no central source of state and local labor trafficking investigations and prosecutions, the State Department human rights report notes.
And NGOs "continued to report state and local law enforcement demonstrated uncertainty regarding their authority to investigate and prosecute forced labor cases and lacked formal structures to increase the identification of such cases," the report adds.