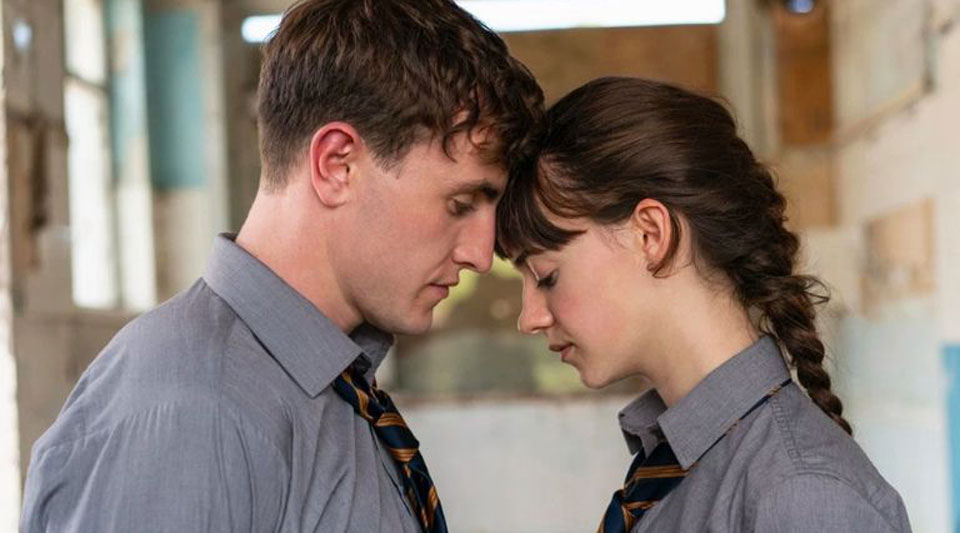 Marianne is the smartest girl in the small West Ireland high school. She knows it. As a classmate acknowledges to her, "You're smarter than me." "Smarter than everyone," Marianne shoots back.  When a teacher scolds her for not paying attention, Marianne sharply knifes back at him: "Don't hurt yourself. I've nothing to learn from you." The entire class laughs, nervously.
The fragility of her false bravado unravels social interactions. She knows her intelligence is resented by her classmates and sometimes even by herself. She wears her unpopularity proudly fixed to her hairshirt.
Connell is popular. He's bright, athletic, ruggedly good looking, and painfully shy. His mother Lorraine cleans the elegant Marianne's family house. Lorraine is the mother of Marianne's dreams: warm, effusive, supportive, and forward-thinking. Marianne's actual mother and brother are cold, harsh, and cruel. The chilling shadow of her father haunts them. The subtext is abuse, both emotional and physical.
The two young people are more than aware of each other at school and out. In a brief moment alone, Marianne observes to Connell, "I like you." Things proceed quickly from there as they speed through high school, romance punctuated by abundant sex.
Normal People tracks the relationship as it lurches on and off, catapulting from their hometown Sligo High School, through Trinity University. The bonds and constraints of origins provide foundation and limits: Class, personality, and always sex. Friends and other relationships come and go, live and die.
Still, their early easy understanding of sameness and difference is the solace and spiritual well from which Marianne and Connell draw sustenance. The intelligence that makes them more vulnerable to deeply felt emotions offers tools to build adult lives out of the chaos of young adulthood. The dramatic tension is not so much the question of whether their relationship will survive, but how and if they will emerge at all as healthy adults. Will they founder as did Marianne's mother and brother? Or will they realize their enormous potential?
The series is lavishly filmed with the camera loving, patient, and very, very close, almost participant in the most intimate expressions of relationship. Award-winning directors Lenny Abrahamson (Room) and Hettie Macdonald (Doctor Who, Hit and Miss) orchestrate the coloratura operatic suite of emotion deeply felt without ever overplaying their hand. Pacing is handled delicately. Small touches denote character development, as Marianne and Connell stumble, rise and grow before our eyes. We are shown the understandings they reach through the superb acting of Daisy Edgar-Jones and Paul Mescal. The political context of their different class backgrounds is sketched with restraint, but never far from the surface.
Celebrated writer Sally Rooney has done a superb job of helping adapt her second novel to the small screen. As a Marxist, Rooney would not have her characters back away from issues of class or race. But these are handled deftly, woven into the context of the mini-series, passing statements and situations without polemics.
If anything Rooney's modern progressive attitude has enriched and strengthened this highly praised depiction of modern romance buffeted by life's passages. Rooney et al have created a masterpiece.
Normal People is available on Netflix.