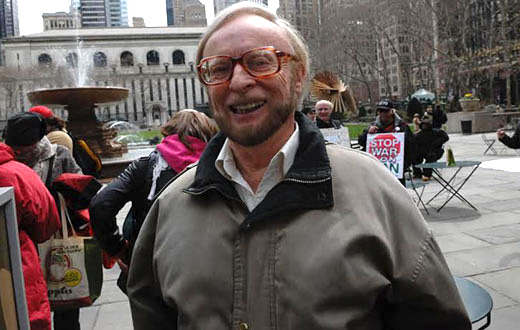 Activists in the movements for peace, economic justice, civil rights and socialism are mourning the loss of Norman Hodgett who died in New York August 9. Norman leaves behind his beloved Kathy Rutkowsky and countless friends and comrades.
Norman Hodgett was born in the height of the Great Depression in Kewanee, Ill. in 1932.
At the tail end of World War II he went, as a teenager, to live with an aunt and an uncle in Los Angeles, California where he finished high school at night.
He entered the Air Force during the Korean War and served stateside as a dental technician for the men and women who enlisted and servicemen who were drafted. When his service was over he went to the University of Denver in Colorado where he plunged himself into not only his liberal arts studies but into struggles for civil and human rights.
It was in Denver that he met and began working with Howard Wallace, then a young civil rights activist who Norman credited with teaching him the ropes when it came to civil rights struggles.
Wallace fought for the rights of minorities in Colorado and went on to become an iconic figure in the struggle for LGBT rights, forging the alliances between the gay rights movement and the labor movement that would eventually see the formation of Pride at Work, the LGBT constituency group in the AFL-CIO.
Norman was an active participant in those struggles in Colorado and in later years ill he engaged in the fight to get Coors Beer products out of gay bars and restaurants. Civil rights activists took aim at Coors because it was requiring its employees to take lie detector tests that asked them whether they were homosexuals.
Norman and Kathy, who had a life commitment ceremony in 1977, visited Wallace in San Francisco shortly before his death two years ago.
Also while he lived in Denver, Norman met Rodolfo "Corky" Gonzalez. He joined and became a leading member of Corky's civil rights organization, the Crusade for Justice.
The protests led by the group made Denver the focal point of Chicano activism in the 1960's. Norman helped lead many of the campaigns against police brutality in Denver and, in recognition of his work in those struggles, he was elected co-chair of the Denver chapter of the NAACP.
He made the connection between injustice here at home and a foreign policy that essentially disregarded the rights of people living in other countries and became an activist in the Fair Play for Cuba Committee. Seeing the connection between his struggles and the capitalist system that caused the problems he was tackling, Norman joined the Communist Party after moving to New York where he continued his work for economic justice, equality, and peace.
He was elected a member of the vestry at St. Mark's Church and led many of the iconic campaigns for peace, progress and justice that operated out of that center in the late 1960's and 1970's.
He became a social worker in New York, working for Protective Services, and was an active member of his union, Local 371 of DC 37.
He was a familiar face at demonstrations organized by Pastors for Peace in his early years in New York and at every civil rights, peace or economic justice rally in New York for the last 40 years.
In his travels Norman became particularly fond of the German Democratic Republic and some of the advances that country had made in the fight to lift people out of poverty. He became a leader of the United States Committee for Friendship with the GDR doing everything from bringing Hollywood actors on trips to the GDR to shipping books from the GDR to German language departments at universities all over the United States.
After the restoration of capitalism in eastern Europe he stepped up another of his many areas of work – building solidarity with Cuba – and he helped organize forums until shortly before his death. He also supported the progressive developments in Venezuela, circulating petitions and joining demonstrations against U.S. interference in the internal affairs of that country.
"Norman taught us all so much," said Kathy, a retired New York City nurse who was at his side and herself a leader in many of his activities from the 1970's until now.
There will be a memorial next weekend on Saturday, August 23 in New York to which the public is invited.
It will take place at St. Mark's Church which is on 2nd Ave. between 10th and 11th Streets in New York City. The affair will run from 2 p.m. until 4 p.m. in the Parish Hall. Since the church is undergoing renovation people should use the entrance on 11th Street which is between 2nd and 3rd Avenues.
Photo: Norman Hodgett, at a demonstration as usual. Courtesty of Kathy Rutkowsky