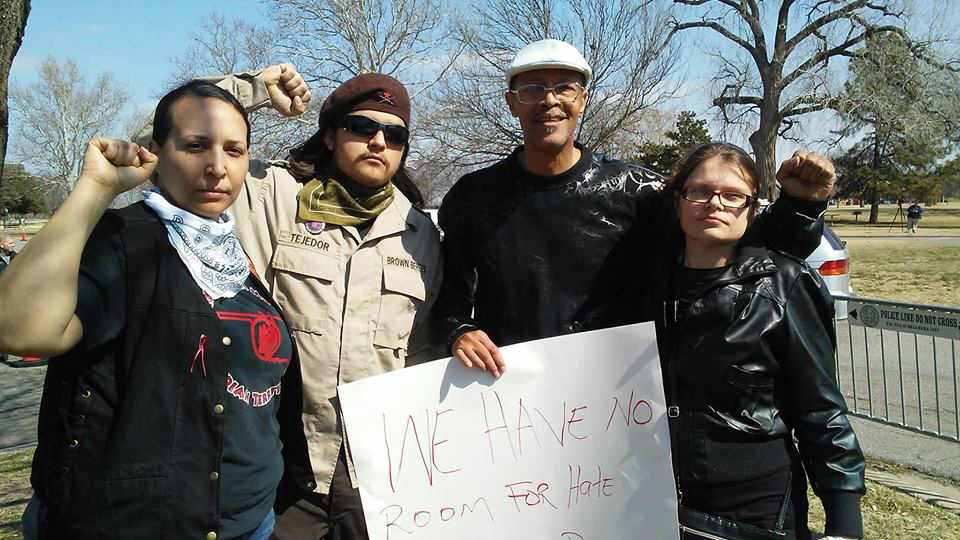 NORMAN, Okla.—"With a heart rate of 116 and complaining of an excruciating headache, my nephew, Marconia Kessee, was turned away from the hospital and arrested by the Norman Police Department for trespassing," Michael Washington said. "Two hours later my nephew laid upon the cold concrete floor naked and dead." Paperwork Washington has gathered showed the triage intake memo showing a heart rate of 116. Kessee also suffered from mental and other medical issues as well.
Washington continued, "Normal heartbeats are between 60-100 beats a minute. He was over that by 16 beats. Consequently he died of a heart attack. No question about it. And he'd been dead long before 9:30-9:45. That's why they waited that long to check on him. Trying to get their stories straight."
On Sunday, Feb. 25, over 40 persons attended a protest in front of Norman Regional Hospital where Kessee was turned away. The Norman Police body cam of the cruel and unusual treatment of Marconia, was placed on Now This News where it has been shared and seen 4,367,000 times.
I attended the rally in support of American Indian Movement-Indian Territory Chapter (AIM-IT). Also Red Dirt Defense,  Carnalismo National Brown Berets, Norman Citizens for Racial Justice, and Our Revolution Oklahoma came to stand in support and push for justice.
There were calls and chants for the immediate resignation of the privatized Norman Regional Hospital president and attending physician, as well for the two Norman police officers and personnel at Cleveland County jail. "My nephew was undressed and shoved into a cold cell naked," Washington exclaimed to the protestors. "He was placed on suicide watch, which meant the jail personnel were to check on him every fifteen minutes. Yet log sheets [show] they [jail personnel] waited over an hour to check on him, when they found him unresponsive."
Washington passionately told the crowd, "We're not playing one bit. We demand justice in the untimely and uncalled-for death of my nephew and we'll not rest until hospital president Richie Splitt and treating physician Steven Roberts are both fired. Bottom line."
On the police body cams one can hear the belittling comments, "dog," "faking," and that "he was putting on a show." The video depicts a clear medical emergency with Marconia, yet the policemen state, "You are not going back into the hospital." Video footage shows the police dragging him off the property.
"No human being should be treated like that, especially by public servants such as the police," Washington shouted out to the protestors.
OU Daily, the University of Oklahoma student newspaper, stated that Norman Citizens for Racial Justice had called Norman Regional Hospital negligent. Specifically, they said the Norman police officers "treated Marconia with extreme cruelty, denying him basic human rights, and profiling him because he was black, homeless and ill."
Mary Topaum, director of AIM-IT, asked of the gathered crowd, "When are the police going to be held accountable? When are the doctors and nurses going to be held accountable? They are the people that have jobs to help serve us, and they are not doing it." Topaum cited her own medical professional work with five degrees. "No nurse should ever release a patient with 116 heart rate and complaining of headaches." The proper procedure is immediate transfer to an emergency room with EKG monitoring to be placed on the patient, she said.
Her husband, Michael Topaum, sang a Kiowa Honoring Song for Marconia.
Local Oklahoma City members of Brown Berets de Cemanahuac.  reminded the crowd of several key factors. First, persons of color, brown- or black-skinned folks are treated much differently than white persons. Cochimiqui Cuetachtli said, "Look at how Magdiel Sanchez was treated. And now we are here again for this with Marconia; when will it stop?"
Melody Ball, with Our Revolution Oklahoma, brought up how the current political season has Todd Gibson running. "He is the former Norman police captain who we have emails showing his request for militarization vehicles for Norman," Ball stated. "Norman folks should know this truth before entering the polling sites." Ashley McCray of Norman Citizens for Racial Justice also spoke on this to the gathering. "Why is Norman even attempting to get militarized weapons and vehicles? I mean, come on, here in Norman?" The crowd's laughter and accolades were heard loudly over this statement.
Sarah Jensen, a spokesperson for the Norman Police Department, previously said that there was an internal investigation into the officers' disparaging comments and actions. Officers Kyle Canaan and Daniel Brown have been placed on paid suspension since the body camera footage was released.
Michael Washington exclaimed "Somebody, please tell me what kind of black leadership do we have here in Oklahoma? I asked this question because not one black church, not one pastor or minister, not one black legislator, reached out to our family after the horrific untimely death of my nephew in the Cleveland County Jail. What a shame."
Sunday, March 11th the protesting continued at the Norman Police department. Washington said, "We demand that officers Kyle Canaan and Daniel Brown be fired immediately. I'm sure we all know why we want those two fired. Just go back and watch the video footage of the body camera worn by the officer at Norman Regional Hospital. They treated Marconia like he was an animal, and we're not going to stand for it."
About 40 persons showed up with the above mentioned groups showing solidarity and support. The Norman Police Department police were not outside during the protest. Yet they did test their car sirens during the protest as if to disrupt the hearing of the speakers.
Sunday, March 25, another protest is planned at the Cleveland County jail. In May, Washington is planning a public celebration. "We're going to remember all those killed by the police in May," Washington said. "We want to memorialize those individuals and let others know their loved ones will not be forgotten."