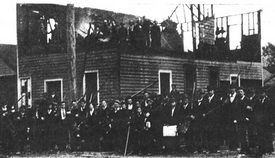 WILMINGTON, N.C. — An eager crowd squeezed into the auditorium of the Cape Fear Museum Feb. 28 to discuss what happened here 108 years ago. They were enthusiastic about the chance to discuss events that until now were mostly only talked about in whispers and in small family gatherings.
On Nov. 10, 1898, an organized white mob used force and violence to overthrow Wilmington's duly elected city government. Historians researching the event call it the only actual coup d'etat on U.S. soil.
On that day the local Black-owned newspaper, the Daily Record, was burned out and its presses destroyed. Racist gangs called "Red Shirts" rampaged through Black neighborhoods shooting into Black crowds and ransacking homes.
In the name of ending "Negro Rule," about 200 armed men organized by the White Government Union invaded City Hall, forcing aldermen to resign and then "electing" white supremacist replacements hand-picked by the mob. (Only three of the 10 aldermen replaced were African American.) In the following days, hundreds of Black community leaders and their families were arrested, put on trains and expelled from the area. Some whites who opposed the White Government Union were also expelled. Hundreds more African American residents fled on their own, never to return.
While the Wilmington race riot, as it came to be known, was particularly violent and brutal, it was only part of a larger statewide effort to overthrow the more democratic governing coalition established during Reconstruction after the Civil War. The Wilmington race riot helped statewide efforts by planters, the railroads and white supremacists to overthrow a coalition of Republicans (including Abolitionists, white small businessmen and African American leaders) and Populists (including many poor white farmers and rural people).
In 2000 the North Carolina Legislature established the 1898 Wilmington Race Riot Commission "to develop a historical record of the event and to assess the economic impact of the riot on African Americans locally and across the region and state."
The meeting at the Cape Fear Museum was one of four public discussions sponsored by the commission around the state. LeRae Umfleet, the commission's chief researcher, presented a summary of its draft report. The final report is to be presented to the North Carolina General Assembly in May, along with recommendations.
Umfleet pointed out that the riot in Wilmington was an open conspiracy, openly planned for months in advance and openly executed. She said it was later used as a model to plan similar race riots in Atlanta, Tulsa, Okla., and Rosewood, Fla. The Oklahoma Legislature appointed a commission to document the incidents in Tulsa and make recommendations. This led to a commission report in 2001 and a flurry of bills for reparations. The Florida Department of Law Enforcement's 1993 investigation led to a state bill to compensate the massacre's survivors.
The commission did not present specific recommendations at the Cape Fear meeting, but several items are under consideration for the final report, including a mandate to include the event in school curricula, apologies from the Legislature and elected officials to descendants, and some form of reparations.
State Rep. Thomas E. Wright, a commission co-chair and one of its main initiators, told the gathering, "What we have in this draft is what we can prove." For example, Umfleet said deaths were probably undercounted because some evidence shows bodies were simply dumped into the surrounding swamps or rivers and never accounted for in coroners' records.
Prior to the riot, Wilmington had a thriving African American business community and African Americans were a majority in the city. After the riot, Black businesses lay in ruins. By the early 1900s Wilmington was majority white.
Commission member and former Wilmington Mayor Harper Peterson, who is white, cited a recent study showing African American children today in North Carolina are suspended from schools in far greater numbers and percentages than white students. Peterson said this continued discrimination is directly linked to the events of 1898 and the statewide seizure of power by white supremacists.
"I feel personal responsibility that we make restitution," Peterson said. "Folks who say we should put it behind us and move on are a disgrace." He got a sustained round of applause from the largely white audience.