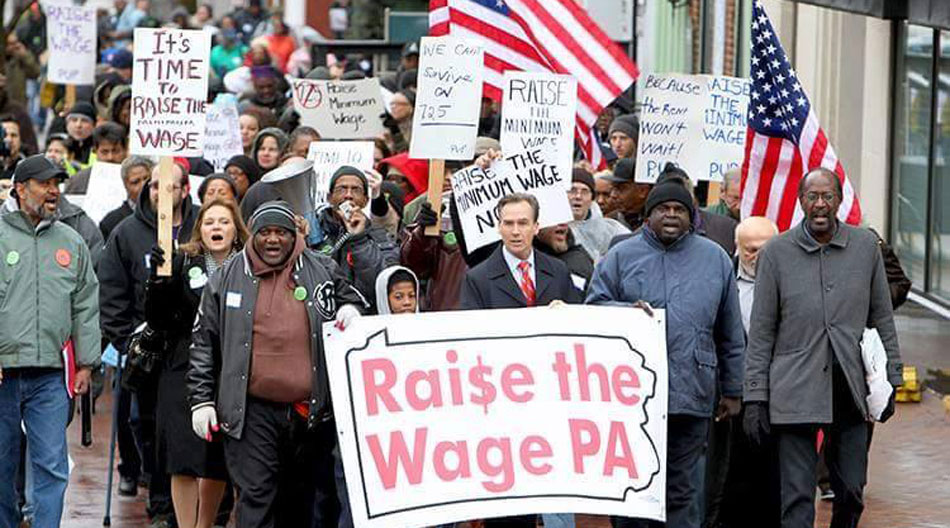 PHILADELPHIA—A recent People's World article by Rev. Jim Conn points out a basic lie of corporate propaganda: that when big business does better, so do the rest of us. Two events this weekend in Philadelphia's Northwest neighborhoods highlighted this point. Both events, while small, were rich in energy and ideas and reflected the rich racial heritage of our neighborhoods.
The first event took place Saturday in the city's predominantly working-class, African-American Germantown section, at the Joseph Coleman Public Library. There, about twenty residents turned out for a panel discussion titled "Good Jobs, Education, Healthcare: A Germantown for All." The discussion featured three representatives from Germantown's Black community: Victoria Greene, Executive Director of E.M.I.R. (Every Murder is Real); Ted Stones, community activist and Democratic Party committeeperson; and Dr. Sheri Faulkner-Davis, Senior Program Director of the Center for Innovation in Worker Organization at Rutgers University. The event was moderated by poet and Communist Party member Irving Jones.
Ms. Greene spoke of her organization's work in supporting those who have lost family members to gun violence in the neighborhood. Over time, E.M.I.R. has developed into a leader on this front. In September, it hosted a conference on gun violence bringing in over 200 participants, including city council members and progressive State Senator Art Haywood. E.M.I.R. takes its name from Greene's son, who was murdered in 1997. "People do not understand how devastating it is," she stated, "and not just to the individuals involved but to the community. This violence is an attack on the fabric of our community."
The issue of youth violence came up repeatedly throughout the afternoon. In his comments, Stones pointed out that, "A young person does not kill another young person because they are better dressed or because of a girl. They do it because they hate themselves. Capitalism has taught our (Black) youth to hate themselves."
Stones continued, "We need a new, Left, Black leadership. Our current leaders have failed our community. We need to figure out how to unite our diverse, Black community to fight for real power."
Faulkner-Davis spoke of the conditions of women of color in the neighborhood and especially the way that low wages, unemployment, and violence impact them and their families. Citing census data, she pointed out that Germantown is one of Philadelphia's poorest communities. Over 70 percent of the population is working-class and African-American, according to the data. "What better place to start," she asked, "than here?"
Audience participation was vibrant. Seth Anderson-Oberman, political director of the American Federation of Teachers for New Jersey, pointed out that while Germantown is statistically poor, it is home to many local organizations, from churches and mosques to block organizations and civic groups. "Why don't we take that energy and build a campaign to organize the workplaces in our neighborhood?" he suggested. "There is a Burger King, a Wendy's, a Popeye's, a McDonald's, and many more here. They take our money, but we know that our neighbors who work in those places don't make a living wage or have healthcare. That needs to change."
The event was eye-opening to many who participated. Greene told this reporter afterwards, "At our conference, we set up committees to work on housing issues, violence and legal issues. But somehow, we didn't think to tie the violence to a fight for better wages!" Stones spoke of the "impressive sense of unity and purpose coming out of this meeting."
The next step for this group will be another gathering on February 17, also at Coleman Library. This meeting, which will be led by Nick Alpers, mobilization coordinator of the Philadelphia AFL-CIO, will be a unit of the union federation's famed "Common Sense Economics" curriculum.
Celebrating Dr. King's legacy
The second event this weekend was an outdoor rally which took place the following Monday (MLK Day), the next neighborhood over, in front of the CVS pharmacy in Mount Airy. Led by Unitarian Society of Germantown Pastor Kent Matthies, the event was part of a statewide effort to push CVS to live up to its so-called 'social commitment' policy. Speakers included John Meyerson, UFCW 1776 and chair of Raise the Wage Pennsylvania, progressive Democratic State Senator Art Hayward, Rabbi Josh Bolton, and Rev. Matties.
Haywood kicked off the rally, pointing out that in 1964 Dr. King advocated for a $2-an-hour minimum wage. Had that wage kept pace with inflation, he said, it would today be much higher than even the $15 demanded by minimum wage advocates. Haywood also pointed out that CVS will receive $1.5 billion from Trump's corporate tax cut. "They need to share that with their employees," he stated. "CVS likes to talk about 'promoting community health'. Well, $15 per hour is as important to a family's health as vaccines are. You cannot adequately feed and house a family on $7.25 an hour!"
Meyerson pointed out that this particular CVS is his 'neighborhood' store: "I live just around the corner," he said, "and I see these folks every day. They are courteous, they work hard, and they deserve better." Regarding Raise the Wage PA's efforts, Meyerson stated, "It is time we eliminate the Pre-emption Clause that prevents Philadelphia and Pittsburgh from raising our own minimum wage. Pennsylvania has one of the lowest minimum wages in the U.S. We have built the political capital to raise the minimum wage in our cities and the state minimum should be just that—the minimum allowable threshold, not an arbitrary cap imposed by Republican legislators!"
Rabbi Bolton centered his comments on the duty to "not remain indifferent to the suffering of others." Following the Jewish precept to 'heal a broken world,' he enjoined CVS to place the welfare of its employees over its corporate 'bottom line'.
Reverend Matthies closed out the rally with a simple observation: "Paying poverty wages is not promoting health." He continued: "Prior to this rally, we met with CVS' leadership and they complained—why us? Everybody out there is doing this. Why target us?!" Matthies smiled as he told the next part of the story, "Well, we said, you know how sometimes the police sit on the side of the road and people are whizzing by, 15, 17, 20 miles over the speed limit? At some point, they gotta pull someone over. They have to start somewhere. And so do we. So today, we're giving you the ticket for your lack of a moral conscience."