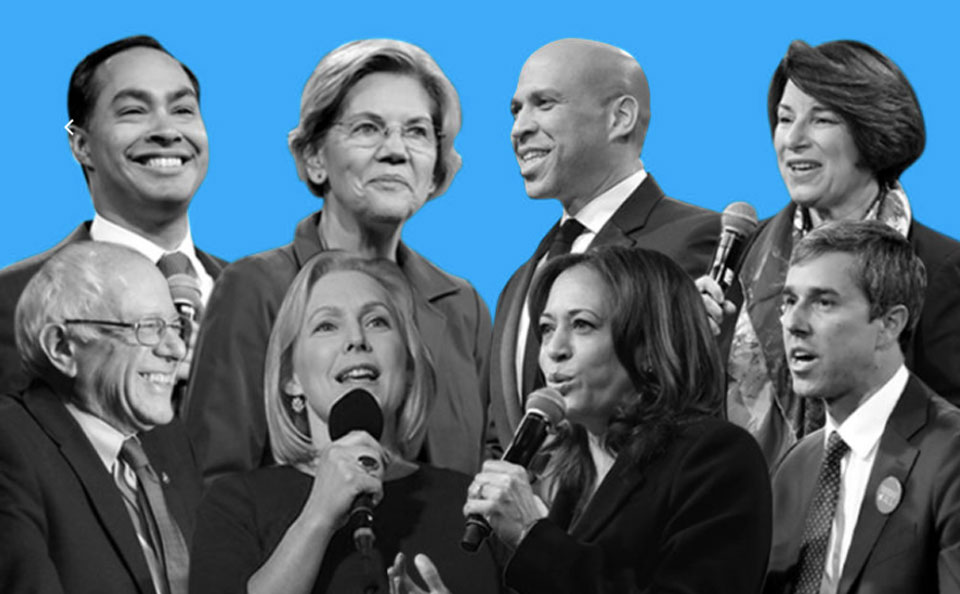 SAN FRANCISCO—It was a forum of Big Ideas. But two of them were missing.
One by one, eight Democratic presidential hopefuls marched to the stage of an auditorium in San Francisco the weekend of June 1-2, there – in five minutes apiece – to tell hundreds of MoveOn activists one "Big Idea" that motivates their runs for the White House.
End endless wars worldwide and use the $1.5 trillion all nations combined spend on the military to create a carbon-free economy, said Sen. Bernie Sanders of Vermont.
Here's my six-point plan to wipe out political corruption, said Sen. Elizabeth Warren of Massachusetts.
Equal pay for equal work and force corporations to prove they're not discriminating – or fine them 1% of their prior year's profits for every 1% of the pay gap – said California Sen. Kamala Harris.
Comprehensive criminal justice reform, including turning the policing system upside down with tough standards for use of force and true discipline for excessive force, said former HUD Secretary and San Antonio Mayor Julian Castro. "It's not just a few bad apples," he said.
Legalize all the 11 million undocumented people and make the nine million "green card" holders citizens, too, said former Rep. Beto O'Rourke of El Paso. His city, a gateway for immigrants, "has been among the safest" in the U.S. "for 20 years – because of immigrants, not despite them."
"I'm not taking fossil fuel dollars or lobbyists' dollars or any of that," said Minnesota Sen. Amy Klobuchar as part of her speech for comprehensive political reform. And it's time to register everyone to vote when they turn 18, she added.
And so on.
But there were two ideas missing, from both the hopefuls' speeches and the reactions, at least from reactions online in blogs and chat rooms: Workers' rights and impeaching GOP President Donald Trump.
The lack of comments about impeachment – and the lack of reaction from the MoveOn crowd – was in direct contrast to the California Democratic Party convention just up the road in San Francisco's Moscone Center.
There, at the site of the 1984 party convention they reminded one of their own, House Speaker Nancy Pelosi of San Francisco, that they want Trump ousted, now. Pelosi still prefers to wait. Harris doesn't.
There, though not before MoveOn, the Californian, who is also a former state attorney general and San Francisco DA, was blunter.  She said the president is "deregulating and deconstructing our government and our democracy.
"We need to begin impeachment proceedings and we need a new commander in chief," she said and got a rousing cheer. Like almost all other candidates at both the Dem convention and the MoveOn conference, she did not mention Trump by name.
Even the only one who criticized Trump before MoveOn – Castro – didn't name him. "We need a president who is going to be a president for everybody and who is not afraid to tackle the biggest issues and the most-controversial ones," he said.
The MoveOn speakers did not mention workers' rights. The California Democrats, however, elected Rusty Hicks, Secretary-Treasurer and moving force of the Los Angeles County Federation of Labor, as their new party chair.
Several of the hopefuls hit both conventions. The Dems drew 14 of the 23 declared candidates. But the leader in opinion polls, former Vice President Joe Biden, skipped both. He was the recipient – at Moscone Center – of a subtle dig from Warren for his past cooperation with the GOP.
"Some say that if we just calm down, the Republicans will come to their senses," she said there. "But our country is in a crisis. The time for small ideas is over."
And in his own dig at Trump, South Bend, Ind., Mayor Pete Buttigieg – who skipped MoveOn – said "The riskiest thing we could do is to try too hard to play it safe. There is no back to normal."
Other high points of the hopefuls' five-minute speeches to MoveOn included:
Sanders said it's time now to "end the endless wars" in Iraq, Afghanistan and U.S. support for the Saudi-led war in Yemen. He led the congressional campaign against it, but Trump vetoed the bill. Sanders also promised to lead the charge on Capitol Hill against Trump's 10,000 troops facing Iran, and saber-rattling there. And he called for repeal of the 2001 and 2002 "blank check" congressional authorizations to use military force, passed after the 2001 al-Qaeda attacks.
The whole basis of U.S. foreign policy must change from wars first to diplomacy first, he said.
Sen. Cory Booker, D-N.J., slammed Trump, by name, for divisiveness and hatred, before pivoting to his theme: Reducing income inequality by establishing $1,000-per-child bank accounts for every newborn, with $2,000 more added every year. With interest, that would come to $50,000 by age 18, giving new people of color assets – and hope – they don't have now.
"If you are a low-wage worker or a worker who doesn't have access to paid family leave – which eight out of 10 workers don't – how do you make that choice?" between caring for yourself or a sick family member and your paycheck, asked Sen. Kirsten Gillibrand, D-N.Y. Her solution: A national paid family and medical leave law – which isn't law right now because moneyed interests oppose it.
"We have a government that works for the slice at the top – those with money and isn't working very much for anyone else, Warren said. "That's corruption, pure and simple and we need to call it out." Besides, she said,  nothing else will get fixed, or accomplished, until corruption is rooted out.
Warren's six points – "I could go on all day," she noted – including "ending lobbying as we know it," an absolute lifetime ban on lobbying by former lawmakers, agency heads, Cabinet officers and presidents. Th4 points also included imposing "basic ethics rules" on the U.S. Supreme Court, a "wealth tax on the top 1/10th of 1%" to raise money for universal child care and pre-K, decent wages for these workers and teachers, and paid family leave, establishing an independent ethics agency to police and crack down on confluence of interest and requiring all candidates for all federal offices to disclose their federal tax returns.
O'Rourke not only proposed legalizing all the undocumented people and green card holders but advocated "raising the minimum wage so they" – the workers – "are not being kept in modern-day bondage."