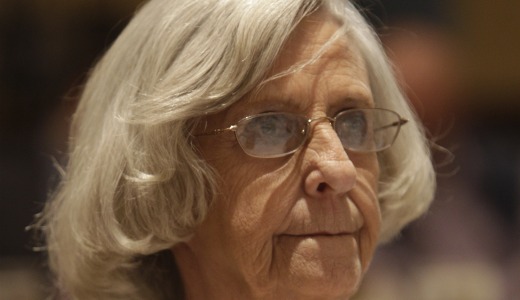 CLEVELAND – Ohio voters are calling it "Grannygate," and it has blown away Ohio Governor John Kasich's credibility in his desperate drive to block the repeal of his union-busting law, SB 5, in the Nov. 8 election.
The Ohio labor movement and its allies collected 1.3 million signatures to place an initiative on the ballot to repeal the law. A "No" vote on Issue 2 is a vote to repeal SB 5.
The granny in "Grannygate" is Marlene Quinn, a 78-year-old Cincinnati woman whose grandson Jan and great granddaughter Zoey were saved by firefighters in a house fire a year ago. Quinn was so outraged by Gov. Kasich's drive to ram through SB 5, stripping firefighters and other public employees of collective bargaining rights, that she volunteered to make a TV ad for "We Are Ohio" urging voters to vote "No on Issue 2."
"Cincinnati firefighters risked their lives to save Zoey and her grandfather and I trust them to know what they need to protect our communities," Quinn said in the original TV ad broadcast across the Buckeye State. "I'm voting 'no' on Issue 2 to stop Senate Bill 5 because I don't want the politicians in Columbus making decisions for the safety of my family and the firefighters who saved Zoey."
But then, to the consternation of people of this state, the so-called "Building a Better Ohio," a groups of corporate-Republican backers of SB 5, stole footage of Marlene Quinn and used it to produce a TV ad urging voters to vote exactly the opposite of what Quinn said. The altered ad uses the footage of Quinn thanking the firefighters but deleted her line urging voters to "vote No on Issue 2." They substituted a line read by a woman with a voice similar to Quinn's saying, "vote Yes on Issue 2."
The scam TV ad touched off a firestorm, not least from Quinn herself. "I want an apology," she told Cincinnati reporters. "I did not say that. I said 'No.' How dare they! I'didn't give them permission to do this … They just stole it and said, 'well, she's just an old lady; she won't know any better.' They don't know this old lady."
Later she said, "I think it's dishonest and downright deceitful that they would use footage of me to try to play tricks and fool voters. It's insulting to the brave firefighters who saved the lives of my grandson and my great granddaughter Zoey."
She demanded that TV stations pull the ad and that "Building a Better Ohio" and Gov. Kasich apologize to her. So far 30 stations have complied with the demand and stopped airing the ad. But Kasich has not apologized. In fact, he endorsed the ad. "I think we've been pretty factual," he said. "They've been emotional and we've been factual." Kasich said he does not "run the campaign" but did not mention that his chief of staff, Beth Hansen, is on leave to head up the effort to save the vicious union-busting law.
Quinn then appeared in a new TV ad sponsored by We Are Ohio. "Ohio firefighters risked their lives to save my great granddaughter so I know how important response time is," she says. "That's why I'm voting NO on Issue 2." She adds, "But the organizations behind Issue 2, stole my words to make it seem like I support Issue 2. They must be desperate to twist the words of a grandma to get their way. Don't let the politicians put our communities at risk. Vote 'No' on Issue 2."
The story continues after the video.
It appears that "Grannygate" may have backfired disastrously for Kasich and his fellow corporate right-wing supporters of SB 5.
Polls show 57 percent of likely voters favoring repeal of SB 5 compared to 32 percent who support the law.
The labor movement in Ohio is taking nothing for granted. An army of volunteers is going door to door and phone banking to voters across the state to get out a massive "No on Issue 2" vote.
"Grannygate" is doubtless a precursor of the dirty tricks the Republicans will resort to in the 2012 election to suppress the vote, win majority control on Capitol Hill and oust President Obama from office. A victory by labor and its allies here Nov. 8 will be a sure sign that the 99 percent are fed up with the GOP dirty tricks and determined to retire them from office in 2012.
Rick Nagin contributed to this article. Photo: Cincinnati great-grandmother Marlene Quinn listens during a debate on State Issue Two at The City Club of Cleveland Monday, Oct. 17, in Cleveland. (AP Photo/Tony Dejak) Video credit: WeAreOhio.