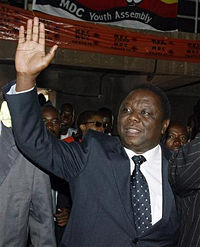 Barack Obama became the likely Democratic nominee for president May 6 after a blowout victory over Hillary Clinton in North Carolina and his squeaker of a loss to her in Indiana.
With the almost even vote in Indiana and a massive 230,000-vote margin in North Carolina, he swept both the popular vote and pledged delegate counts that night.
Obama's North Carolina vote margin surpassed the 215,000 vote margin Clinton had scored in Pennsylvania. Obama is 172 delegates shy of the 2,025 needed for the nomination.
Although Obama will campaign in the six remaining Democratic contests, his campaign is already turning attention to general election states. Republican presidential candidate John McCain has "run free for some time now" because of Democratic preoccupation with the ongoing primary fight, said Obama strategist David Axelrod. "I don't think we're going to spend time solely in primary states," he said. "We have multiple tasks here."
At his victory speech in North Carolina Obama emphasized that the campaign is not about him or Sen. Clinton but "about you, the voters, and the need to prevent John McCain from giving President Bush a third term." He declared that all Democrats were united in this belief and that he would support the Democratic nominee, even if he were not nominated. Speaking in Indiana, Clinton said she too would campaign for the nominee, regardless of who it was.
The Obama victory came after what was perhaps the most difficult month of his campaign, and as concern grows among Republicans that the entire GOP may well be blown out of the water next November.
Less than a week before the Indiana and North Carolina primaries, a Democrat won a special election for a Louisiana House seat held by Republicans for decades. In that state's Sixth District, Republican Woody Jenkins attempted to bring down Don Cazayoux, the Democrat, by linking him to Obama. The National Republican Congressional Committee spent almost a million dollars on ads defining Cazayoux as a liberal Democrat who embraced Obama's "radical agenda."
Inside the Democratic Party, meanwhile, the new math that emerged May 6 killed the two best talking points Clinton has used against Obama.
First, the popular vote: After May 6 Obama now leads Clinton by more than 700,000 (16,050,924 vs. 15,336,896). Even including disputed Florida and Michigan (and with Obama not getting the "uncommitted" vote in Michigan where he was not on the ballot) his lead is 90,947.
On the delegate front, if Florida and Michigan were seated as is and Obama received the uncommitted Michigan delegates, Clinton would net an additional 50 delegates (32 from Florida and 18 from Michigan). In that scenario, Obama would still lead by about 110 pledged delegates. Under her best Florida-Michigan scenario, Clinton would still need to win 75 percent of all remaining delegates, a virtual impossibility.
Obama's "comeback" resulted from gains made with groups across the board. A week before the primary Clinton was expected to win Indiana handily. Turnouts were huge all over the state but particularly in Obama strongholds where people voted in record numbers. Obama ran up enormous leads in Gary and other predominantly African American areas and a majority of voters in heavily Latino East Chicago backed him.
The beautiful spring day created a festive mood as voters went to the polls. "I'm voting for my children's future," said Vera, one of hundreds of SEIU members working for Obama in East Chicago. AFSCME members working for Clinton talked and joked with Obama supporters.
Roger Pleasant, a retired steelworker, said, "Gary hasn't been this excited in a long time."
Obama made big gains in the mostly white counties north of Indianapolis, either winning or surpassing expectations in all of them.
Obama also gained among Catholics. After losing 70-30 percent among Catholics in Pennsylvania, he narrowed that margin to 59-41 percent. He won the heavily Catholic county that includes South Bend.
Observers note that the gas tax debate may have been a winner for Obama on May 6 partly because it replaced the Rev. Wright diversion with an issue that really matters to voters. And they said it also boosted Obama's image as a candidate who will challenge Washington politicians who pander to voters and say anything to get elected, one of Clinton's biggest negatives. Observers also speculated that the slim Clinton margin in Indiana resulted from Republicans who heeded the call of right-wing commentator Rush Limbaugh by crossing over to vote for Clinton, thereby prolonging "chaos" in the Democratic Party.
With more undeclared superdelegates remaining (267) than pledged delegates left, there is a bigger focus now on winning their support.
His campaign's strong performance while he was up against a wall, his strong financial position and the campaign's excellent organizational skills evidenced by early leads Obama racked up among absentee and early voters, for example, are impressive to the politically-minded superdelegates.
jwojcik@pww.org