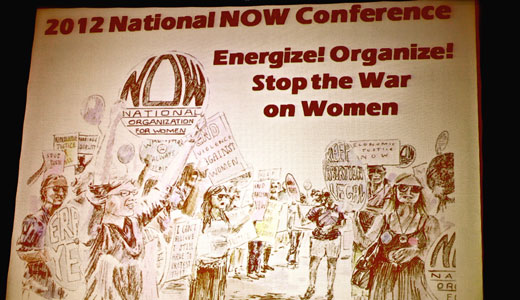 BALTIMORE – Feminists and labor activists at this month's National Organization for Women 2012 National Conference discussed women's roles and rights in the national and global economy, at a panel aptly named, "Women workers of the world: Unite to fight for our dignity and our rights!"
MacKenzie Baris, Jobs with Justice field organizer, moderated the panel, which tried to answer the question, "Why can women be the backbone of many local economies, yet are discriminated in all sectors of the economy?"
Solidarity Center's Alexis DeSimone works for winning rights for domestic workers. In the United States and globally, women make up the overwhelming majority of this workforce.
Solidarity Center is the AFL-CIO's international organizing arm. It operates in 60 countries, and has specific programs for domestic workers in 15 of those countries. Part of the mission, DeSimone said, is to advocate for the adoption of the International Labor Organization's guidelines for the rights of domestic workers.
Uruguay was the first country to ratify these rights. Costa Rica and South Africa are set to ratify the guidelines into law soon. However, while saying it supports the guidelines in general, the U.S. refuses to take them up for ratification.
In the U.S., domestic workers are not allowed to bargain collectively and can be excluded from Social Security. Domestic workers' rights would address these issues and more. DeSimone said the most effective ways to lift the veil of invisibility from this workforce are for domestic workers to organize themselves, to strengthen unions' approaches to these workers, and to educate the broader public about domestic workers' issues and campaigns for rights.
Brenda Carter, from Unite Here, said she spends most of her time working for rights on the job in her union's main area – the service sector. As with domestic workers, women make up a significant portion of this sector, especially in the hospitality industry.
As an example, Carter said Hyatt is one of the worst offenders. The mega hotel chain has repeatedly fought efforts to improve job conditions and union organizing. Housekeepers – mainly women – are the largest group of workers for the hotels. Their work is physically demanding. Yet, Hyatt has opposed legislation that would make their work safer by offering more physically accommodating ways to clean.
The chain refuses to change, Carter said, and insists all housekeepers scrub bathroom floors on their hands and knees.
Pointing out the sexism in this, Carter said, "I would assume male janitors would not be assumed to clean bathroom floors on their hands and knees."
Silvia Fabela, organizer with Making Change at Walmart, said the corporation is the largest private employer in the world and has a huge impact on multiple economies. "if you can change Walmart, you can change the economy," she said.
About 65 percent of Walmart's employees are women. Making Change at Walmart is active in 45 states and develops campaigns such as "Our Walmart," "United for Respect," and "Warehouse Workers United."
The goal of these campaigns is not to eliminate Walmart from local economies, but to change the company into something that is "right" for the communities and the workers first and foremost, Fabela said.
Fabela suggested doing so by first "talking to the manager of your local Walmart and let them know you support workers rights in their company."
Summing up the importance of solidarity, panelists encourage attendees to "fight shoulder to shoulder," "live our feminism," and "tip your hotel maid, daily.
Photo: A sign from NOW's annual conference in Baltimore. Kara Lindsey/PW