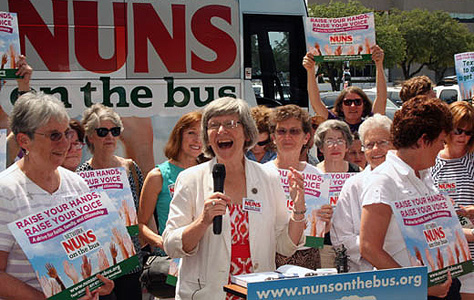 DALLAS – Promptly at 3 p.m., the big bus rolled into the parking lot at Catholic Charities here. One hundred people were there to greet them. These women, "Nuns on the Bus," travel the continent on behalf of justice. It is hard to choose a word to describe the breathtaking interaction between the crowd and the travelers. One could say "enthusiastic," or "excited," or even "deeply moved." But none of those words really captures the mood. The only word that fits is love.
Sister Simone Campbell, leader of the expedition, greeted everyone together and many people individually. Sister Campbell's speech to the crowd and the four television cameras was a practical one. She said, "This is a nation that fixes problems." She talked about the broken immigration system we suffer from today and how easily it can be fixed. She brought up the names of Texas' two senators, John Cornyn and Ted Cruz, and asked the crowd to stop hissing and booing because they are going to have to talk to those senators even though these men "think it's better to be a roadblock than to be for progress."
Campbell was upbeat on the possibility of meaningful immigration reform. She noted that Democrats and Republicans agreed that it is necessary. She noted that the AFL-CIO and the Chamber of Commerce had agreed on it. She added, "If you know anything about Catholic politics – even the nuns and the bishops agree on immigration reform!"
The Texas AFL-CIO took the lead in publicizing the Texas part of the nuns' tour. The federation encouraged turnout at each of the stops in major cities, including Laredo and El Paso.
In her short address, Sister Campbell encouraged everyone to text the word "nuns" to 877 877 to get a message to their senators. Her talk ended when she was joined by the rest of her group in leading a chant. With their hands in the air, the crowd repeated three times, "Raise your hands! Raise your voice, for comprehensive immigration reform! Now!"
Nuns on the Bus is a campaign of NETWORK, A National Catholic Social Justice Lobby which was founded by 47 Catholic nuns more than 40 years ago. More Information on NETWORK's Nuns on the Bus is here.
Last year, a similar tour advocated federal budget priorities that address the needs of struggling families. This year, they are traveling across the United States – 6,500 miles over 15 states – 53 events in 40 cities – standing with immigrants, faith-filled activists, and Catholic sisters who serve immigrant communities.
They began in Connecticut on June 17, and then went to Ellis Island in New York before they started the long tour that will end at Angel's Island-the other historical major entry point for immigrants-in San Francisco.
They are sure to make thousands of friends along the way.
Photo; Sister Simone Campbell in Dallas, June 8. Jim Lane/PW