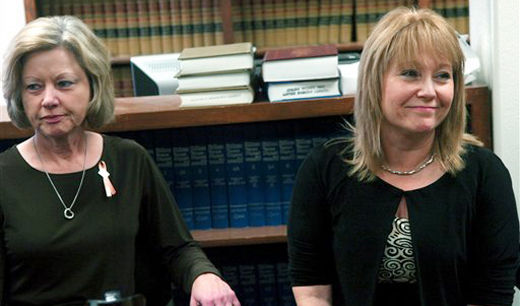 On February 12, Anne Mitchell, a registered nurse at Winkler County Memorial Hospital in far west Texas was acquitted, of "misuse of official information," a third degree felony carrying a possible 10 year sentence. The jury took only an hour to hand a major victory for nurses all over the country who have a duty to report actions of doctors whose behavior endangers patient health.
Mitchell and two other nurses had sent an anonymous letter about alarming behavior of Dr. Rolando Arafiles Jr. to the Texas State Medical Board for doing improper medical procedures and pushing the sale of questionable nutritional supplements from his business to his hospital patients. When the hospital failed to respond to her complaints she reported him to the Texas Medical Board that licenses physicians.
Her identity as an anonymous whistle blower was protected until the doctor found out he was under investigation and asked his friend and business associate, Winkler County Sheriff Roberts, to find out who the whistleblower was. According to the New York Times, the sheriff seized the nurses' computers and found the letter. As a whistleblower in good faith her name is supposed to be protected.
This resulted in the hospital firing her and the felony charges against her.
The acquittal verdict was a great victory. Many nurses around the State of Texas and the country had come to her defense and raised over $50,000 for her. But, most important, had she not been acquitted, it would have silenced whistleblowers to the detriment of the care of patients. Nurses are a very important line of protection and defense for the proper care of patients and a different verdict would have had a chilling effect on the protection of patients.
The NNU (National Nurses Union) is submitting a bill to congress and in it is much stronger protection for nurses who come out and speak about poor medical practices and situations that endanger patients. Currently, the Texas "safe harbor laws," which are very weak, are a nurse's only protection for speaking out. Many nurses call them the "unsafe harbor laws!"
The medical (and nursing) boards rely on other medical professionals to alert them to unsafe practices.
Currently, Anne Mitchell has filed a suit against the hospital, the doctor and Sheriff Roberts along with several elected officials including the County Attorney and District Attorney.
As a lifelong RN, I admire Mitchell's courage. I have known firsthand the problems of giving good care with poor staffing ratios, as well as lack of protection when a nurse complains or finds herself in an unsafe situation where she cannot walk out or be accused of abandonment. The NNOC (National Nurses Organizing Committee) and the National Nurses Union are successfully organizing nurses in California and other states, including Texas, because of these kinds of conditions. They hope to make improvements as their membership is already in the hundreds of thousands.
Anne Mitchell, right, and Vicki Galle at the Andrews County Courthouse, Feb. 11. Mitchell was acquitted, Galle had charges dropped earlier from the same complaint. Merissa Ferguson/AP