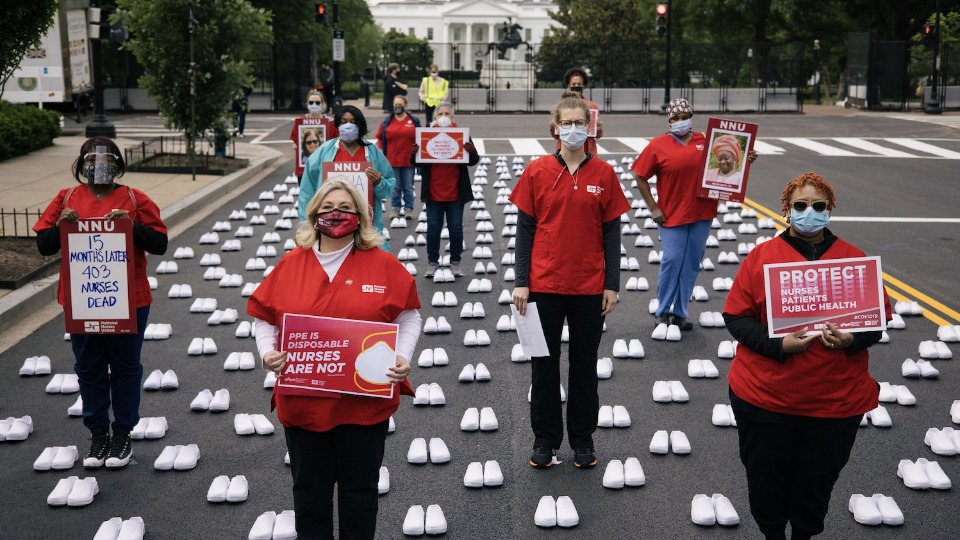 WASHINGTON (PAI)—Jean Ross, RN, stood two blocks from the White House, reading names of nurses the coronavirus has killed. Behind her: Local RN colleagues amid 403 pairs of empty white nurses' shoes. The nurses took turns reading the roll of the dead, one by one.
That's how many RNs, or to be more precise, how many RNs in Ross's union, National Nurses United, knows of who have died while combatting COVID-19.
They died, Ross said, because hospitals and nursing homes—and politicians—still put profits over patients, and over nurses. The RNs, this time, focused on Democratic President Joe Biden's Office of Information and Regulatory Affairs. It's sitting on a proposed Emergency Temporary Standard, a federal rule to force facilities to protect nurses and patients, now.
The White House demonstration came at the end of a week of NNU lobbying on that issue and others. It also marked the anniversary of the birth of the founder of modern nursing, Florence Nightingale, the deadline NNU lobbied for Biden's agency to move. It didn't.
A year ago, as the coronavirus death toll started to rise, and as more nurses started to die due to exposure, without personal protective equipment (PPE) to virus-positive patients, there were some 90 pairs of shoes in front of GOP occupant Donald Trump's White House.
Trump called nurses "essential workers" but beat the union and the AFL-CIO when they sued to get the Occupational Safety and Health Administration to protect nurses by issuing the standard. This time, NNU didn't need to sue, but it wants the Biden administration to act.
"If we had had an OSHA standard" forcing health care institutions to protect workers against the virus "many of those" represented by the empty shoes "would still be with us.
"As registered nurses, we went straight into the heart of the (coronavirus) disaster, to save as many lives as possible. But who was there to save our lives?" (Her emphasis).
While Ross, NNU's co-president who hails from the Twin Cities, praised many Biden anti-virus moves and the rising rate of anti-virus vaccinations, she warned vaccines alone would not stop the modern-day plague, especially since it's mutating into variants.
"We cannot be here next year, memorializing loss of hundreds of more nurses."
Since the official federal declaration of the pandemic, on March 13, 2020, through noon on May 12, 32.784 million people in the U.S.—almost one in every ten—have tested positive for the virus. And 582,923 have died, equal to the current population of Wyoming, plus 5,204.
In interviews with Press Associates Union News Service, both Ross and Amirah Sequeira, the union's lead legislative advocate on the proposed protective standard and the whole issue of inadequate PPE, both said NNU's week of lobbying leading up to May 12 produced support and surprise on Capitol Hill. The union contacted 350 lawmakers.
"There was a lot of support and a lot of shock about the situation," Sequeira said. The lawmakers had thought the PPE situation was solved. It isn't.
"Many RNs are still being forced to reuse PPE, and they're not being notified of potential exposure" to the virus, she added. So NNU's lobbying led to congressional letters to Biden pushing his administration to issue the standard requiring the health care institutions—their bosses—to act.
"We're still arguing with employers" over failures to prevent exposure to patients "with suspected covid," Ross noted in the interview.
Lawmakers also backed other parts of NNU's legislative agenda, headed by writing into law a timetable for OSHA to issue the emergency standard soon, once Biden's OMB OKs it. The surprise to lawmakers, both said, was that nurses—especially non-union nurses—still lack PPE and have to fight their bosses and institutions to get it.
Other issues on NNU's slate included House-passed legislation to force another standard to protect health care workers against workplace violence, and the latest and most detailed legislation to enact single-payer government-run Medicare For All.
The standard would put federal muscle, in the form of OSHA citations, against hospitals and nursing homes that refuse, both said.
"In our (health care) system, profits come first, nurses and health care workers come last," Ross said in the interview. "Those of us fortunate enough to have a union contract can say" to bosses "'This is what we have to have, or we can't work.'"
But even nurses with NNU contracts have had to take to the streets to tell the public about their bosses' refusal to protect workers and patients, save lives and even save hospitals and nursing homes money, Ross said.
NNU has conducted informational picketing on lack of PPE at facilities nationwide, and the same lack led to both union election wins and occasional forced strikes. One was at the University of Illinois-Chicago system and another at a big hospital in Chicago's south suburbs. The big wins came at hospital complexes in Asheville, N.C., and Portland, Maine.
Indeed, had Ross not led the D.C. event, she would have been on an informational picket line with colleagues at Fairview Southfield Hospital in Edina, Minn., a Twin Cities suburb. The reason: To enhance profits, Fairview imposed another mandate that harms nurses and patients. It's increasing nurse-to-patient ratios, meaning each nurse, even in critical care and intensive care units, must care for more patients than is safe for nurses or healthy for people they care for.