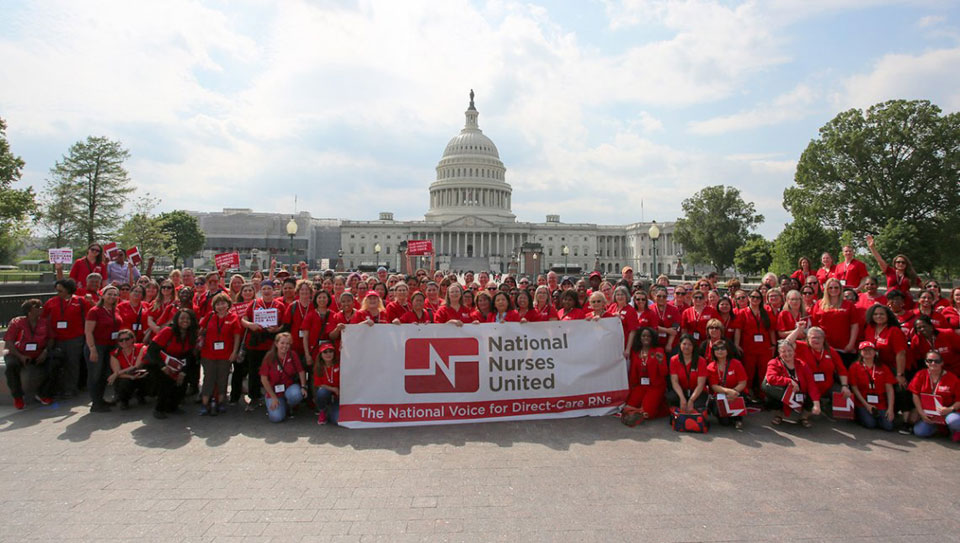 OAKLAND, Calif. —Unions, citizens groups, and their allies overcame $18.6 million in Big Pharma lobbying in achieving health care wins in the Senate-passed Inflation Reduction Act, National Nurses United says.
And it followed that up by urging members and allies to lobby to preserve those gains when the House voted on the measure, tentatively scheduled for August 12.
The compromise $739 billion bill, hammered out by Senate Majority Leader Charles Schumer, D-N.Y., and reluctant Democrat Joe Manchin, D-W. Va., also contains record spending, $369 billion, to combat climate change. NNU praised that win, too.
But NNU really crowed about opening the door to let Medicare negotiate drug prices down with Big Pharma, even though the talks wouldn't cover all drugs and the impact won't start until 2026. Nevertheless, given the drug firms' lobbying blitz, it was a win.
NNU has "campaigned for years to address the crisis our patients face when they can't afford far-too-costly medications produced by profit-first pharmaceutical giants. We have seen too many patients put their lives at risk by skipping needed medication or cutting pills in half at grave danger to their life and health," union President Jean Ross, RN, said.
In a contact-your-representative e-mail, NNU said the measure "marks an exceedingly rare defeat for the pharmaceutical industry, which has long bought off elected officials in Washington and state capitals as one of the most powerful corporate lobbies." Bargaining down drug prices will save Medicare an estimated $288 billion, analysts calculate.
And in another defeat for the medical lobby—and its allies in the insurance industry–the bill would cap consumers' out-of-pocket drug costs at $2,000 yearly, also starting in 2026.
Big Pharma did get one partial win. The original version of the measure capped insulin costs for consumers at $35 monthly for everyone. But seven Senate Democrats joined all 50 Republicans in a 57-43 vote to restrict the $35 cap just to Medicare recipients.
"Passage of this bill, even considering its limitations, is a direct testament to mass action and people power, which has been at the heart of social reform throughout U.S. history," NNU said. Added Ross: "While many sweeping initiatives proposed by" the union-backed Build Back Better bill were dropped, "nurses welcome what has been accomplished.
"This is not the end of efforts by NNU, other health care and climate activists, and our progressive allies to win vital social change legislation, but it will save lives, hold more corporations accountable, and serve as a base for future vital social justice reforms.
"On climate change, the bill includes $60 billion to aid low-income, disadvantaged communities that long faced the worst impacts of fossil fuel pollution, and will create jobs by a significant investment of federal funds for renewable energy production, and new tax credits for consumer acquisition of solar panels and electric vehicles," the union added.