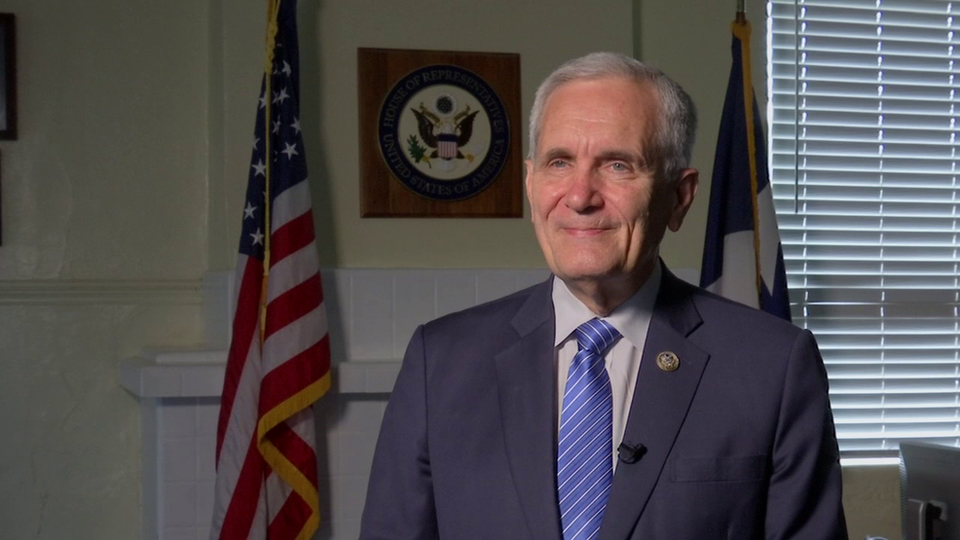 WASHINGTON—National Nurses United's long-running campaign to garner congressional support for Medicare For All has won several key lawmakers – Reps. Adam Smith, D-Wash., Lloyd Doggett, D-Texas, and Hakeem Jeffries, D-N.Y. – to the cause.
Signing up Doggett is important. He chairs the House Ways and Means Health subcommittee, which co-writes medical care legislation on that side of Capitol Hill. NNU will now concentrate on members of his panel and on a recalcitrant Rep. Frank Pallone, D-N.J., who chairs the other key panel for health care bills, the Energy and Commerce Committee.
The wins were part of a report on campaign progress on a recent  NNU conference call on where the legislation (HR1384) stands. Introduced by House Progressive Caucus co-chair Rep. Pramila Jayapal, D-Wash., Medicare For All now has 117 co-sponsors as well. Jeffries, #117, gave Medicare For All support of a majority of the House Democratic Caucus.
Medicare For All would replace the current health care non-system, controlled by greedy health insurers who deny care while raising premiums and co-pays, and by Big Pharma, with a single-payer government-run system. Besides NNU at least a dozen other unions support Medicare For All.
So does Association of Flight Attendants-CWA President Sara Nelson, considered a rising star among union leaders and a potential successor to AFL-CIO President Richard Trumka. The federation itself endorsed Medicare For All as one potential path to universal health care.
Besides Doggett, the latest batch of a dozen lawmakers includes Smith, who chairs the House Armed Services Committee – whose panel handles all military-related bills, including military health care – and Jeffries, the fifth-ranking House Democrat. Jeffries, however, qualified his support for Medicare For All by saying it's not the only path to universal coverage.
Jeffries' support came at a town hall meeting in Brooklyn after months of lobbying in his Brooklyn-Queens district by NNU and its allies, Salon  reported. The House's ruling Democrats, he said then, "are united behind the principle of universal access to high quality and affordable healthcare for all."
"There are several pathways to achieve this objective, including implementation of a single-payer system," Jeffries added.
As the party's caucus chair, Jeffries, 49, is considered a potential successor to House Speaker Nancy Pelosi, D-Calif., who is 79. Pelosi previously pledged to step down from the Speakership after the end of the next Congress.
Both Jeffries and Smith came on board after NNU affiliates in their home districts and states intensively raised the issue, meeting with the two or their staffs and jamming town hall meetings during the August congressional recess.
Jeffries also told the town hall he backs HR1046, which undoes a major flaw of the Affordable Care Act. That bill would let the government negotiate drug prices with drug companies – and issue manufacturing licenses to competitors – if a drug firm refuses to bargain a fair price. The House is currently wrestling with legislation to force down sudden skyrockets in drug prices.
"We've proven — once again — that our grassroots organizing can apply the pressure needed to win over even the most hard-to-convince Democrats," NNU lead organizer Jasmine Ruddy e-mailed New York supporters after Jeffries' statement there.
But Jeffries himself has yet to post his support for Medicare For All on his website. He plans another town hall, on the high cost of drugs, in Brooklyn on Oct. 10.
Our Revolution, the citizens' group allied with Sen. Bernie Sanders, Ind-Vt. – author of that chamber's Medicare For All bill – is keeping the pressure up on Pallone, said Anna-Marta Visky, chair of the group's Monmouth County, N.J., affiliate.
"We and our coalition partners are asking him (Pallone) to co-sponsor it and give it a fair hearing," she said. "He wants to keep it in a hearing with other proposals" on health care. "He takes a lot of dollars from the (health care) industry and is one of the entrenched old-school Democrats – but he's noticed our movement."
Open Secrets, a non-profit which tallies campaign contributions – including from both individuals and campaign finance committees – by category, reported Pallone received $1.116 million from health care industry individuals and committees in the 2017-18 election cycle. That was 39% of his total contributions. Almost $1 million of his health care contributions came from the industry's campaign committees.
NNU is also keeping up the pressure on undecided Democrats, including five members of the Medicare For All caucus who have yet to co-sponsor HR1384. Another "ten to 15" House Democrats backed the prior Medicare For All bill, HR676, in last year's GOP-run Congress, but haven't signed on to the comprehensive and detailed HR1384.
Then, the ruling Republicans refused to even hold hearings on health care. They spent their time instead holding 62 party-line roll call votes to abolish the Affordable Care Act, throwing everyone back onto the mercy – or lack of it – of the insurers. The GOP Trump administration, meanwhile, is trying to dismantle the ACA administratively.