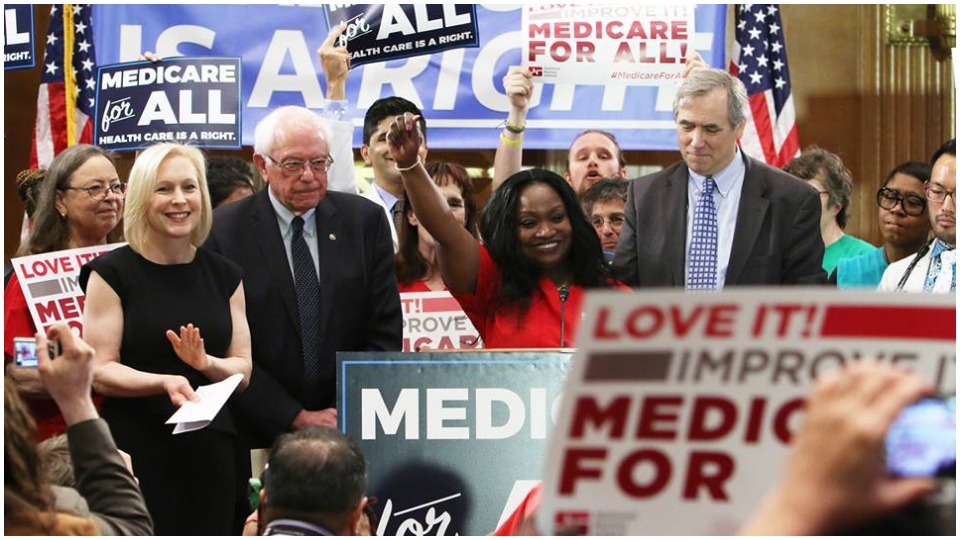 WASHINGTON—National Nurses United, the first union to promote Medicare
For All and the leader in labor's drive for it, is getting specific in which lawmakers it will lobby—from the outside—to make sure the plan gets hearings and votes it deserves and isn't sidetracked.
In a mass conference call the week of April 8, NNU leaders listed key members, all Democrats, of the two House health care committees—Energy and Commerce and Ways and Means—who have yet to sign on to Medicare For All, HR1384.
The objective of the lobbying, organizers said, will be to get those lawmakers not just to co-sponsor HR1384, but to have their constituents demand real hearings on it and to refine the bill to create the universal single-payer government-run national health care program.
The bill has more than 110 House co-sponsors, all Democrats. Some of them already sit on those two key committees and can agitate for hearings.
The conference call occurred just after Sen. Bernie Sanders, Ind-Vt., introduced his new version of Medicare For All. For years Sanders, a democratic socialist, was also a "lone wolf" in the Senate on single-payer. But his 2016 Democratic presidential primary campaign thrust the issue into the national discussion.
Now, his new bill, S1129, the counterpart of HR1384, has 14 cosponsors, including four of the other senators vying for the 2020 Democratic nomination. Besides Sanders, the others are Cory Booker (N.J.), Kirsten Gillibrand (N.Y.), Kamala Harris (Calif.), and Elizabeth Warren (Mass.).
"The United States spends far more per capita on health care than any other nation," Sanders said on April 10. "However, 34 million Americans do not have health insurance, thousands of people die each year because they cannot afford medical care, almost one in three adults with insurance have been unable to afford the care they need, and nearly half fear bankruptcy in the event of a health emergency."
Both bills eliminate the private health insurance industry, its high co-pays and premiums, lack of coverage, and denial of care. NNU speakers made the point the U.S. spends more per person on health care—at least one-sixth of its gross domestic product—than any other developed nation.
The result is high-cost care, the bankruptcies due to health care, lagging and lousy outcomes in maternal and child health care, and, now, a decline in the average age of death.
Meanwhile, insurers skim off the money they get, diverting it into insurers' and pharmacy benefit managers' overhead and to line corporate executives' pockets.
Replacing that high spending and high costs to consumers with single-payer government-run health care, funded by increased payroll taxes, plus Medicare's more-efficient administration and cost controls would save consumers money and improve health care, NNU speakers said on the phone conference. Sanders said the same thing.
"In my view, the current debate over Medicare For All really has nothing to do with health care. It's all about greed and profiteering. It is about whether we maintain a dysfunctional system which allows the top five health insurance companies to make over $20 billion in profits last year," he explained.
"The American people are increasingly clear. They want a health care system which guarantees health care to all Americans as a right. They want a healthcare system which will lower healthcare costs and save them money. They want a health care system which will guarantee them freedom of choice as to which doctor or hospital they can go to."
"They want a health care system which will substantially lower the cost of prescription drugs. They want Medicare for seniors which will finally cover dental care, hearing aids, and eyeglasses. In other words, they want Medicare For All, and that's what we will deliver to them."
"In my view, the current debate over Medicare For All really has nothing to do with health care. It's all about greed and profiteering. It is about whether we maintain a dysfunctional system which allows the top five health insurance companies to make over $20 billion in profits last year," Sen. Bernie Sanders explained.
But the debate over Medicare For All is also about politics, both within the Democratic Party and between congressional Democrats and the Trump-dominated GOP.
"While Trump continues to make false promises to the middle class and give everything to the 1%, we must create a program broad enough and deep enough" to serve everyone, one lead NNU organizer said.
Trump and Senate Majority Leader Mitch McConnell, R-Kent., are also already "red-baiting." They claim, with no proof that everything the Democratic-run House approves—notably Medicare For All and the Green New Deal—is "socialism," conjuring up "reds under the beds" bogeys of the 1950s.
Trump and McConnell also duck what socialism really is. It includes political, social, and financial equality and an end to capitalist control of the means of production and thus of everyone's lives—including ending capitalist and profit-oriented control of medical care.
They're not alone. A shadowy business front group is test-running ads trashing Medicare For All in one Democratic-held eastern Massachusetts congressional district, the NNU organizers pointed out.
Meanwhile, House Speaker Nancy Pelosi, D-Calif., had to promise progressives hearings on Medicare For All, but she plans to shunt the sessions into two committees—Rules and Budget—that don't write health care legislation.
By contrast, Energy and Commerce would write the specifics of the program and Ways and Means would handle how to pay for it. So that's where NNU is asking its members and their community, labor, and civic allies to concentrate their grassroots lobbying.
"Getting Medicare For All to the (House) floor in this session" of Congress "will be a huge victory" even if McConnell buries it in the Senate, as they expect, one top NNU organizer said. "We have to organize in every congressional district."
But the key districts would be of Pelosi, who represents San Francisco, Commerce Committee Chairman Frank Pallone, D-N.J., Ways and Means Chairman Richard Neal, D-Mass., and Cedric Richmond, D-La., chair of the Congressional Black Caucus.
They'll also concentrate on Ways and Means Democrats Terry Sewell (Ala.), John Larson (Conn.), Stephanie Murphy (Fla.), Brad Schneider (Ill.), Dan Kildee (Mich.), William Pascrell (N.J.), Steven Horsford (Nev.), Tom Suozzi (N.Y.), Dwight Evans (Pa.), Lloyd Doggett (Texas), Suzanne DelBene (Wash.), and Ron Kind and Gwen Moore (both D-Wis.). Horsford is a former top training center official and local union leader for Unite Here in Las Vegas.
NNU also wants its volunteers to mobilize constituents in the districts of Energy and Commerce Democrats Pallone, Tom O'Halleran (Ariz.), Tony Cardenas, Anna Eshoo, Doris Matsui, Scott Peters and Raul Ruiz (all D-Calif.), Lisa Blunt Rochester (Del.), David Loebsack (Iowa), Darren Soto (Fla.), Ann Kuester (N.H.), Kathy Castor (Pa.), G.K. Butterfield (N.C.), Ben Ray Lujan (N.M.), and Kurt Schrader (Ore.). Lujan, a top Pelosi lieutenant, is running for an open U.S. Senate seat next year.
"Canvassing is critical if we're going to build a grass-roots movement to talk face to face with our neighbors," the organizer added. The union has already established a toolkit for the organizers, and kicked off its own campaign on Feb. 7-14, with 1,000 organizing meetings nationwide. It's also established a new website, medicare4allresolutions.org, to urge local action. "The Fight for Improved Medicare For All Begins in Your Community!" the website declares.