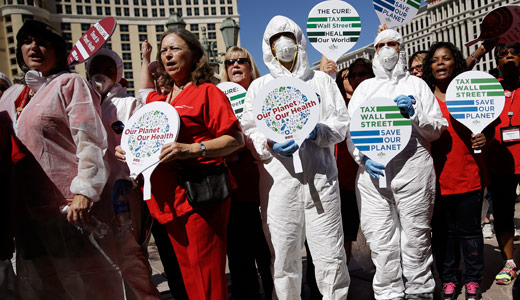 As the Ebola crisis appears to grow more serious by the day, some 4,000 nurses got on a national conference call sponsored by the National Nurses Union Wednesday to discuss the response at their hospitals.
Nurses from Texas Presbyterian Hospital in Dallas reported that measures taken at that hospital were, in their view, totally inadequate.
They said that Thomas Eric Duncan was left for hours in an open area of the Emergency Room where many people without any protection were able to pass closely by. They said nurses on the job did not have proper protective equipment.
Perhaps most frightening, however, are reports from nurses all over the country that U.S. hospitals are poorly prepared for a potential epidemic.
Some 85 percent of the nurses involved in the national discussion say their hospitals have not provided education on Ebola with the ability for the nurses to interact and ask questions.
More than 40 percent say their hospital has insufficient current supplies of eye protection (face shields or side shields with goggles) for daily use on their unit; 38 percent say there are unsufficient supplies of fluid resistant/impermeable gowns in their hospital and 41 percent say their hospital does not have plans to equip isolation rooms with plastic covered mattresses and pillows and discard all linens after use.
National Nurses United has called for all hospitals to have in place the highest standard of optimal protections, including Hazmat suits, and hands-on training to all RNs and other hospital personned to confront Ebola. "There is no standard short of optimal in protective equipment and hands-on training that is acceptable," said RoseAnn DeMoro, the unions executive director. "Nurses and other frontline personnel must have the highest level of protective equipment, such as the Hazmat suits the CDC itself uses while transporting patients and hands on training and drills for all RNs and other hospital personnel including the practice of putting on and taking off the optimal equipment. The time to act is long overdue."
The director of the Centers for Disease Control and Prevention says the second health care worker who has tested preliminarily positive for the Ebola virus will be transferred from a Dallas hospital, where she became infected, to Emory University hospital in Atlanta for continued treatment.
Dr. Thomas Frieden says the patient's condition is "clinically stable" and that she was "quickly isolated" after her first test for Ebola came back positive on Tuesday.
Frieden did not identify the patient, but said she, along with critical care nurse Nina Pham, had had "close contact" with Thomas Eric Duncan, the first Ebola patient to have been diagnosed in the United States. Duncan died a week ago.
During a late afternoon briefing, Toinette Parrilla, the director of the Cleveland Department of Public Health, identified the woman as Amber Vinson, whom public records show is a registered nurse in Dallas.
Parilla said Vinson was in Cleveland to visit her mother in a preparation for a wedding.
Frieden said both Pham and the newest patient were exposed to Duncan in the days "prior to diagnosis and prior to a CDC team being on the ground.
"I will just say that the second patient, as well as the first, had extensive contact with [Duncan] in the stage while there was a lot of vomiting," he said.
Frieden said the first test was positive for Ebola and that he expected the confirmatory test from the CDC would come back positive "very soon."
Secretary of Health and Human Services Sylvia Mathews Burwell, who appeared with Frieden, said: "We need to stop this epidemic at its source – in West Africa."
At an earlier news conference, Dallas County Judge Clay Jenkins said the second health worker, whom he did not identify but referred to as "her," faced the diagnosis with the same "grit and determination" that critical care nurse Pham, who tested positive for the disease on Sunday, has shown.
He said "we are preparing contingencies for more" Ebola patients, "and that is a very real possibility."
In a statement earlier, the CDC said the newest patient had been on a commercial flight from Cleveland to Dallas the day before reporting symptoms.
"Because of the proximity in time between the evening flight and first report of illness the following morning, CDC is reaching out to passengers who flew on Frontier Airlines flight 1143 Cleveland to Dallas/Fort Worth Oct. 13," the statement read.
Asked why the woman, who was self-monitoring her temperature, was allowed to board an airplane after exposure to the index patient, Frieden said: "The patient traveled to Ohio before it was known that the first health care worker [Pham] was sick."
Pressed on the question, he said: "She should not have traveled on a commercial airliner" and noted that "from this moment forward we will make sure that any individual who is being monitored" should not travel on public transportation.
Frieden said she had an elevated temperature (99.5F) on the flight home to Dallas, although it was short of the fever threshold. The CDC believes she presents a low risk to fellow passengers, he said.
The virus is not contagious until a person starts showing symptoms, and the likelihood of its being passed on an airplane is considered extremely low.
Jenkins said during the news conference that the 47 original "contact traces" who had contact with Duncan were nearing the end of the Ebola incubation period and were all symptom-free. The possibility that any of them would become symptomatic at this point, he said, is "extremely remote."
Dallas Mayor Mike Rawlings said that cleaning at the newest patient's apartment was "done as soon as possible" and that the patient "lived alone and without pets."
Rawlings said of the situation in the city: "It's going to get worse before it gets better. But it will get better."
Dr. Daniel Varga, the chief medical officer for Texas Health Resources, which runs Texas Health Presbyterian Hospital Dallas, said he saw no systemic problems with the response.
"A lot is being said about what may or may not have been done," he said. "We may have done some things differently given what we know now.
"No one wants to get this right more than we do," he said.
The Texas health department quoted a CDC statement: "An additional health care worker testing positive for Ebola is a serious concern, and the CDC has already taken active steps to minimize the risk to health care workers and the patient." An additional 77 individuals, all but two of them health workers who were exposed to Duncan, are being monitored for Ebola symptoms, said Jenkins, the Dallas County judge.
Pham, 26, is in "good condition," according to the hospital where she was quickly isolated after reporting a fever.
A day after Pham's diagnosis, she received a blood transfusion from Ebola survivor Kent Brantley, an aid worker who contracted the disease while working in West Africa.
" On Tuesday, Frieden acknowledged that more could have been done to prevent Pham's infection.
"We did send some expertise in infection control," Frieden said. "But I think we could, in retrospect, with 20/20 hindsight, have sent a more robust hospital infection control team and been more hands-on with the hospital from Day 1 about exactly how this should be managed."
The Associated Press writes: "Officials have said they don't know how [Pham] became infected. But the second case pointed to lapses beyond how one individual may have donned and removed personal protective garb."
Photo: Nurses protest Sept. 24 at the California Nurses Association and National Nurses Organizing Committee convention because they say U.S. hospitals aren't ready for an Ebola outbreak. (AP Photo/John Locher)