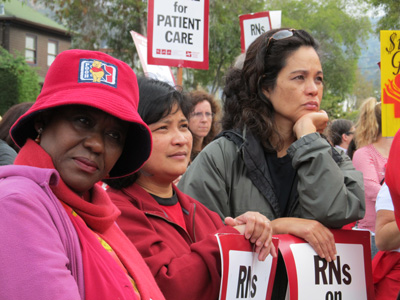 BERKELEY, Calif. – Everyone was seeing red, literally and figuratively, as registered nurses and their supporters clad in red shirts, sweaters, jackets, scarves and caps massed in front of Alta Bates Summit Medical Center here Nov. 1 to protest Sutter Health's demands for a long list of major concessions in 18 months of contract talks.
One-day strikes affected seven Summit hospitals in the San Francisco Bay Area, involving up to 3,200 nurses and several hundred medical technicians. The Nov. 1 actions marked the union's sixth such strike since September 2011.
Among the giant health chain's demands: forcing nurses to work in hospital areas for which they don't have the right training, limiting charge nurses' ability to assure patient safety by addressing staffing shortages, ending paid sick leave, huge increases in health care costs for nurses and their families, and forcing RNs to work overtime, increasing the likelihood of medical errors.
"The most important reason I'm on the picket line today is patient care," said Ann Gaebler, a neonatal nurse at the facility. "The hospital says this is their last and final offer, but it includes demands for 65 takeaways including cuts to our ability to participate in patient care committees. The takeaways also affect our ability to take care of ourselves."
Elsa Matos-Leal, a nurse working in family and neonatal care, said her "number one concern is that they are trying to silence our voices for patient safety." She emphasized the importance of adequate staffing. "The Medical Center doesn't want to hire," she said, "but we are pushing for more nurses. It's been studied – when staffing is inadequate, more patients fall, there are more medical errors."
Both nurses pointed to Sutter's drive to undo decades of collective bargaining at the facility.
Saying the giant chain's "greed" is "unabashed," Matos-Leal also pointed to Sutter's many moves to end less-profitable services to the community, and its efforts to close two of its hospitals that serve many poor patients.
The California Nurses Association/National Nurses United says Sutter, one of the wealthiest U.S. hospital chains, has accumulated almost $4.2 billion in profits since 2005, and has no need to make the drastic cuts. The union points out that Sutter paid its 28 top executives over $46 million in compensation in 2010, including paying $4.7 million to its CEO, Pat Fry.
The union says the chain has eliminated services at some facilities including breast cancer screenings for women with disabilities, children's psychiatric services, inpatient adolescent and adult psychiatric beds, and bone marrow transplant services for cancer patients.
Martha Kuhl, secretary-treasurer of National Nurses United, told the crowd at a late-morning rally, "This is a movement on behalf of all our patients, and for all the workers around us, not only in the Bay Area but around the country. What is going on now is a serious race to the bottom … they are attempting to roll back the standards for nurses and patients. We must not let that happen!"
The union points to the contracts that nurses have successfully negotiated at several other area Sutter facilities, including Sutter Santa Rosa, Sutter Lakeside and Mills Peninsula Medical Center.
Asked why these facilities took a different course, the union's communications director, Charles Idelson, said they "concluded that it wasn't in their interest to have an all-out war on nurses at hospitals in communities that count on them for patient care." While Sutter's overall goal is to slash non-profitable services, he said, some facilities have leeway to stop the all-out assault.
While the overall national corporate agenda is to lower all workers' living standards, Idelson said, "We don't think any workers should see their living standards lowered, through cuts in health care or any other draconian takeaways."
Also among rally speakers were state Assemblywoman Nancy Skinner and Berkeley City Councilman Max Anderson, himself a former nurse.
Photo: Nurses listening to speakers at the rally, Nov. 1. Marilyn Bechtel/PW