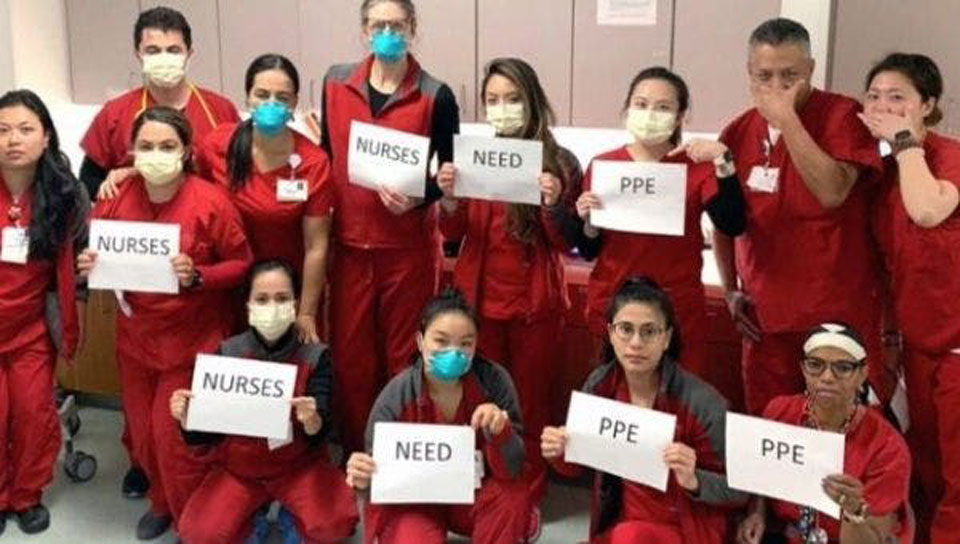 OAKLAND, Calif.—The nation's hospitals still flunk in protecting their nurses from the ravages of the coronavirus pandemic, the fourth mass survey by National Nurses United says. And the reason, the union bluntly adds, is the bosses prioritize profits over people.
Surveyors heard from 15,000 registered nurses, union and non-union, about conditions in their hospitals, said NNU Executive Director Bonnie Castillo, RN. And the situation will only get worse as the U.S. heads into flu season—and as the cold weather forces people inside and in enclosed spaces, thus lessening social distancing, one key protection against the coronavirus.
The numbers that jump out in this survey, done in October: Only 43.6% of RNs report working in hospitals that screen all patients for the coronavirus, officially called COVID-19. Also, 60% of nurses report working in a hospital with a dedicated COVID-19 isolation unit, while 8% reported their hospitals had a COVID-19 unit and shut it down.
"Hospitals are continuing to fail when it comes to preparation for Covid-19, even as flu season begins," Castillo said in releasing the latest report. "They have had nearly a year to get their act together. We should not still be operating under crisis standards of care."
The hospitals' "lack of preparation means they are knowingly sacrificing the lives of nurses and other health care workers. More than 240 registered nurses have died from Covid-19. Enough is enough. Nurses need PPE now to do their jobs safely," Castillo said.
"We know President-Elect Joe Biden is committed to using the Defense Production Act to get PPE mass produced in this country and to pass an Occupational Safety and Health Administration Emergency Temporary Standard to protect nurses and other workers."
NNU started blowing the whistle on the danger of the coronavirus, officially called Covid-19, long before the federal government officially declared the pandemic on March 13. Its prior reports showed health care facilities—hospitals and nursing homes—flunked in providing nurses enough personal protective equipment, such as masks and ventilators, and often forced RNs to wear bandannas to protect themselves at work, among other failings.
GOP Oval Office occupant Donald Trump did not use the law to force PPE production, and his OSHA refuses to issue the standard. Both requirements are in the House-passed Heroes Act, along with more money for PPE. But Senate Majority Leader Mitch McConnell, R-Ky., self-described as the Grim Reaper, has killed both versions of the legislation.
Other findings of the NNU report included:
Some 18% of hospital RNs say their hospitals are prepared for surge capacity and planning to handle both COVID-19 and the flu. Only 16.5% of RNs said their emergency departments had PPE for every staffer. And when patients get to the ERs, only one-fifth are screened for respiratory symptoms that would identify COVID-19.
Some 42% of RNs in hospitals have been tested for COVID-19 exposure. That falls to 33% for all RNs. In NNU's third survey of 15,000 nurses, in July, only 23% reported being tested. And 70% of RNs say their bosses don't tell them "in a timely manner" of coronavirus exposure from other staffers.
"RNs must have access to testing and employers must take seriously the task of identifying and responding to exposures, including conducting contact tracing and informing staff of exposure," the union said.
There's still not enough PPE available for the RNs and other front-line health care workers. "More than 80%of nurses report they are reusing at least one type of single-use PPE. About 20% of nurses in hospitals report their employer has recently limited the use of N95 respirator masks. Fewer than half of nurses in hospitals report not using respiratory protection when caring for patients who might have Covid-19 but who have not been tested or whose test results are pending. In comparison, more than 70% of hospital RNs report using N95s for Covid-19 patients."
There was one other bit of bad hospital news that wasn't in NNU's survey. With his state's hospitals at 100% capacity and its health care workforce stretched thin, Gov. Doug Burgum, R-N.D., announced Nov. 9 that hospital workers who test positive for COVID-19 but who don't show symptoms should keep working. But they'll be restricted, at least for now, to treating Covid-19 patients. The federal Centers for Disease Control, in its guidance for health care facilities, allows that pairing if needed. If there's a real huge shortage of RNs, the agency adds, the asymptomatic Covid-19-positive workers can treat other patients, too.