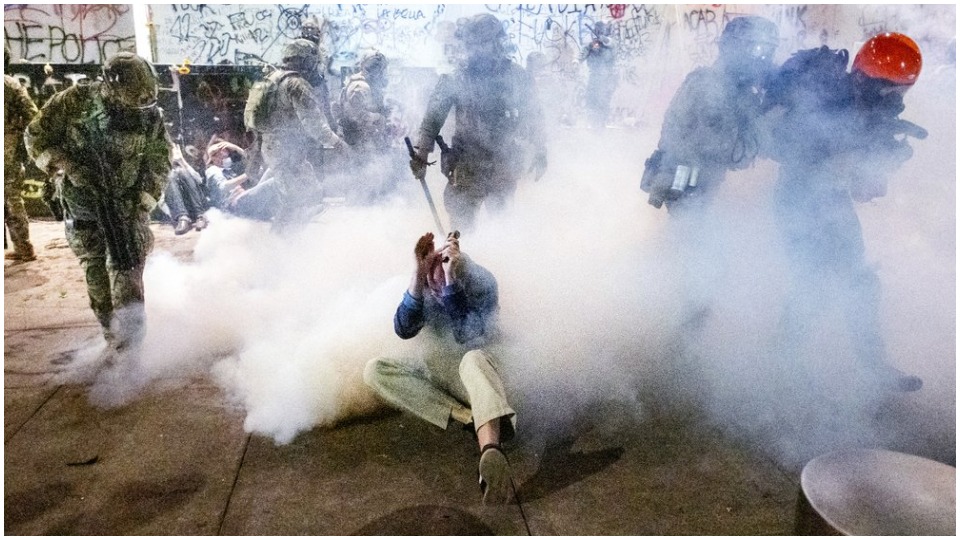 WASHINGTON—Breaking a labor-wide silence, National Nurses United, long known for its outspokenness, became the first AFL-CIO union to trash GOP President Donald Trump's threat to send secret police storm troopers to U.S. cities.
The union's July 22 statement came as senators slogged through amendments to the annual and monster defense bill, including one drafted by Sen. Chris Murphy, D-Conn., to ban such deployments.
That didn't stop Trump. National Public Radio reported he's sent Homeland Security Department agents to Kansas City, Mo., and announced he would inflict agents on Chicago.
"In the wake of the widely criticized use of federal agents in Portland, Ore.," to assault, arrest and detain peaceful Black Lives Matter protesters, "Trump on Monday said he was looking at expanding these attacks on our communities to New York, Chicago, Detroit, Baltimore, Philadelphia, and Oakland, all cities with Democratic leaders, and, not coincidentally, large Black populations," NNU said.
"Nurses think holistically and know that our uprisings are the result of extreme social, racial, and economic injustice—exposed now in even sharper relief with the COVID-19 pandemic," said union President Deborah Burger, RN. "Nurses' first reaction is to address the root problem and alleviate suffering with compassion and care, not to use the military to attack, punish, and oppress our patients!"
NNU noted the coronavirus pandemic raging through the U.S. disproportionately sickens and kills people of color, and that its impact is piled upon people who are often "without work, unable to meet rent, mortgage, and health bills" on top of past unjustified  "brutalization" and death from the police.
"In addition to brutalization and death at the hands of police, Black, indigenous, people of color (BIPOC) have disproportionately suffered under COVID-19, with double and up to three or four times the infection and death rates of whites in some states. Also, more essential workers are BIPOC and more workers from this group have lost their jobs and benefits. Nurses say this structural racism amounts to a national public health crisis," NNU added.
"Our communities have great needs for federal help, investment, and intervention, not armed assaults," said Burger. "We need caring and compassion, not confrontation. We need federal leadership on national safety standards for the pandemic, including stopping the push to dangerous reopening plans that are worsening the virus spread, not a war on our cities."
"It is especially troubling to see the targeting of cities with large Black populations. They need support, not to be the scapegoat for the president's reelection campaign."
The lawmakers' amendment, introduced the day before the union spoke, would basically outlaw the use of unidentified troops using unmarked vehicles to arbitrarily assault, arrest and detain people in cities. Troops could come in only after the state governor and the city mayor clearly asked for them, and if the troops were clearly identified as such. The forces in Portland weren't.
Connecticut's other Democratic senator, Richard Blumenthal, both Oregon senators and former Democratic presidential hopefuls Cory Booker (N.J.), Kamala Harris (Calif.), Bernie Sanders (Vt.), Amy Klobuchar (Minn.) and Elizabeth Warren (Mass.) co-sponsored Murphy's troops ban, as did five others. Klobuchar, Harris, and Blumenthal are former local or state prosecutors.
Over in the House, which also prepared to debate the defense bill, three of Oregon's four Democratic representatives introduced their own ban,  the Preventing Authoritarian Policing Tactics on America's Streets Act, to "block the Trump administration from deploying federal forces as a shadowy paramilitary against Americans."
Oregon's two Democratic senators were particularly outspoken. "Federal forces have shot an unarmed protester in the head with impact munitions, and paramilitary forces in camouflage have been grabbing people off the streets and putting them into unmarked vans. These are the actions of an authoritarian regime, not a democratic republic. This gross violation of Americans' civil rights must end immediately," said Sen. Jeff Merkley.
"Donald Trump's occupying army continues to trample on the constitutional rights of Oregonians and escalate violence against peaceful protesters," added Sen. Ron Wyden. "If Congress doesn't step in, these authoritarian tactics won't stop in my hometown. If it can happen in Portland, it can happen anywhere."
"Unidentified federal law enforcement are pulling protestors off the street into unmarked vans and detaining them without explanation. That's the kind of behavior we expect from dictatorships, not the United States of America," said Murphy.
"Without identification, there is no way to hold these officers accountable, and there is no way to know if they are really federal officers. We cannot allow an American secret police."