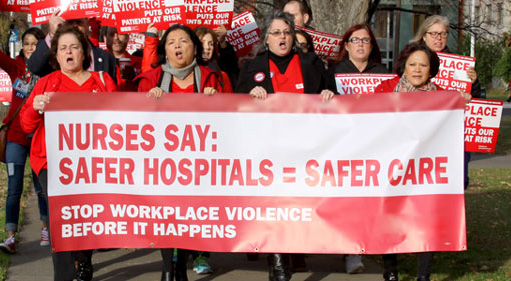 With workplace violence a constant concern – especially in health care – National Nurses United has formally petitioned the Occupational Safety and Health Administration (OSHA) to write a standard with measures employers must follow to reduce, if not eliminate, it.
NNU, the leading union for registered nurses, cited the preventable death from workplace violence of one of its members, Cynthia Palomata, six years ago as a symptom of the problem. But it goes far beyond that.
Workplace violence is so acute, especially with violent patients assaulting nurses and staff, that Minnesota's NNU affiliate convinced that state's legislature to pass, and DFL Gov. Mark Dayton to sign, a workplace violence law several years ago. California has a similar law.
Nationwide, the AFL-CIO's Death on the Job report, using latest data available, for 2014, showed workplace violence killed 765 people, or one of every six who died at work.
And 21 percent of all on-the-job injuries were in hospitals, nursing homes and other health care facilities. Of those injuries, violence from other people harmed 26,540 workers that year, and two-thirds of the hurt workers were women.
"Workers in the health care industry were particularly affected, with nursing and
residential care facilities experiencing the greatest number of injuries from violence, followed by hospitals, social assistance and ambulatory health care services," the report adds.
"Nursing, psychiatric and home health aides, registered nurses, and personal care aides were the occupations at greatest risk of injuries from violence, and patients were responsible for 49 percent of reported injuries related to violence," it points out.
Palomata's death "spurred NNU to continue to fight harder for workplace violence protections for our members. We have since won comprehensive legislation requiring regulations in California. Now we are submitting this petition and moving to the federal level," NNU Director of Health and Safety Bonnie Castillo said.
The union wants OSHA to start its rulemaking process immediately. In May, OSHA announced it would extend its deadline for employers to initially start electronically reporting workplace injury data, worksite by worksite, for large firms. That practice goes into effect August 10.
The data shows, NNU says, that existing rules and OSHA efforts to prevent workplace violence are inadequate. "As things stand, nurses cannot keep their patients safe if they cannot guarantee their own personal safety, and it is past time for OSHA to mandate that healthcare employers create comprehensive prevention plans to stop violence before it happens," said Castillo.
Modeled on California's anti-workplace violence rules, NNU wants OSHA to write rules forcing all types of hospitals, nursing homes and other treatment centers to have facility-specific prevention plans. It also wants OSHA to:
Thoroughly assess workplace violence risk factors – including staffing, or lack of it – and individual health care facilities' prevention measures. Combating short-staffing, which insurance companies often force on health care facilities, is another key NNU cause.
Order health care facilities to implement a comprehensive workplace violence prevention program at all times, in all units and work areas and on all facility grounds, including parking garages.
Mandate that health care facilities plan for post-incident response to violence including first aid, trauma counseling, and injury investigations.
Require employee participation in plan creation and review, along with interactive training in violence prevention.
Ban health care management retaliation against an employee for seeking law enforcement assistance during a violent incident.
"Workplace violence is absolutely preventable. We cannot stand by while one more nurse or healthcare worker is injured, or killed on the job. This petition says the wellbeing of all nurses and healthcare workers must be mandated at the federal level-and it must be mandated now," Castillo said.
Photo: National Nurses United