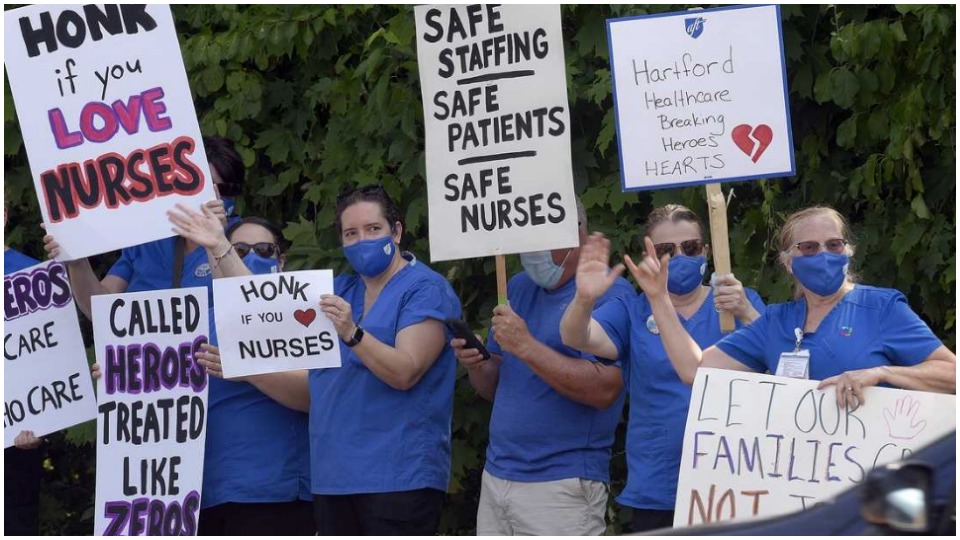 NORWICH, Conn.—Over 250 nurses, who are members of the Backus Federation of Nurses, AFT-CT Local 5149, and community supporters carried out an informational picket here Sunday, Aug. 9, outside Backus Hospital. They were demanding the hospital administration negotiate a new contract addressing safety issues affecting nurses and patients.
The reasons for the picket and rally included an expired contract, insufficient staffing levels, a lack of proper personal protective equipment to fight the COVID-19 pandemic, inadequate wages, and inability of new mothers to access pumping rooms.
According to the union, instead of addressing these concerns, the company that runs Backus Hospital, Hartford Healthcare, "proposes to get rid of overtime incentives and our wage scale, gut our health insurance, and no guaranteed 401 (k) contributions." All this from one of the richest hospitals in Connecticut.
The spirited picket line saw hundreds of cars driving by with horns blasting and passengers waving their support. During the 3:30 pm shift change, nurses and other health care workers leaving the hospital energetically honked their horns and shouted their support to their co-workers on the picket line.
After several hours of informational picketing, nurses and supporters marched to Chelsea Parade Park for a rousing rally that began with labor songs sung by Danielle Dufour, a third-year nurse at Backus. She sang about working conditions at the hospital, and nurses' commitment to their patients, co-workers, and families. Danielle commented that hospital bosses describe the union as a "third party" separate from workers. Actually, nurses are the union and make it strong. She then led everyone in singing "Solidarity Forever." A rally speaker called for Danielle to be Connecticut's official labor troubadour.
Sal Luciano, president of the Connecticut AFL-CIO, talked about Dr. Martin Luther King, Jr.'s advice that the moral arc of the universe bends toward justice, but he reminded attendees that sometimes it needs help to do so. He said Backus nurses are part of that struggle. He also discussed how nurses are sometimes working without PPE and how the fight for adequate PPE is also about protecting patients, nurses, and other healthcare workers. When nurses demanded a room for nursing healthcare staff to be able to pump milk for their babies, Hartford Healthcare rejected the demand.
State Sen. Cathy Osten, a legislator who organized her fellow state workers into a union, gave a rousing speech supporting the nurses. She commented that Backus Hospital makes more money than any hospital in Connecticut and it can afford to meet the nurses' demands. She also talked about workers being the backbone of every organization and the need to organize all workers at Backus. Osten said she will "walk the walk with nurses in their struggles for better working conditions."
John Brady, state vice president of the American Federation of Teachers, called for the hospital negotiators to show respect for the nurses during negotiations, then maybe they will have a contract and a hospital that they can be proud of. He finished by urging solidarity among union sisters and brothers in other professions.
Martha Marx, VNASC Nurses & Home Health Aides Union Vice President and herself a nurse, led the rally in chants describing the nurses fighting for their patients and their families. She said, "There is no time like now that we need unions; the middle class needs unions to achieve adequate hospital staffing levels, PPE and safe conditions for patients." She called for nurses to unite and build a stronger union.
Sherri Dayton, president of the Backus Federation of Nurses President, discussed nurses' struggles during the current pandemic and connected them to those of the past 11 years. She said she has seen "increased corporate greed affecting my co-workers as well as patients." As a mother breastfeeding her baby, she struggled to find a private room to pump milk. She and six other mothers faced the same challenges from hospital administrators.
Backus continues to require inadequate minimum staffing levels and substandard wage levels. All that union members demand are respect and a fair contract.
The struggle for a new contract at Backus Hospital was strengthened by the unity shown by the nurses, their co-workers, and community supporters. It will take continued unity to get Backus Hospital and Hartford Healthcare to bargain in good faith for contract provisions protecting health care workers and patients.
Eastern Connecticut's health care workers and their unions are leading the way to a militant labor movement focusing on workers' and community needs.