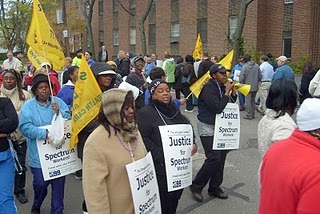 HARTFORD, Conn. – Hundreds of workers and their supporters rallied at Park Place Health Care Center in Hartford last week marking the 400 workers' sixth month on strike against Spectrum Healthcare. The members of SEIU 1199 recapped their struggle, and vowed to stand firm until they win a decent contract.
In a rousing speech at the six-month picket line rally, the Rev. Stephen Camp of Faith Congregational Church, representing the clergy said, "We are Christians, Jews and Moslems today, united, seeking justice and peace and in solidarity with Spectrum workers who are nurses, dietary workers, housekeepers and laundry workers. We are with those who understand that justice does not mean 'just us' but finding a way for all of us. We not only rally here, we encourage one another by our very presence, to seek the presence of the divine in this struggle. If we stand together we will be together, if we stand apart, they will pick us apart."
On April 15, the nurses, nursing assistants, dietary, laundry and housekeeping staff went on strike at four nursing homes operated by Spectrum Healthcare, a local corporation based in Vernon. They operate six nursing homes in the state. The workers, most of whom are female, African American and Latino, had been paid on average between $13 and $14 an hour after some years on the job.
Contracts with SEIU 1199 covering Park Place Health Center (Hartford), Birmingham Health Center (Derby), Hilltop Health Center (Ansonia) and Laurel Hill Healthcare (Winsted) expired on March 15, 2009, a year before the strike began. Since the contracts expired, Spectrum has fired or suspended at least 14 union members with no recourse to arbitration.
Those firings, along with other forms of worker intimidation, are the basis for multiple Unfair Labor Practice Charges filed against Spectrum. The National Labor Relations Board (NLRB) issued a formal Complaint and Notice of Hearing (similar to an indictment in criminal law) against Spectrum on August 19 stating that the company has repeatedly broken the law and is "failing and refusing" to bargain in good faith.
Unlike any of the other nursing home operators where workers have won SEIU 1199 union contracts, Spectrum immediately threatened to hire permanent replacements for union members who went on strike. The union made an "unconditional offer to return to work" on August 31. The employer responded by calling only a few workers back, once again violating the law. The case is going to trial and if the administrative law judge supports the Labor Board's charges, Spectrum will be liable for workers' back pay and back benefits with interest. In the meantime, the Spectrum workers continue their daily picket lines in front of all four homes in protest of Spectrum's unlawful behavior.
Since the struggle began there has been a tremendous show of support throughout the state for the Spectrum workers. Elected officials have helped deliver food and contacted the employer to urge a fair resolution. Other unions and community groups have walked the picket lines and raised funds. Family members and residents at the nursing homes have publicly supported the fight and charged the employer with substandard care from replacement workers. Clergy members have spoken from their pulpits to support the workers and attempted to contact Spectrum owners Brian and Howard Dickstein.
The workers are asking for solidarity from other unions and community members on the picket lines between 6 a.m. and midnight every day at each of the four nursing homes. Donations can be sent to: The 1199 Strike and Defense Fund, SEIU 1199, 77 Huyshope Avenue, Hartford , CT 06106.
Photo: Hundreds rally at Park Place Health Care Center on October 15, marking six months on strike. Tom Connolly / People's World