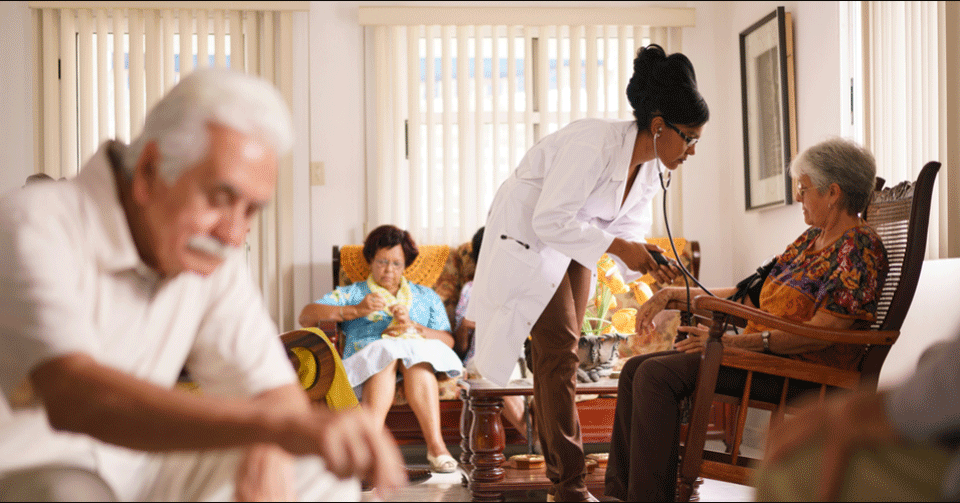 WASHINGTON—As if the nation's nursing homes didn't already have a checkered reputation for their treatment of Medicaid recipients, and the dangers to their residents overall from the coronavirus pandemic, some are now—illegally—grabbing those recipients' $1,200 federal relief checks Congress approved in March.
And the labor-backed Alliance for Retired Americans is blowing the whistle on them.
ARA is alerting members and their allies in its weekly bulletins, alliance Executive Director Richard Fiesta said in a phone interview.
"This is a criminal action," he explains. "Under the law, these checks are not taxable income. They're advance tax credits."
"But there are some unscrupulous characters out there, and so we're hoping to raise awareness" of that scheme to take those Medicaid recipients checks, Fiesta adds. He also wants anyone forced to turn over their checks to nursing home owners to call their states' attorneys' general, too. If they can't, their families or others responsible for care should.
ARA is not alone, though it has been consistently, and early, sounding the alarm, in its weekly alerts. Two key lawmakers, House Ways and Means Committee Chairman Richard Neal, D-Mass., and House Energy and Commerce Committee Chairman Frank Pallone, D-N.J., whose panels write Medicare and Medicaid laws, have done so, too.
In a June 8 letter, Neal and Pallone want Seema Verma, a protégé of Vice President Mike Pence and director of the GOP Trump administration's Center for Medicare and Medicaid Services, to force those nursing homes that grabbed the recipients' cash to give it back, and have CMS issue guidance barring any such future money grabs.
The issue is important to seniors in nursing homes, which, as the two lawmakers point out, have become hotspots for the coronavirus pandemic, due to the age and frailty of their residents. As of 5:30 pm on June 10, the coronavirus had killed 112,726 people in the U.S., out of 1.997 million sickened. AARP said as of June 1, at least 38,000 were in nursing homes.
That's an undercount, even AARP admits. Some states don't split out nursing home coronavirus deaths. Others undercount. For example, the Baltimore Sun reported on June 10 that Maryland, known for its accuracy, counts 1,359 nursing home deaths due to "active" coronavirus outbreaks. The key word is "active." The real, cumulative total is 1,750.
Current Medicare rules require nursing home residents to "spend down" their assets and cash to pay for their care until they run out. Then they go on Medicaid, the program for health care for the poor. But some nursing homes—nobody knows how many—have told the Medicaid recipients their $1,200 checks are just like regular Medicaid, and grabbed them.
"The Federal Trade Commission and others have put out warnings and notices" telling Medicaid recipients not to turn over the $1,200 checks, Fiesta adds. CMS hasn't, the lawmakers wrote Verma. A check on the agency's website, looking through its guidance to nursing homes during the pandemic, confirmed that.
Neal and Pallone also want Verma to reveal how many such illegal grabs have occurred. And they want CMS to force the offending nursing homes to return the cash to people they grabbed it from. Some nursing homes, their letter said, accompanied the cash grab with a threat that if Medicaid recipients don't turn over the checks, they'll be kicked out.
The lawmakers not only want to stop the overall scam, but want CMS to warn any nursing homes that keep trying it that they'll be cut off from any federal anti-pandemic depression aid available via forgivable loans for small businesses or through other sources.
"We request CMS issue guidance to nursing homes and residents on the status of these checks and their independence from residents' Medicaid status," the lawmakers wrote. Neal and Pallone also sent a copy of their letter to the nursing home lobby, the American Health Care Association.
"We're sickened by the whole thing," Fiesta says. "The people who are supposed to be taking care of them"—the nursing home residents—"are ripping them off."