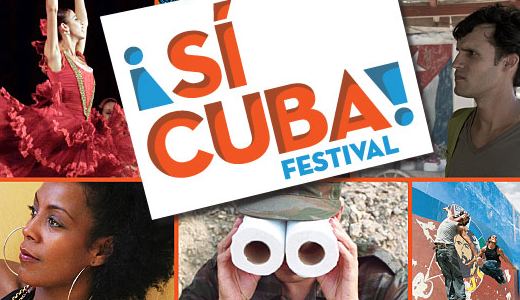 More than two dozen Cuban artists are expected to participate in a two-month festival called "Si Cuba!" that will feature original Cuban art in venues across New York, from March 31 through June 16.
The festival will include Cuban artists, musicians, dancers, filmmakers, photographers and writers who will showcase their work.
"We felt that this was the right time to do this, and New York the right place," said Karen Brooks Hopkins, president of the Brooklyn Academy of Music, a sponsor of the festival, to the New York Times. "There's optimism in the air about freeing up more interactions, which makes things feel very different than they did during the Bush administration and offers an opportunity for all of us to present work of a really high level in concentrated form."
Groups from Cuba expected to perform include musical legends like the nearly century-old son ensemble "Septeto Nacional," as well as dance groups like the National Cuban Ballet and "Danza Contempornea de Cuba," who will be making their U.S. debuts. Cuban rapper and poet Telmary Diaz will perform and the Havana Film Festival New York is expected to feature contemporary Cuban cinema. Nearly every style of Cuban art and culture will be represented in settings as diverse as Carnegie Hall and the outdoor Big Screen Project.
The idea for the festival began after several arts groups in New York scheduled different Cuban events. They eventually came together to promote one big festival. Up to 14 city arts organizations will be taking part.
Organizers say their aim is to showcase the rich cultural history of Cuba and build bridges between American and Cuban artists.
During the George W. Bush administration a festival of this magnitude would not have been possible. Cuban artists were not welcome to perform in the U.S. during the those years.
After Cuba's 1959 revolution, trade with Cuba was barred by the U.S Treasury Department and U.S. policy on granting visas to Cuban artists has shifted over the years. In 1985, then-President Ronald Reagan labelled Cuban artists as ineligible for entry to the U.S. During the Clinton years those restrictions were relaxed, but, after September 11, President Bush shifted policy back to the Reagan proclamation.
The Obama administration began loosening restrictions on travel to and from Cuba when he took office nearly two years ago. Since 2009, artist's visas have begun to be issued again but the process is still complicated by Cuba's designation as a "State Sponsor of Terror."
Consequently, Cuban artists are still required to wait for an unpredictably long time for their enhanced security clearances from the U.S. State Department, averaging eight weeks.
Last month, the White House announced new measures that permit Americans to send money to Cuban citizens; expand opportunities for travel to Cuba by academic, religious and cultural groups; and allow charter flights from more American airports
Cuba's Foreign Ministry said the steps were positive, but not nearly enough while, because the U.S. maintains its 48-year embargo on the island that bans most trade and American tourists from visiting the island.