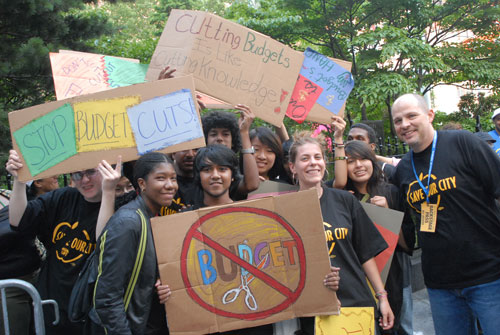 NEW YORK – As Mayor Michael Bloomberg's budget axe continues to hang over public workers and services – threatening schools and students, libraries, parks and virtually everything else on which New Yorkers rely – the city's labor movement, residents, and now a large section of the City Council is pushing to the top of the agenda another way to resolve the budget crisis: tax the rich.
The councilmembers want to increase taxes on people who make more than $250,000 by 0.6 percent and raise taxes on those earning over $500,000 by 1.2 percent. That would bring more than $1 billion in revenue for the city.
"Wall Street had a profit of $61 billion last year – $61 billion – and they were bailed out by the average taxpayer's dollars," said Councilmember Daniel Dromm, who represents Jackson Heights, Elmhurst and other parts of northwest Queens.
Dromm is a member of the council's Progressive Caucus, formed earlier this year to fight for progressive values and combat Bloomberg, a mayor who has often, in the words of caucus co-chair Brad Lander, "undermined grassroots democracy." So far, 12 of the city's 51 council members have joined the caucus.
The caucus commissioned a study to determine exactly how New Yorkers want the city's nearly $5 billion budget deficit filled. According to the study, 89 percent of New Yorkers favor protecting public services by increasing taxes on those with higher incomes. Only 11 percent of respondents were in favor of balancing the budget through service cuts.
The survey asked people how they felt about several deficit-reduction proposals in the Bloomberg budget. The vast majority of these proposals were overwhelmingly rejected in the court of public opinion.
But Bloomberg has different plans. According to an op-ed written by Lander and Melissa Mark-Viverito, a council member who represents East Harlem and who is the caucus's other co-chair, "Thousands of low and moderate-income families could find themselves hit by budget cuts on multiple levels and across generations – in just one low-income area in Brooklyn, two child-care centers, a senior center, a health clinic and a public pool are all on the chopping block."
According to Dromm, the caucus's tax plans would shift the burden of the crisis off the backs of lower- to moderate-income working people to those who can comfortably pay a little bit more. He suggested that, with the tax hikes of about a percentage point on those making more than $250,000, it would be possible to raise $1 billion extra while eliminating all city income taxes on those making less than $40,000 per year.
The Progressive Caucus has also proposed other methods of raising the rest of the funding. They include closing loopholes for hedge funds and private equity managers, which would raise up to $200 million; removing insurance companies' tax exemptions, raising up to $250 million; and eliminating tax breaks for vacant residential lots, raising nearly $80 million.
The biggest revenue generator that they have proposed, and one supported by more than half of New Yorkers, is a $0.007 per share tax on stock trades, which would bring in about $2 billon.
Those who support these measures argue that they need to be in place for this year, but, even more importantly for the future. Next year's budget deficit is forecast to be worse than the current one.
Many of these proposals would require state approval, which would be likely if Bloomberg were to lobby for them in Albany, the state capital. However, that is highly unlikely, said Dromm, so "we have to create enough of a campaign with people power to force the issue."
"People power" was on display this past week at the Save Our City rally initiated by AFSCME District Council 37 and the United Federation of Teachers, and attended by participants from dozens of other unions, community groups and religious organizations.
Dromm was quick to point out that the unions did most of the organizing for the rally. But he noted that the Progressive Caucus "supportive of that effort," and "were somewhat involved in organizing it as well, and we need more demonstrations like that until we win this battle."
Photo: A group of participants in the June 16 Save Our City rally. http://www.uft.org/news/thousands-join-save-our-city-rally/