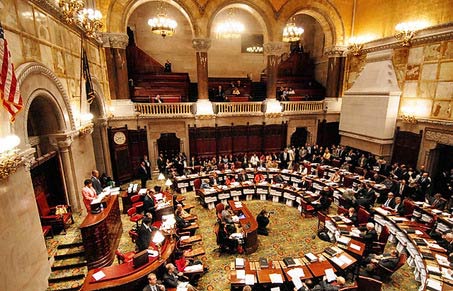 NEW YORK – The recent national elections resulted in major defeats for the extreme right wing. Not only was the candidate of the right, Mitt Romney, defeated in the presidential election, but also many other rightwingers were defeated in other races across the country. In the presidential race in New York State, Barack Obama racked up a very high vote margin, and Democratic Party candidates running for statewide offices won many victories over right-wing opponents.
As a result of November's electoral victories the New York State Assembly remained in Democratic hands, while also winning the formerly Republican-controlled state Senate with 33 seats.
Since Republicans won only 30 State Senate seats the electoral outcome should result in Democratic control of the Senate and with it the leadership and committee chairs. These positions are important for setting the legislative agenda.
However the forces of the extreme right, having bet on Romney and lost, are now making backroom deals to keep control of the Senate and subvert the will of the electorate. They have managed to get six dissident Democratic state senators to help them in this effort. These six "independent Democrats" in combination with the 30 Senate Republicans are attempting what's been called a "coup" to keep the Senate in the hands of the Republicans despite being in the minority.
This struggle has a racist dimension as well. The GOP-Democrat cabal has iced out 15 state senators – all people of color – from becoming committee chairs.
Civil rights, labor and allied progressive forces have come out in opposition to this Republican and opportunistic attempt to circumvent the vote. Political and community leaders have been vocal in their opposition to the scheme, organizing protests. State Senator Bill Perkins said the "back room deals" put those denied leadership "on the back of the bus." Democratic Party leader and former candidate for Congress Chris Owens called the situation an "outrage." The Rev. Al Sharpton said the maneuver "would be enormously troubling for any leader in this state to allow such a miscarriage of justice and obstruction of the will of the people to go forward."
So far New York Governor Andrew Cuomo has not spoken out against this "coup." Voters are being asked to call the governor and telling him to stand up for democracy and the people's will.
Photo: NY Senate chamber/AP Photo