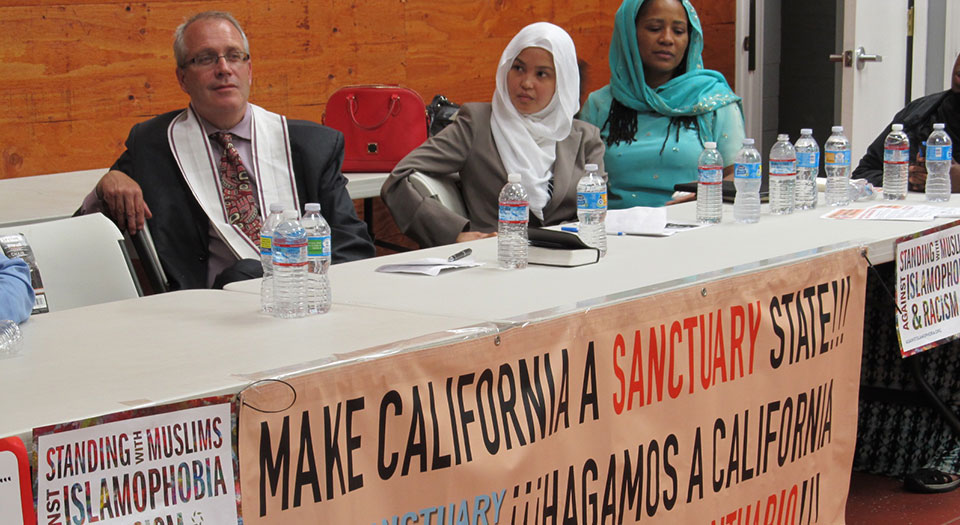 OAKLAND, Calif. – Members of the Muslim community in this sanctuary city were joined by neighbors, clergy from other faiths and area elected officials at West Oakland's As Salaam Mosque May 7, to celebrate diversity and to pledge friendship and mutual support in the face of rising anti-Muslim harassment and discrimination.
After opening prayers by the mosque's Imam Muhammed and Pastor Jim Hopkins of the Lakeshore Baptist Church, participants shared their concerns and experiences.
Noting that Oakland's population has long been very diverse, Sundiata Rashid, administrator of the Lighthouse Mosque, drew parallels between the area's earlier history and today's growing anti-diversity pressures.
Rashid recalled that in the mid-19th century, white settlers drove out a Mexican ranching family by blocking off their water supply.
"They weren't taking the land so there could be Asian Americans, African Americans, Arab Americans," Rashid said, "they were taking it because they wanted all white people here. Now they want to ban people from certain countries, and do things so certain people won't feel like they belong here."
"For me, it's just heartbreaking," Nurse Practitioner Saida Adem told the crowd. "And we can't forget our Hispanic families, our LGBT families. We're all together in this fight. We have to get together with one voice. We have one thing in common: we are all human beings. We have to love each other and work together."
The gathering took place in the context of ongoing California legislative activity to uphold immigrant rights, and numerous sanctuary declarations around the state.
Assemblymember Rob Bonta, D-Oakland, author of one sanctuary measure and co-sponsor of others, compared the current situation with that during World War II, when President Franklin D. Roosevelt issued an Executive Order leading to the internment of over 127,000 Japanese Americans.
"Right now in California," Bonta said, "my colleagues and I think it's absolutely critical to be a counterweight to balance the hatred coming out of Washington DC. As we go, others will follow."
Assembly Bill 3, introduced by Bonta to provide legal counsel in immigration cases with the resources they need to advise their clients, is now in the Assembly's committee process. Meanwhile, state Senate Bill 54 to bar state and local law enforcement from using their resources to help federal immigration agents – often called the "sanctuary state bill" – passed the Senate last month and is expected to pass in the Assembly. Bonta co-sponsors SB 54.
Lynette Gibson McElhaney, an Oakland City Councilmember who represents West Oakland, told the crowd, "One of the scriptures that's often referenced in my tradition is Psalm 23: "Oh, how beautiful it is for brothers to dwell together in unity." She presented Imam Muhammed with a proclamation: "We stand with you, as a sanctuary city, united in solidarity to ensure that everyone has the ability to live, learn and worship in this country in peace."
José Hernandez, senior Congressional aide to U.S. Representative Barbara Lee, D-Oakland, read a message from the Congresswoman: "Today's event is the first of its kind here in Oakland, and it couldn't be any timelier… We are living in troubled times: in times when the president of the United States can openly attack and disrespect an entire religion without restraint. Therefore, it is of the utmost importance that we remain unified … and stand in solidarity with each other."
Other speakers included Nicole Knight of the Oakland Unified School District, who reminded the audience that OUSD is a "sanctuary school district;" the Rev. Ken Chambers of West Side Missionary Baptist Church; and Asaj Mahal, a City of Oakland affordable housing worker.
The event was sponsored by the California Sanctuary Campaign, which has the support of many elected officials and community organizations, including the Alameda Labor Council.
Lead organizers of the event were Jehan Hakim of Asian Americans Advancing Justice, and former Oakland Mayor Jean Quan.
"We brought our other neighbors to meet our Muslim community because Oakland has stood up for a sanctuary state solution," Quan said in opening the meeting. "Donald Trump doesn't get to turn back democracy in one year, one policy, one vote – not if we stand together."