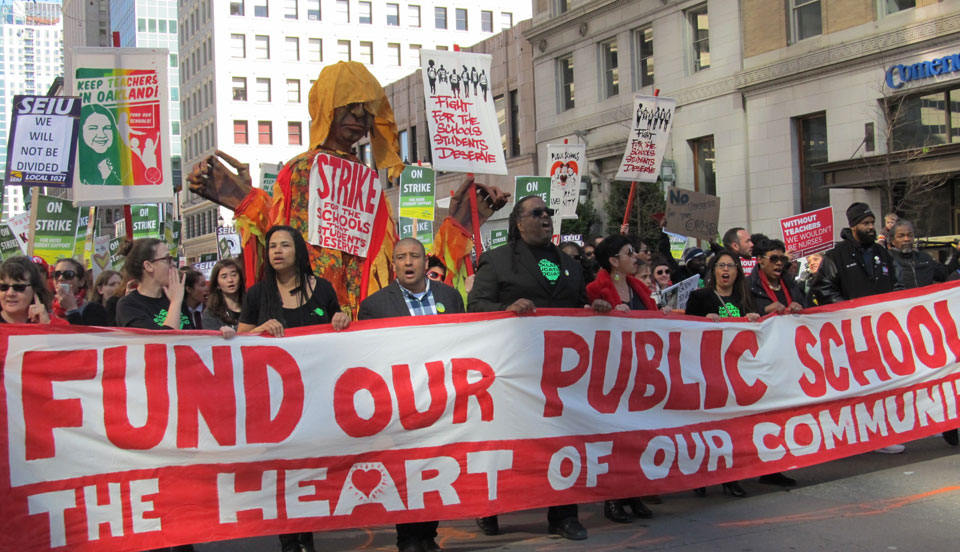 OAKLAND, Calif. – Joining the wave of teachers' strikes that are sweeping the country, Oakland teachers and school staff hit early-morning picket lines throughout the Oakland Unified School District's 86 elementary, middle and high schools Feb. 21, before packing the City Hall plaza for a lively noontime rally with other union leaders and members, parents, students and community supporters.
The teachers have been without a contract since July 2017 and are the lowest-paid in Alameda County and among the lowest-paid in the San Francisco Bay Area, where the cost of living is among the highest in the country.
Their union, the 3,000-member Oakland Education Association, is pressing for lower class sizes and calling on the OUSD to hire more nurses, psychologists, and counselors, and end plans to close up to 24 public schools in largely African American and Latinx neighborhoods.
With one in five Oakland teachers leaving the district each year because of low pay, the union is seeking a 12 percent pay increase over years 2017-2020, to help bring salaries toward what the union calls "a living wage." That's far above the district's latest offer of a 7 percent increase and a retroactive 1.5 percent bonus. Negotiations are set to resume Feb. 22.
The union is also expressing concern over the continuing expansion of charter schools, privately managed but publicly funded schools, which is costing Oakland schools over $57 million annually according to a new study by the research and policy center In The Public Interest.
Broad support from other area unions was evident at the rally.
Liz Ortega-Toro, executive secretary-treasurer of the Alameda Labor Council, pledged the support of the Council's 135,000 members. She cited specific unions including the Service Employees, Teamsters, Hotel and Restaurant Workers and Firefighters. "Today is a new beginning for our kids and their future," she said, "and for the hardest-working educators in the country, who have dedicated themselves to the most important of professions."
Calling quality public education fundamental for a democratic society, Zenei Cortez, RN, co-president of the 100,000-member California Nurses Association, said it "offers opportunity, economic and social equality for everyone, especially for those who are underserved and too often neglected." Without teachers, she added, there would be no nurses.
The strikers also heard a powerful supporting message from a leader of their national union, the 3-million-member National Education Association. "You are not alone," Vice President Becky Pringle told them, but are among "tens of thousands of teachers and support staff throughout the country who have risen up and said, "Enough! … You are in the fight of your lives to make sure not one, not some, but every single child can explore their imagination and live into their brilliance."
OEA President Keith Brown – introduced as "a product of Oakland public schools" – called the day "a historical moment" for the city, when teachers, support staff, parents, students, and community members "shut the district down, to demand that "Oakland students have the schools they deserve."
Brown, now on release from his teaching post at Bret Harte Middle School, said the strike is to ensure that "our students are a priority, that we have nurses, counselors, mental health workers and librarians," vital for students' quality education. He demanded a living wage so teachers can stay in Oakland and called on the district to provide essential resources to neighborhood schools, instead of closing them.
After the rally, strikers and their allies filled the streets of Oakland's main business district as they marched, chanting, around the building housing the OUSD's headquarters.
At one of those early morning pickets, dozens of teachers, parents, and students were gathered in front of Hoover Elementary School, a small K-5 school in West Oakland.
Gillian Bowley, an instructional coach at Hoover, whose children attend another Oakland school, focused on the urgent need for more overall funding of schools as well as higher salaries for teachers.
Bowley said she had earlier taught in San Francisco, where schools were underfunded. "And then I came to Oakland and I was just shocked in classrooms both at the school where I work and in the school my children attend. How are we supposed to meet the needs of all students, especially those who need the most from us, when there are 27, 30, 35 kids in a class? Class size really does make a difference in teachers' ability to support students."
Bowley pointed to the impact the continual stream of teachers leaving the district has on students. The work of teachers is very demanding, she said, and requires a high level of expertise as well as strong relationships with families and the community. "When we have this kind of turnover, we simply can't educate children in the way we're being asked to. Anyone who's interested and passionate about working with our students needs a living wage and they don't have that now. It's really hurting our schools."
Classified workers represented by SEIU – security officers, administrative workers, and others – are also refusing to cross the teachers' picket lines.
Teachers have the support of Oakland's Mayor Libby Schaaf, who tweeted that as an Oakland schools alumna and parent, "I stand with Oakland teachers who deserve higher wages and better working conditions."
U.S. Representative Barbara Lee, whose district includes Oakland, tweeted that teachers "deserve a living wage and the tools they need to give our kids the very best education," and that she hopes the two sides can agree quickly on an agreement "that prioritizes our students and the teachers who educate them."
Mayor Schaaf had said earlier that 15 recreation centers across the city would be open for students and staffed by volunteers, as an alternative place to go.  Churches and other sites were also providing "solidarity schools."
On the eve of the strike, over 30 Oakland school principals traveled to the state capital, Sacramento, to meet with new state Superintendent of Public Instruction Tony Thurmond and several state legislators. They urged more funding for public schools across the state as well as changes to a state law that lets county or state boards override local school boards' votes against charter schools in their districts.