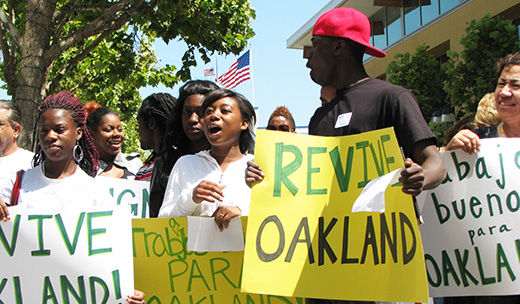 OAKLAND, Calif. – Over 100 community residents and trade union activists were on hand at Port Commission headquarters here July 20 to welcome a vote they said was vital to assure quality jobs for Oakland residents in redevelopment of the massive former Oakland Army Base.
As the port commissioners prepared to vote on extending their negotiation agreement with the project's developers while a contract is finalized, the residents rallied to support a "Contract with the Community: Good Jobs for Oaklanders," put forward by the community-labor Revive Oakland! Coalition. Among their demands: local hire requirements for both short-term and long-term jobs, community-based job training and placement programs, and a commitment to quality, family-supporting jobs.
In a conversation before the rally, Shirley Burnell of the Alliance of Californians for Community Empowerment spoke of soaring unemployment among African American youth in West Oakland neighborhoods bordering the redevelopment project, and the sad history of other major development projects bringing workers in from other areas instead of hiring workers from Oakland.
"I hope that within this contract, there will be a requirement that Oakland is hired first," she said. "We also want to make sure Oaklanders have been trained for these jobs, so they can go right in when things are up and ready to run."
Also among rally participants was Ida, a Unite Here! member who works at an Oakland Airport food concession. "What the port needs to do is to give Oaklanders a fair chance at getting jobs, and let these workers also be unionized, like I am," she said. Ida's daughter, graduate of a community college program in pharmacy, "still can't find a job because they want so much experience. How can you get experience if you don't have it?" Ida said. "They should let people try and see what they can do."
As some Revive Oakland! members made their way into the Port Commission's hearing room, others gathered in an adjacent hall, where young and older workers shared their stories of searching for employment when job-seekers far outnumber available positions.
During the hearing, coalition members voiced their hopes for the redevelopment project, and Burnell presented commissioners with hundreds of postcards signed by residents of hard-hit city neighborhoods, urging the port to support a good-jobs contract.
In the end, the commissioners agreed to extend the negotiation agreement beyond its scheduled Aug. 1 expiration. The port's extension will contain provisions to help ensure the thousands of jobs created by the redevelopment will be quality jobs for Oakland residents.
"The good news is that the port and the developers have heard us, loud and clear, that Oakland needs to be a part of this project," coalition spokesperson Kate O'Hara told the group as they gathered outside after the vote. "We are not there yet, but we are on the road," she said, as participants vowed to stay engaged with the process until the developers sign a good-jobs contract.
The Revive Oakland! Coalition for Real Jobs and Healthy Neighborhoods includes 20 community, labor and faith organizations and political leaders, among them the Alameda Labor Council, East Bay Alliance for a Sustainable Economy, Ella Baker Center for Human Rights, National Employment Law Project, and Alameda County Supervisor Keith Carson and area Assemblymember Sandre Swanson.

Photo: Marilyn Bechtel