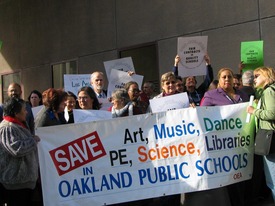 OAKLAND, Calif. — Teachers here are encouraged by a long-awaited arbitrator's report, released Jan. 23, bolstering their contention that the Oakland Unified School District can afford to raise salaries by up to 2.5 percent and that new health care costs to teachers can be minimized.
"As we predicted, there is money in this district to settle a fair contract," union President Ben Visnick said, as hundreds of teachers prepared to march protesting the district's efforts to hire replacement workers.
The report, issued by the impartial chair of a three-person fact finding panel including representatives of the union and school district, found the district has benefited from increased revenue in the recent period. It also recommended that the district provide some preparatory time for teachers during regular school hours — periods during which students can receive specialized classes in the arts, science, physical education and other subjects.
Oakland teachers have worked without a contract since June 30, 2004. They have urged restoration of programs and services, including the arts and physical education, which were cut following a 2002 state takeover of the city's schools under a financial bailout agreement. They have also called for restoration of a 4 percent pay cut they accepted at that time, and protested the district's demand to cap its contribution to health coverage. Their union, the Oakland Education Association, has repeatedly emphasized that it is doing everything possible to avoid a strike.
Meanwhile, the school district has advertised for replacement workers in area newspapers, online, and with a telephone hotline, proposing to pay them nearly three times the current $110-per-day rate for substitute teachers.
Release of the fact finder's report was preceded by a Jan. 21 rally outside the Marriott Hotel in downtown Oakland as teachers from around the state took a break from an education conference to support their Oakland colleagues.
Alluding to her organization's role in the labor-led coalition that defeated Gov. Arnold Schwarzenegger's ballot measures last fall, Barbara Kerr, president of the California Teachers Association, pledged support and added, "We do this not only with words, but with our resources. And let me tell you, after last year, you understand that when we take on a serious cause, we do it well."
Joining the rally were teachers, CTA and National Education Association officers from all over the Bay Area and as far away as Los Angeles.