OAKLAND, Calif. – Cranes dot the sky here. Everywhere one looks, another tower rises, throwing its shadow over the homes of long-time residents. But these new high-rise dwellings are not intended for them, and more and more folks with decades-long roots in Oakland are being displaced to far-out suburbs and cities.
Or in all-too-many instances, being displaced to tents and improvised homes under freeway overpasses, in parking lots and empty spaces. Or even to a blanket under the open sky.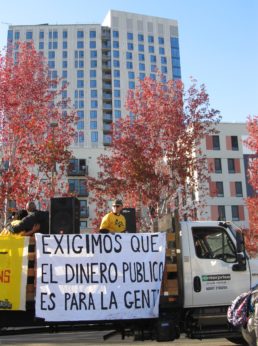 Hundreds of marchers from Oakland, Berkeley and other nearby communities converged on Mosswood Park Nov. 23, to express their outrage at corporate development of "market-rate" housing at a pace that has led to soaring increases in homelessness, which in the last two years has risen by 47 percent in Oakland, 42 percent in San Jose and 17 percent in San Francisco. The African American community and other communities of color have been hit the hardest.
Mosswood Park itself is the site of an encampment with some 180 unhoused residents, and this city of 429,000 is now estimated to have close to 4,100 unhoused people, or nearly 1 percent of the population.
Last year, writers for Mother Jones reported there were almost four vacant properties for every homeless Oaklander.
Addressing participants from dozens of faith-based, labor, youth, environmental, tenants' union, community and other organizations, Carroll Fife, Oakland Director of the Alliance of Californians for Community Action­ (ACCE), lead organizer of the action, challenged them to "break down the silos in organizing so we can strike with one mighty blow!"
Because "the rents are too damn high, in our city, our state, our country, the world," she said, "we have to connect the dots about what's happening to people all over the globe. Housing is a human right, and we need to make Oakland a model for what can happen when people say Enough is Enough and put their feet down."
Paola Laverde, chair of the Rent Stabilization Board in neighboring Berkeley, told the crowd, "We have a system that's set up to benefit only one set of stakeholders – developers, property owners and investors. We have laws that say when the unit is empty, property owners can raise the rent as high as the market will bear."
She added, "That's why you have studio apartments in Berkeley renting for $2,800 a month. This is a new kind of red-lining – only the rich can afford to pay for these new units."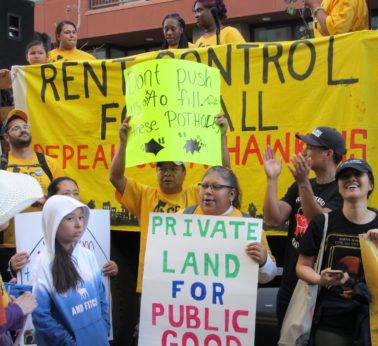 The labor movement was well-represented in the gathering, with leaders of the Oakland teachers' union, City of Oakland workers, public transit workers and other unions among speakers and participants.
Liz Ortega, head of the Alameda Labor Council, pledged the support of the council's 135,000 members. "This should not be happening in one of the richest countries in the world," she said, "because moms and their kids should not have to worry about having a place to live when they're working one, two, three or four jobs just to make ends meet."
Yvonne Williams, president of Amalgamated Transit Union Local 192, representing public transit bus drivers in Oakland and many nearby communities, told the crowd, "I know personally what it is to be homeless – I've slept in my truck, in my car. It's no fun, but I had a car to sleep in. How many homeless brothers and sisters ride our buses, all night long, because they have nowhere else to go … We need to stay in the fight and bring others with us!"
Along the way to their final destination, marchers filled MacArthur Blvd., a main Oakland thoroughfare, pausing as they passed a series of now vacant and boarded-up homes bearing signs saying they "must be removed to accommodate construction of a new apartment complex."
There, they heard Oakland City Councilmember Nikki Fortunato Bas call on the community as well as her fellow City Councilmembers to join her in working for land to be taken off the speculative market so people can own their own homes through the Oakland Community Land Trust and co-ops, implementing the Council's 2018 resolution to use public land for public good, and raising affordable housing goals for new developments beyond the current 25 percent.
"We have to set our goals higher if we are going to house our unsheltered neighbors and keep our Oaklanders here," Bas said. "I want all of you to push with me not just for affordable – but deeply affordable – housing."
Carrie Ramirez of Youth Vs. Apocalypse said that organization's issue – climate justice – is "in an intersectional relation to housing justice" because "the same corporate officials and systems of power" preventing transition to renewable energy are the same ones removing communities of color and poor communities from their homes.
"I'm homeless," she told the crowd. "Not the type of homeless you see on the streets, though I have slept on rooftops for weeks at a time. I'm the type of homeless that works three jobs, goes to school fulltime, and still can't afford a place to live. It's not the people's fault there are more empty homes than homeless people – it's a problem of unjust power."
Highlighting the final stop of the march was Dominique Walker of Moms 4 Housing, a newly formed collective describing its purpose as "uniting mothers, neighbors and friends to reclaim housing for the Oakland community from the big banks and speculators."
Walker, whose family came here from the rural South in the 1950s, and fellow long-time Oaklander Sameerah Karim – both homeless despite working fulltime and even more, on Nov. 18 occupied a long-vacant home in West Oakland, vowing to stay there until the home – owned by Wedgewood Properties, which acquires foreclosed homes and manages "non-performing" residential loans – is returned to the Oakland community. Supporters are surrounding the home until it has been transferred to community control.
On the collective's web site, she has told how the home was stolen from the black community during the subprime mortgage crisis and had sat vacant since 2017.
Holding her young daughter as she stood on the back of the truck that had led the procession, Walker told the marchers the collective is "taking a stand, and it doesn't end with one house – we have to take Oakland back from all speculators!" As the crowd chanted, "Give us the house!" she thanked all who are supporting their efforts and declared, "Like I said, we're not stopping until all moms have housing!"
It was highly appropriate that the final destination where Walker spoke was in front of the newly-built MacArthur Commons, next to the Bay Area Rapid Transit system's MacArthur station, and described by rally speakers as 374 units of market-rate housing, with studio apartments going for as much as $2,535/month – and 11 "affordable" units with studios priced at $1,400/month.
Among other groups joining ACCE on the march and at the mic were many more organizations including the Sunrise Movement, Youth for a Positive Direction, East Bay Housing Organizations, the Black Housing Union, Oakland and Berkeley Tenants' Unions, People's Breakfast Oakland and the Poor People's Campaign.