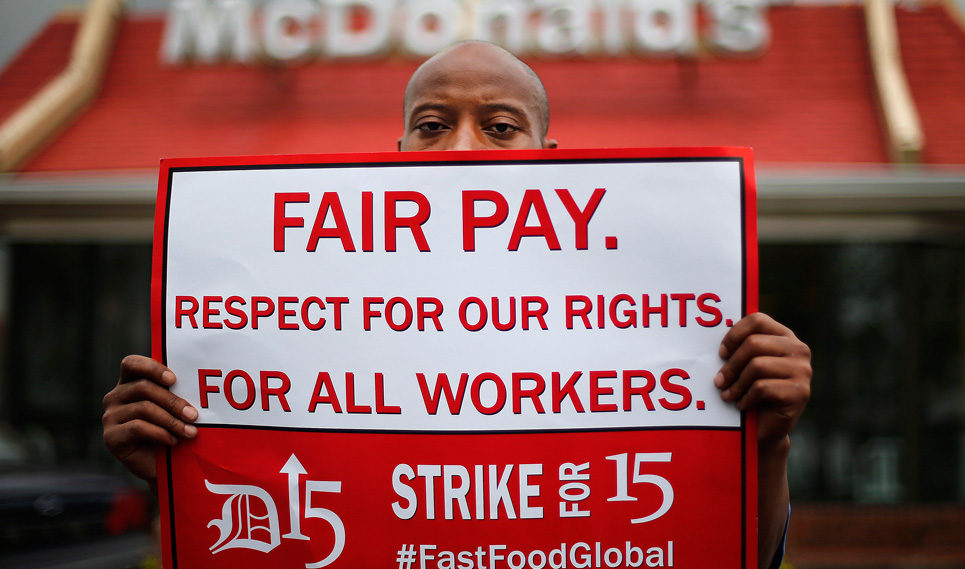 In the waning days of the Obama Administration, in response to widespread organizing and mass demonstrations, the president and the National Labor Relations Board are taking more pro-worker actions than ever before.
President Obama is holding the line against right wingers determined to delay implementation of a National Labor Relations Board (NLRB) rule that would increase by 12.5 million the number of workers eligible for overtime pay. Also, he has issued an executive order to give employees of federal contractors a hike in benefits. And the NLRB has taken another step toward ensuring that so-called "gig economy" employers do not violate worker protection laws.
In May, the NLRB ordered that overtime eligibility be expanded to all workers making up to $47,476 a year. Currently the threshold is $23,660 a year.
The order is scheduled to take effect December 1. However, last month the U.S. House passed a bill to delay implementation.
President Obama has firmly pledged to veto the bill if it ever gets to his desk.
Meanwhile, led by Nevada and Texas, 21 Republican-run states are suing to halt the overtime eligibility expansion altogether.
Obama administration officials have said they will fight this suit tooth and nail.
In another action, President Obama has issued an executive order saying that all companies having contracts with the federal government must offer their employees paid sick leave.
Unions, women's rights advocates and groups advocating for low wage workers had fought for this executive order for years.
"This is terrific news for [some 1.15 million workers] and their families," said Debra Ness, executive director of the National Partnership for Women and Families. "This measure is truly a testament to the Obama administration's deep commitment to increasing access to paid sick days and other family friendly workplace supports."
She continued "These workers will no longer have to choose between their jobs and taking time to recover from common illnesses, seeking preventive care, or caring for sick children or relatives."
Those who fought for this executive order hoped it would set the standard for employers around the nation, and, in fact, five states and more than 30 cities have passed their own sick leave laws.
However, 87 percent of private workers still don't have paid sick days and for a decade Republicans have blocked Congress from passing paid sick leave legislation.
In addition to Administration efforts to expand overtime eligibility and to guarantee sick leave to employees of federal contractors, the NLRB is re-doubling its efforts to make sure corporations that try to classify their employees as "independent contractors" or as "part time workers" obey labor protection laws.
For example the NLRB's Chicago regional office filed charges in early October against Postmates, a big national "on-demand" food delivery service.
"Postmates violated the National Labor Relations Act by requiring employee drivers to enter into arbitration agreements as a term of employment," the Chicago NLRB announcement said.
The full board has been tossing out such mandatory arbitration agreements for more than a year, saying they interfere with employees' labor law rights to collective bargaining representation.
Postmates also violated workers' rights by barring workers "from discussing terms and conditions of employment, including safety, with other drivers," the NLRB Chicago office added.
In another case, an NLRB administrative law judge in New York has consolidated several cases against the McDonald's fast food corporation in an effort to speed up the process for coming to a resolution.
In 2014, the NLRB ruled that the McDonald's corporation itself can be held liable jointly with franchise owners in close to 300 complaints involving the rights of employees. The complaints cites instances of franchise owners making statements and taking actions against workers for participating in nationwide protests and other activities aimed at winning improvements in wages and working conditions.
The NLRB said its investigation found that McDonald's, through its franchise relationship and its use of tools, resources and technology, "engages in sufficient control over its franchisees' operations, beyond protection of the brand, to make it a putative joint employer with its franchisees, sharing liability for violations" of labor law.
Now, Administrative Law Judge Lauren Esposito in New York, has streamlined the proceedings so that a ruling can be made soon.'