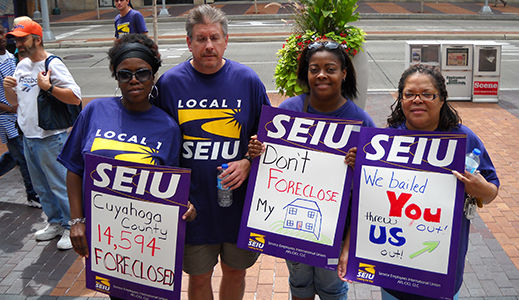 After a generally dismal report on home foreclosures in last month, the Obama administration took steps to beef up its support to unemployed workers who face foreclosure.
According to industry experts, some 325,000 homes faced "foreclosure activity" (default notices, auction or bank repossession) in last month. Though this number is a 10 percent decrease over July 2009, it is a slight rise over June 2010.
According to a spokesperson at RealtyTrac, a company that follows the housing market and helps its customers profit on foreclosed homes, July was the 17th straight month where foreclosure activity stood at over 300,000. California and Florida alone accounted for more than one-third of these homes, with Illinois and Michigan combining to total just over one-tenth of all home foreclosure activity.
To combat the continuing trend, the Obama administration announced last week, additional funds for its "targeted foreclosure-prevention programs" administered through the Treasury and Housing and Urban Development Departments. Using money from the TARP fund, originally designed by the Bush administration to aid major banks and Wall Street firms, and the Wall Street regulatory law recently enacted, the administration said it was making $3 billion in new funds available to help homeowners at risk of losing their homes due to unemployment.
Some $2 billion will go to the Treasury Department's "Hardest Hit Fund," which provides aid to the 17 states and the District of Columbia with unemployment rates above the national average for the past year. The program is designed to help states provide assistance to homeowners who have lost their jobs and struggle to make their house payments as a result.
"This is part of the administration's comprehensive housing policy that has helped to stabilize a fragile housing market and allows responsible homeowners the chance to reduce their monthly mortgage payments to affordable levels," Assistant Secretary for Financial Stability Herb Allison told reporters last week.
Under the program, Treasury officials projected that states like California and Florida would receive just over $700 million with Illinois and Michigan eligible for almost $300 million to aid struggling homeowners.
In addition, the Department of Housing and Urban Development's (HUD) Emergency Homeowners Loan Program works with states and non-profits to assist homeowners impacted by the weak job market in making their mortgage payments. The program provides deferred payment "bridge loans" for eligible borrowers for up to $50,000 on mortgages, interest, insurance, or taxes for two years to help them stay in their homes while they find new jobs.
According to Bill Apgar, HUD Senior Advisor for Mortgage Finance, the $1 billion for this program comes from the Wall Street reform law and aims to assist homeowners who do not live in the hardest-hit states but who nevertheless have lost their jobs.
"The effort will focus on homeowners who are at least three months delinquent in their payments, have a reasonable likelihood to resume their mortgage when they regain employment and related housing expenses within two years," Apgar added.
"Together," he concluded, "these initiatives represent a combined $3 billion investment that will ultimately impact a broad group of struggling borrowers across the country and in doing so further contribute to the Administration's efforts to stabilize housing markets and communities across the country."
Homeowners wishing to learn more or to avoid fraudulent schemes related to home loans should visit the "avoiding foreclosure" page at HUD.gov. [http://portal.hud.gov/portal/page/portal/HUD/topics/avoiding_foreclosure]
Photo: http://www.flickr.com/photos/seiu1/4880034452/sizes/o/