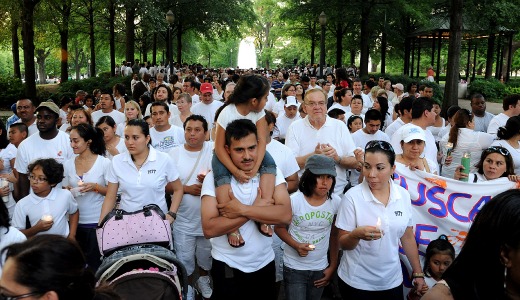 In a highly anticipated move, the Department of Justice filed a lawsuit Aug. 1 to stop Alabama's new anti-immigrant law, which officials argue conflicts with federal immigration policy.
Alabama's Republican Gov. Robert Bentley signed the law, HB 56, in June. The measure, which is set to take effect Sept. 1, is the latest in a series of anti-immigrant laws that have been modeled after Arizona's SB 1070. Utah, Indiana, Georgia and South Carolina have all passed Arizona-inspired laws that have been challenged by civil and immigrant rights groups in courts.
However, Alabama's law is considered by far the toughest of them all. It empowers local law enforcement to arrest those it suspects are undocumented immigrants and also prohibits residents from giving rides or renting apartments to them. The law makes it a crime for immigrants to work or solicit work in the state. It prevents undocumented immigrants from receiving state or local public benefits and bars them from enrolling in public colleges. In one of the law's harshest provisions, schools are required to report the immigration status of incoming students.
The Department of Education has also joined the Department of Justice in suing over parts of the Alabama law.
The "action makes clear that setting immigration policy and enforcing immigration laws is a national responsibility that cannot be addressed through a patchwork of state laws," said Attorney General Eric Holder in a statement announcing the suit. "To the extent we find state laws that interfere with the federal government's enforcement of immigration law, we are prepared to bring suit, as we did in Arizona."
The suit, filed in Alabama's Northern District, marks the second time the Obama administration has sought to block a state immigration law. Last year, the Justice Department filed a similar challenge to Arizona's controversial SB 1070. A federal judge decided to temporarily block key parts of that law, including a provision that would have required police to determine suspects' immigration status.
In a press release the Justice Department argues Alabama's law "is designed to affect virtually every aspect of an unauthorized immigrant's life, from employment to housing to transportation to entering into and enforcing contracts to going to school."
Moreover, the law "would result in the harassment and incarceration of lawful resident aliens – and even U.S. citizens who would not have readily available documentation to demonstrate their citizenship," the government argues.
The Obama administration is seeking a preliminary injunction to prevent implementation of the law saying it will "cause irreparable harm."
The Alabama law is already facing mounting opposition.
Last month, a coalition of civil and immigrant rights groups, including the American Civil Liberties Union and the Southern Poverty Law Center, asked a court to bar the law from taking effect. And earlier this week a coalition of Roman Catholic, United Methodist and Episcopal bishops and religious leaders also filed suit challenging the legality of the law.
Cecillia Wang, the ACLU's immigrants rights project director and one of the attorney's in the civil rights lawsuits, says she welcomes the new litigation.
"It is a law that really tramples on civil rights, civil liberties and religious freedoms in the state of Alabama," said Wang to the Associated Press. She said she is confident the law is going to be enjoined just like the Arizona law was.
Eric Holder and Homeland Security Secretary Janet Napolitano argue immigration enforcement is the job of the federal government.
"Legislation like this diverts critical law enforcement resources from the most serious threats to public safety," said Napolitano to AP.
In a statement, the National Association of Latino Elected and Appointed Officials Educational Fund said it applauds the Obama administration's move.
The group argues Alabama's law wants to turn educators into immigration officers and discourages parents from enrolling children into schools. The language in the bill undermines Plyler v. Doe, a Supreme Court decision issued in 1982, which clarified that public education could not be denied to a child due to their immigration status, the group says.
The Latino officials organization says, "The Department of Justice lawsuit is a reminder to all state legislatures considering their own version of SB 1070 that these proposals go against the U.S. Constitution and civil rights tenets of our country and must be rejected."
Meanwhile, U.S. District Judge Sharon Blackburn ruled Aug. 2 she would consider all three lawsuits together and will hear arguments made in all three suits seeking to block implementation of the Alabama law. A hearing is scheduled for August 24.
Photo: Participants in a protest against Alabama's new anti-immigrant law march through Linn Park June 25 in Birmingham, Ala. (AP Photo/ The Birmingham News, Mark Almond)