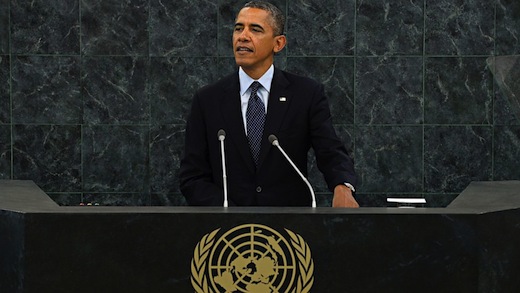 President Obama strained in Monday's United Nations speech to explain the rationale behind U.S. foreign policy.
It was a curious and contradictory spectacle as the president who brought home the troops from Iraq and Afghanistan in the same breath defended his administration's indefensible actions in Libya, drone warfare, and NSA spying on citizen and ally alike.
Had not regime change occurred in Libya under the guise of humanitarian intervention? Wasn't the visit of Brazil's president postponed in outrage over NSA spying? Have there not been untold civilian causalities from drone attacks?
And yet the president sought to cast away charges of imperialism and empire with rhetorical "we're-the-good guy" asides even as he revealed one of the underlying bases of U.S. foreign policy: "The United States of America is prepared to use all elements of our power, including military force, to secure our core interests in the region," asserted the president. "We will ensure the free flow of energy from the region to the world."
A more blatant exposition of U.S. imperialist oil interests is hard to find.
Note must be taken of the president's positive response to overtures from Iran and highlighting the need for a solution to the Israel/Palestine conflict with a two-state solution.
Regarding the crime of nerve gas in Syria, however, the president while pledging continuing diplomacy maintained the now usual military bluster.
For lasting peace to be achieved the U.S. ship of state must be turned around. A first step should be away from an unconditional defense of American exceptionalism. Yes there are many exceptional things about the U.S. including this president's election, a point noted by the Nobel Committee, which awarded the then new incumbent its Peace Prize.
Our exceptionalness however hardly stands alone.
Is not Cuba also exceptional? Its contribution to raising the standard of health care for not only her citizens but also the world is second to none.
What about South Africa? This newly free country is almost alone in voluntarily dismantling its nuclear stockpile in a vastly underrated contribution to world civilization.
We could go on: Each country contributes an exceptional thread to the fabric of humanity. It's time for the U.S. to blend in, Mr. President, not stand out and alone.
Photo: President Barack Obama speaks during his address to the 68th Session of the United Nations General Assembly in New York, Sept. 24. (Andrew Burton/AP)