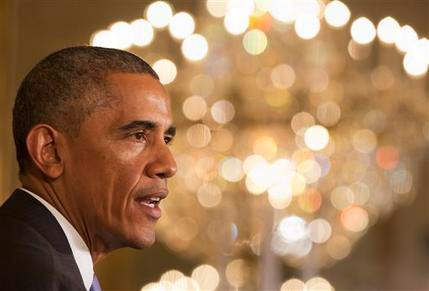 Without mentioning Wisconsin's GOP Gov. Scott Walker by name, President Obama blasted Walker for opposing an increase in Wisconsin's $7.25 minimum wage.
"Mary Burke doesn't believe that the minimum wage 'serves no purpose,'" Obama said, referring to a comment by Walker dismissing proposed increases in the minimum wage. The crowd of 3,500 people who packed North Division High School in Milwaukee's African American community, Oct. 28 greeted Obama's speech with cheers and applause.
He urged the crowd to work to turn out the vote in the Nov. 4 midterm election and to cast their ballots to replace Walker with Democrat Mary Burke. Polls show Burke and Walker in a dead heat, the outcome dependent on how many voters turn out in Milwaukee, Green Bay, Madison and other workingclass strongholds.
"Wisconsin lags the rest of the country when it comes to job growth," the President continued. "Over the next week you have the chance to change that. You have a chance to choose a governor who doesn't put political ideology first, who is not thinking partisan first."
The next day, the Wisconsin AFL-CIO staged a "get-out-the-vote" rally in Green Bay. Steelworker President, Leo Gerard, told the crowd, "This election is about whether we have a governor who cares about the things working people care about or whether we get a governor who doesn't care about people at all."
Gerard slammed Scott Walker for turning his back on workers. "He couldn't even say he supports a minimum wage," Gerard said adding that Walker "wants to dictate and take rights away. He wants to take away collective bargaining, the right to health care, the right to vote, the right to a decent wage, to a decent job."
The crowd then fanned out in Green Bay's workingclass neighborhoods with placards reading, "Steelworkers for Burke."
Obama was barnstorming across the country to turn out the vote in this "too-close-to-call" election. He was scheduled to appear in Portland, Maine, at an Oct. 30 rally for Rep. Michael H. Michaud who is in a tight three-way race for governor with incumbent Republican Governor Paul LePage and Independent, Eliot Cutler. Election activists in Maine charge that Cutler is a "spoiler" and should drop out of the race. Maine's popular Independent U.S. Senator, Angus King, has endorsed Democrat Michaud who worked for 30 years in a Maine paper mill.
Obama will then travel back to Detroit to campaign for Mark Schauer for governor of Michigan and for Gary Peters, a U.S. Senate candidate with a double-digit lead over his Republican opponent.
Sunday, Nov. 2, Obama will speak at a Philadelphia rally in support of Tom Wolf who is leading Republican incumbent, Tom Corbett, in the race for governor of Pennsylvania. Obama will also travel to Bridgeport, Connecticut for a rally in support of Connecticut Governor, Daniel P. Malloy.
Everywhere the President travels, the labor movement and other progressive organizations are phonebanking, doorbelling, organizing "get-out-the-vote" rallies to defeat the drive by the Republican extremists to take majority control of the U.S. Senate and expand their grip on state legislatures and governorships across the country.
Photo: President Obama speaks at an event with health care workers fighting Ebola Wed., Oct. 29 in East Room of the White House. Jacquelyn Martin/AP