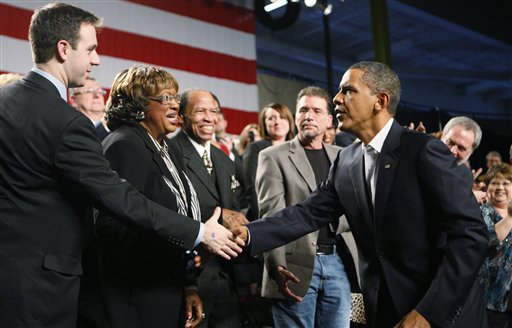 ELYRIA, Ohio – Lorain County, ravaged by closed plants, budget crises and double-digit unemployment, gave President Barack Obama an enthusiastic welcome Friday as he spoke at a town hall meeting and pledged to keep fighting "until we have an economy that works for everyone."
Union leaders here called it "a good shot in the arm" and the way for Obama to "reconnect with the people."
Speaking to some 1,500 workers, students and other residents in the field house at Lorain County Community College, Obama was relaxed and informal, expressing relief to get out of Washington and re-engage with ordinary people. The visit was the second leg of a "White House to Main Street Tour" following a trip to Pennsylvania's Lehigh Valley in December.
"These are difficult and unsettling times," Obama said. "We had to stabilize the financial system." Bailing out Wall Street was distasteful and unpopular, he said, but "we faced the possibility of a second Great Depression."
Because of federal assistance to General Motors and Chrysler, he said, vehicle production has rebounded. Because of other parts of the recovery program including aid to state budgets, reduced taxes on workers, extended unemployment benefits and "the largest investment in infrastructure since the interstate highway program," Obama said, "the worst of this economic storm has passed."
But, he added, the problems are far from over, and to repeated applause he pledged all-out efforts for a federal jobs bill, investment in clean energy, regulating financial institutions and credit cards, expanding access to health care and holding insurance companies accountable, adding that he was determined to get Wall Street to return every dollar it was loaned.
In response to audience questions, Obama said he was working to eliminate banks as middlemen in student loans, to guarantee the solvency of Social Security and to use a special White House office to revitalize manufacturing.
Obama acknowledged running into "a bit of a buzz saw this week," referring to the loss of a Senate seat to Republicans in Massachusetts.
But, he said, the fight must continue.
"This is not about me. This is about you," he said. "I win when you win."
And, Obama concluded, that means no let up in the fight for substantial reform of the health care system. The goal, he said, includes major controls on insurance companies regarding pre-existing conditions, ending lifetime caps on coverage and limiting out of pocket expenses. In addition, he said it means increasing access by reducing insurance costs through exchange pools for large companies and government bodies.
"Now is the best chance for reform," he said. "We can't put it off."
Obama blasted the scare tactics of those who claimed he was trying to cut Medicare, which he said will be broke in eight years if nothing is done. In fact, the cuts he advocates are in "the $17 billion in subsidies to insurance companies" that are draining Medicare and threatening its solvency.
Reaffirming his determination to win energy independence, Obama received a prolonged standing ovation.
"I was so thrilled to hear him speak," said Abigail Miller, 23, a dental technician student at the Community College "I feel very encouraged."
"This is how Obama can reconnect with the people," said Betty Thomas, Ohio state coordinator for AFSCME retirees. "This is the way to answer the lies and obstruction and re-energize everyone who worked so hard to elect him."
"The event was a good shot in the arm for our county," said Joe Thayer, president of the Lorain AFL-CIO, who, along with other area labor leaders and public officials, met with the president prior to the event. "I was really happy he was able to address local issues like the threat to our public transit system. He showed he is trying to do the right thing for us."
"He is very sincere," said Pat Gallagher, sub-district director of the United Steelworkers. "He is really trying to address our problems."
"He was terrific," said Harriet Applegate, executive secretary of the North Shore AFL-CIO, " He was confident and glad to be here."
"After the setbacks on health care, Massachusetts and the Supreme Court, I was expecting to be gloomier, but I'm inspired," she said.
Photo: President Obama greets audience members at the town hall meeting at Lorain County Community College in Elyria. (AP/Charles Dharapak)