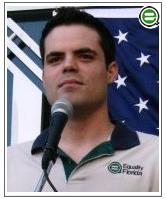 ORLANDO, Fla. – President Barack Obama has achieved a narrow victory in Florida over Mitt Romney, according to the recount finished on Sat., Nov. 10. The latest results posted on the Florida Division of Elections website show that Obama beat Romney by slightly more than 73,000 votes (about one percent) out of a total of about 8.5 million that were cast for president.
Florida, with its 29 electoral votes, was widely considered a battleground state, a must-win for both candidates, although in the end, it was President Obama's victory in another battleground state, Ohio, that put him over the top for a second term as president.
The latest presidential election in Florida has been marred by complaints about long lines at the ballot box, with some voters in Miami-Dade County not able to cast their ballots until 1:30 a.m.
Among the culprits are the reduction in the number of days of early voting, which resulted in more absentee ballots, which take more time to be counted. In 2011, Florida's ultra-right dominated Legislature, in a blatant attempt to reduce voting by those groups, such as African Americans, more likely to support Democrats, reduced the number of days of early voting in Florida from 14 to eight.
"Unlike the 2000 election where disparate voting technologies and razor-thin margins spawned an infamous recount, the long lines in some urban areas and the delay in vote counting are not defensible this time," editorialized the Tampa Bay Times. "This is the predictable aftermath of cynical efforts to suppress the vote and limit early voting by Gov. Rick Scott, the Legislature, and the Republican Party of Florida."
About 2.4 million Floridians used early voting in this presidential election, around 200,000 less than in the 2008 presidential election. Overall, more than half the votes cast for president in Florida in 2012 came from early voting and absentee balloting, with slightly more than 70 percent of Florida's 12 millioned registered voters participating in the election.
Complicating turn-out is the fact that Florida, one of only a handful of states that permanently disenfranchises convicted felons, had, according to a 2010 study by the Sentencing Project, 1.5 million voteless felons out of a population of 19 million. About one-third of these convicted felons are African American, meaning that 23 percent of the state's African American voting age population is barred from participating in the democratic process.
Exit polls posted on CNN.com show that Obama scored heavily in the Sunshine State among younger voters, African Americans, Latinos, Jewish people, and working people. Obama got a whopping 95 percent of the black vote; 66 percent of the vote, respectively, of Latinos, of Jews, and of those ages 18-29, and 59 percent of the vote of those who earn less than $50,000 a year. The president also got 78 percent of the vote of those who said health care is the most important issue facing the country. By contrast, Romney's main base in Florida was with white "born again" Christians, white men, white women, and those 65 and older. These groups gave him 79, 65, 58 and 58 percent of their votes, respectively.
Democrat Bill Nelson defeated Republican Connie Mack IV, a four-term House member, to win his third term in the U.S. Senate and help the Democrats retain control of that body, in a low-key campaign that Orlando Sentinel columnist Scott Maxwell describes "as one of the most boring Senate races in modern history."
Former Rep. Alan Grayson, a Central Florida Democrat known as a strong voice for health care and other issues affecting working people, easily defeated his GOP opponent to return to Congress after a two-year absence. Grayson won in the newly created U.S. House District 9, which includes parts of heavily Latino Osceola County. Grayson has announced that all of his staff will be bi-lingual.
Two members from Florida of the House Black Caucus and the House Progressive Caucus won re-election. Democratic U.S. Rep. Corrine Brown, who represents District 5, which stretches from Central Florida to North Florida, handily defeated her Republican challenger, while Democrat U.S. Rep. Frederica Wilson ran unopposed in District 24, in South Florida.
It appears likely that South Florida Republican Rep. Allen West, who earlier this year claimed that 80 Democratic members of the U.S. House were also members of the Communist Party (USA), has been defeated. After a partial vote recount on Sunday, Democrat Patrick Murphy led West by slightly more than 1,900 votes, although West, a member of the House Tea Party caucus, was still refusing to concede.
Florida's 27-member Congressional delegation will now include ten Democrats – a four-seat gain for the party.
Progressive forces in Central Florida scored a victory with the election of Democrat Joe Saunders as the representative from the newly created state House District 49, which is heavily Latino and also includes the 60,000-student University of Central Florida.
Saunders, 29, who heads the Orlando field office of Equality Florida, an LGBT rights group, is the first openly gay person elected to the Florida Legislature from Central Florida, and the second openly gay elected official in the area. (Three-term Orlando City Commissioner Patty Sheehan is the first.)
Joining Saunders in the Legislature is state Rep.-elect Victor Torres, D-Orlando. Torres was automatically elected this summer to represent the newly created House District 48 when no one else filed to run. The district includes parts of southeast Orlando and Osceola County, which is more than 40 percent Latino, and which Obama carried with 62 percent of the vote. Torres, 64, is a bus driver and a member of the Amalgamated Transit Union, Local 1596.
Overall, the election results mean that Democrats have picked up five seats in the state House, giving them a total of 41 seats in the 120-seat chamber and depriving the GOP of its previous 81-seat supermajority. Democrats also picked up two seats in the state Senate, reducing the Republican majority to 26 of that body's 40 seats. Among the newly elected state senators is former Rep. Darren Soto, who will be the first Latino from Central Florida to serve in the Senate.
In another victory for progressives in the Sunshine State, voters turned down three amendments to the state constitution that had been placed on the ballot by the ultra-right dominated Legislature and that were championed by social conservatives. The measures would have stopped state government from requiring individuals to buy health insurance (although it would not have affected the federal health care law), restricted abortion rights, and allowed state funding for religious organizations. All three amendments fell well short of the 60 percent plurality that the state constitution requires for passage.
Floridians also voted overwhelmingly to retain three state Supreme Court justices who had been targeted for defeat by the ultra-right, including a group funded by the Koch brothers, because of their rulings on such issues as the death penalty and an earlier anti-"Obamacare" constitutional amendment.
Photo: Joe Saunders Ben Markeson/PW