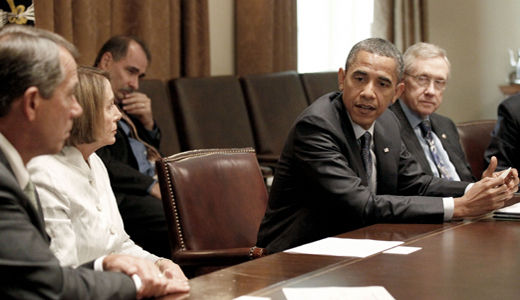 President Obama vowed at a closed-door White House meeting with Congressional leaders yesterday, July 27, that Democrats will end the Bush tax cuts for the rich and continue the middle class tax cuts they enacted last year.
Rep. John Boehner of Ohio, the GOP House Minority Leader clashed with the president, saying the tax cuts for the rich should be extended.
Obama said that the Republicans enacted tax cuts for the wealthy ten years ago, knowing they would help fuel deficits that would be left for another administration.
"I wasn't there," Mr. Boehner claimed. "I didn't structure that deal."
The room reportedly fell silent as the Congressional leaders digested the statement by Boehner who was first elected in 1990. "How long have you been here?" a Democrat asked Boehner, as the room broke out into laughter.
The Republicans in the room claimed that failing to extend the tax cuts for the wealthy would kill jobs provided by their companies but the president said most small business owners would not be affected since they do not have high enough income to be taxed at the two highest rates.
White House Press Secretary Robert Gibbs later told reporters that the president believes the tax cuts for the richest households – those individuals making more than $200,000 a year and couples with more than $250,000 – "are tax cuts that, based on our fiscal situation, simply can't be afforded."
New national polling shows large majorities against extension of the Bush tax cuts for the rich. In some polls even 40 percent of Republicans favor allowing the cuts to expire.
"That suggests that 40 percent of Republicans, who have been hearing the deficit hysteria since Barack Obama took office, are smarter than your average congressional Republican," wrote Joan McCarter of Daily Kos.
"Where was the growth that was supposed to happen after the Bush tax cuts?" asked Matt Yglesias of Thinkprogress.org yesterday. "The era during which Bush's tax policies prevailed was the first in which median household income declined…the worst peak-to-peak economic performance ever, followed immediately by the worst recession since World War II."
There is word on Capitol Hill, however, that not all Democrats can be counted on to back Obama's proposal for a permanent extension of the middle-class tax cut.
The Hill reported that an aide to House Majority Leader Steny Hoyer, D-Md., said Democrats were looking at "other options," including temporary extensions of the tax cut that would last more than a year.
Senate Finance Committee Chairman Max Baucus, D-Mont., has backed Obama's policy of extending the middle-class tax cuts permanently.
Sen. Ron Wyden, D-Ore., recently said he was "open" to a temporary extension of those cuts "that could set the stage for broader tax reform."
Photo: Pres. Obama meets with bipartisan members of Congress: House Minority Leader John Boehner of Ohio, House Speaker Nancy Pelosi of California, and Senate Majority Leader Harry Reid of Nevada, July 27, in Washington. (Pablo Martinez Monsivais/AP)