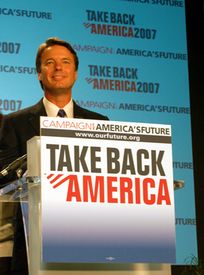 WASHINGTON — Democratic presidential candidates Barack Obama and John Edwards topped a straw poll of liberal and progressive activists at the Take Back America conference here June 20.
What that all means is up for fierce speculation in the blogosphere.
Comments posted on politico.com, which conducted the poll, ranged all over the map, from "Obama was electrifying; Hillary was a big dud. No surprise there," to "I hope he wins in the peoples (sic) minds but not for President of this Nation! Where is he from, anyway?" to "Who cares?" to comments supporting Hillary. There was some nasty Muslim-baiting too.
At the 3,000-person conference Obama certainly got rock star status. The atmosphere was indeed electrifying and the crowd seemed to appreciate his "vision" speech designed to inspire even the most cynical into believing that hope is still alive.
But it was Edwards, whose speech included more details about his program, who also impressed the crowd. A student from Southern California said, "I really liked Edwards because he spelled out more of his plan."
And the poll shows that. When asked about issues and candidates, Edwards beat Obama and Clinton on Iraq and health care — the top two issues among those polled. Energy/global warming and the economy/jobs were the third and fourth most important issues participants chose.
Overall, Obama polled at 29 percent, Edwards at 26 percent, Hillary Clinton at 17 percent, Bill Richardson at 9 percent, and Al Gore — a write-in — at 8 percent, topping left favorite Ohio Rep. Dennis Kucinich who got 5 percent. Former Alaska Sen. Mike Gravel, Sen. Chris Dodd of Connecticut and Sen. Joe Biden of Delaware all got 1 percent. Gravel was the only one of the last three who addressed the conference, introduced by Ralph Nader, who got a lukewarm reception.
Richardson, the governor of New Mexico and former Clinton administration official, who has Mexican American roots, is not as well known as the top three, but impresses people when they hear him.
Much was made of the crowd booing Clinton when she blamed the Iraqi government for all the problems caused by the U.S. invasion and occupation, but she won the crowd back with a number of issues not mentioned by the other candidates, including the Bush administration's relentless attack on science.
Clinton polled higher among women than among men, drawing numbers very close to Obama and Edwards: Clinton, 22 percent; Edwards, 25 percent; and Obama, 27 percent.
But Obama's vision appeared to resonate profoundly among voters aged 18-29, who gave him a whopping 40 percent.
With the first primaries still six-plus months away, there is still a lot of campaigning ahead. This poll is really an indication of the struggle over the direction of the Democratic Party and who among its base will be in the driver's seat. Progressives, energized by the 2006 congressional victory and hungry for a 2008 sweep, have some momentum, fueled by broad public opinion wanting real change on Iraq and health care. But there is still a ways to go to turn that into a committed grassroots operation that can win the hearts and minds of voters from Augusta, Ga., to Zanesville, Ohio.
talbano @pww.org