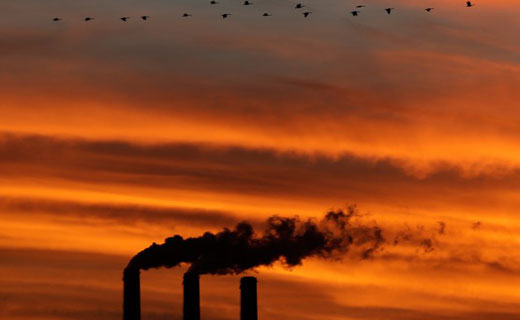 The Obama administration is developing a more aggressive policy on environmental issues this year, as President Obama increasingly sees fighting climate change as one of the core components of his legacy. This was most evident during a recent victory for the EPA, whose authority to regulate coal plant pollution was upheld by the Supreme Court. Now, the administration is feeling a renewed push to enact comprehensive legislation to fight global warming.
The EPA's triumph came in the form of a six-to-two favorable ruling April 29, giving it the green light to continue to crack down on coal plant emissions, implementing several new regulations granted to the agency under the Clean Air Act. The regulations cover cross-state air pollution and in particular focus on curbing pollution that spreads from Midwestern and Appalachian states to eastern states.
Conservationists, meanwhile, are applauding an upcoming plan by the Obama administration to use its executive authority to designate pristine ecosystems – particularly areas in California and New Mexico – as off-limits to development. Presidents have, in the past, used their authority under the 1906 Antiquities Act to restrict the use of areas of public land, but environmentalists have long critiqued Obama for not doing enough to protect such areas. But the President will now make good on his State of the Union address, where he remarked he would use his authority "to protect more of our pristine federal lands for future generations."
But the full scope of Obama's focus on climate change was on display on March 4 in the administration's budget proposal, which sought $1 billion as part of a "climate resiliency fund" that will cope with the impacts of global warming, including changing how the government deals with wildfires and acquiring funding to redesign or enhance infrastructure to deal with rising sea levels. This came on the heels of a White House meeting in April between the President, eight governors, and White House counselor John Podesta on new ways to address climate change and drought. Podesta previously advised former president Bill Clinton on environmental policies, and came to this administration at the beginning of the year.
Gov. Jay Inslee, D-Wash., who attended the meeting, said working with Podesta is a sign of Obama's fierce commitment to addressing environmental problems. "Podesta speaks through his actions," said Inslee. "The session demonstrated in the most tangible way how committed the President is to trying to address this issue. It showed that we have a real situation, and they said as much."
Obama has recently also become critical of fracking, expressing concern over the natural gas operations' release of methane into the atmosphere, and on Mar. 28, the President outlined a strategy for addressing such emissions. Part of that will go into effect quite soon, with the climate action plan summary stating, "In the spring of 2014, the EPA will assess potentially significant sources of methane and other emissions from the oil and gas sector. The EPA will solicit input from independent experts and in the fall of 2014 determine how best to pursue further methane reductions from these sources."
These important steps will, activists hope, lead to a stronger fightback by the Obama administration against climate change, especially in the midst of troublesome projects, like the Keystone XL pipeline, that pose ecological threats and continue to rely on dirty fossil fuels.
Obama has stated he has "no patience" for climate change skeptics, and on May 5 Podesta offered this message to those who continue to doubt or deny the effects of global warming: "I'd say that you should probably look out your window, and you'll begin to feel the effects," he said. "But 97 percent of scientists agree. This is well-known science now. The data continues to come in. If anything, we're seeing some of the effects predicted by our models coming in more quickly."
To drive the point home further, a national committee of over 300 experts in agriculture, climate science, commerce, and disaster relief, led by a 60-member federal advisory committee, released its National Climate Assessment today at the White House, in which it examined the health and economic toll that climate change is having on the country.
The report shows that "the need to move away from dirty fossil fuels such as coal and fracked gas, the leading sources of climate-disrupting carbon pollution, could not be clearer or more urgent," said Michael Brune, executive director of the Sierra Club. "Today's climate report shows that the cost of inaction is far too great."
Photo: A coal plant near Emmett, Kansas. Charlie Riedel/AP