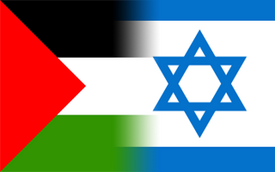 Coming a day after his private summit meeting with Israeli Prime Minister Benjamin Netanyahu and Palestinian Authority President Mahmoud Abbas, Obama's address to the UN General Assembly today indicated he intends to pursue resolution of the 60-year conflict as a centerpiece of his foreign policy.
As part of that process, he said, "we will also pursue peace between Israel and Lebanon, Israel and Syria, and a broader peace between Israel and its many neighbors. In pursuit of that goal, we will develop regional initiatives with multilateral participation, alongside bilateral negotiations."
Speaking bluntly about what he sees as required, Obama told the assembled heads of state, "All of us must decide whether we are serious about peace, or whether we only lend it lip-service. To break the old patterns – to break the cycle of insecurity and despair – all of us must say publicly what we would acknowledge in private. The United States does Israel no favors when we fail to couple an unwavering commitment to its security with an insistence that Israel respect the legitimate claims and rights of the Palestinians. And nations within this body do the Palestinians no favors when they choose vitriolic attacks over a constructive willingness to recognize Israel's legitimacy, and its right to exist in peace and security."
"After all of the politics and all of the posturing," Obama declared, "this is about the right of every human being to live with dignity and security. That is a lesson embedded in the three great faiths that call one small slice of Earth the Holy Land. And that is why – even though there will be setbacks, and false starts, and tough days – I will not waver in my pursuit of peace."
The U.S.-Israeli-Palestinian summit reportedly came about due to pressure from Obama. The fact that the three-way meeting actually happened was something of a surprise to many.
According to Haaretz correspondent Aluf Benn, the right-wing Netanyahu government had been portraying Obama as a "dishrag" unequal to the heroic strength of "Popeye" Netanyahu who was refusing to bow to Obama's pressure to stop settlement construction in the occupied Palestinian territory as a way to jumpstart negotiations.
At the same time, Palestinian leaders had said they would not meet with Netanyahu because of his refusal to halt settlement construction. Saeb Erekat, the chief Palestinian negotiator, had called the chances of convening the summit "zero."
"In this situation, with his determination and credibility subject to doubt, Obama had to assume the mantle of leadership," Benn commented in Haaretz. "The message he wished to send during the summit is that he has no patience for the endless mutual recriminations and the heavy historical burdens that are weighing down both sides."
Obama indicated following the summit meeting that he was not going to let negotiations be blocked by Israel's refusal to stop settlement construction.
Administration officials told reporters that Obama had made it clear to Abbas and Netanyahu that he wanted negotiations to resume "about all outstanding issues," based on agreements that have already been reached going back to the Oslo talks 16 years ago.
"We won't start the negotiations from scratch, we will not take the historical record and toss it aside," Obama told reporters. "Nor will we wait for the perfect formula."
Following the summit, Erekat expressed pessimism about prospects, noting that neither Obama nor his special envoy George Mitchell had been able to get Israel to halt settlement activity.
"We thought that the invitation of President Obama was a personal invitation that reflected the commitment to achieve the two-state solution," Erekat said, according to the Palestinian Ma'an News Agency.
While Erekat applauded Obama and Mitchell's efforts, he lamented that since "the Americans cannot have the Israelis comply with stopping settlement activities," little more could be expected from Israel on larger issues.
Alluding to Netanyahu's reliance on a shaky far-right coalition, Erekat said, "If the Israeli government believes that they [can] maintain their coalition by saying Jerusalem is not going to be negotiated, refugees is not going to be negotiated, settlements will continue, then they can make peace between themselves."
Yet Obama appeared determined to press strongly for serious negotiations. "It's difficult to disentangle ourselves from history but we must do so," he told reporters. "The only reason to hold public office is to get things done. We all must take risks for peace."
"We cannot continue the same pattern of taking tentative steps forward and then stepping back."
"Simply put, it is past time to talk about starting negotiations," Obama said. "It is time to move forward. … Permanent status negotiations must begin and begin soon."
suewebb @ peoplesworld.org