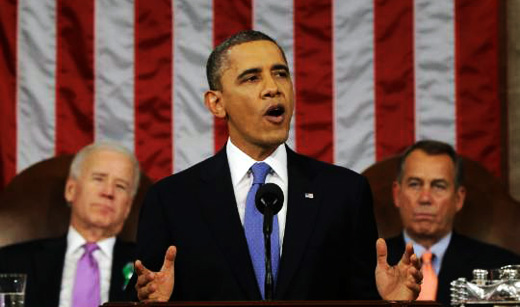 WASHINGTON – In a stirring, emotionally charged State of the Union address Tuesday night, President Obama laid out a second-term agenda to create jobs, increase the minimum wage, promote science and education, stop gun violence, and defend voting rights.
Empowered by a strong re-election mandate, Obama made his speech the launching pad for a campaign to win passage of his agenda despite Republican obstructionism. Moments after his address, Obama met in a telephone conference with 100,000 activists in his Organizing for Action network across the nation.
The next morning, Obama flew to Asheville, N.C., to speak to autoworkers, urging quick action on his jobs program. He was scheduled to fly on to Georgia and Illinois for speeches to worker rallies on factory floors.
Obama delivered his State of the Union speech to Congress, officials and other dignitaries – and to a national television audience. He urged Congress to approve a budget that avoids "sequestration" – the across-the-board budget cuts totaling $1 trillion that will be imposed this month if Congress fails to act.
Obama denounced the "sudden, harsh, arbitrary cuts" that would "devastate priorities like education, energy and medical research" while slowing economic recovery and costing hundreds of thousands of jobs.
Some in Congress, Obama, said, propose to exempt the Pentagon from cuts "by making even bigger cuts to things like education and training, Medicare and Social Security benefits…. That idea is even worse."
Obama received a standing ovation, warning that "we can't just cut our way to prosperity" by laying off teachers, police officers, and firefighters.
He called for tax reform that ensures that billionaires don't pay lower taxes "than their hardworking secretaries" – to generate higher revenues to create jobs and keep public servants on the job.
Without mentioning the tea party Republicans, Obama decried their obstructionist strategy of pushing the nation from "one manufactured crisis to the next."
He urged Congress to approve sections of his American Jobs Act not enacted during his first term, and to restore manufacturing in the U.S. by establishing 15 manufacturing institutes like the one his administration created in Youngstown, Ohio.
He called for increasing the minimum wage from its current $7.25 an hour to $9.00 an hour. "Even with the tax relief we've put in place, a family with two kids that earns the minimum wage still lives below the poverty line. That's wrong," he said. "Tonight, let's declare that in the wealthiest nation on Earth, no one who works full time should live in poverty." He also proposed future automatic increases as the cost of living rises.
Obama also called for enactment of the long-stalled Paycheck Fairness Act and urged the House to follow the Senate's lead and approve the Violence Against Women Act.
The nation's rusting bridges and collapsing schools call for immediate enactment of infrastructure construction and repair legislation, he said, calling the program a "Fix-It-First" bill that would also create many full-time jobs.
He emphasized the urgency of acting on climate change "for the sake of our children," noting that a green economy is also a job-creator. "Heat waves, droughts, wildfires, and floods – all are now more frequent and intense," he said. "We can act as if these were a freak coincidence or we can choose to believe the overwhelming judgement of science and act before it is too late."
Obama called for cutting in half over the next 20 years the energy wasted by inefficient homes and businesses. He called for more wind and solar power. Yet he also praised domestic production of oil and natural gas – both carbon fuels that increase global warming – in an attempt to appease the oil, gas, and coal monopolies.
He urged Congress to approve comprehensive immigration reform, praising bipartisan efforts in the Senate and House to draft such legislation. He called for a path to citizenship for the nation's millions of undocumented immigrants. "Let's get this done," he said.
Obama announced that 34,000 American soldiers will be withdrawn from Afghanistan and that U.S. involvement there will end at the end of next year. But, without mentioning drone warfare, he spoke of a "range of capabilities" to take "direct action against terrorists." He promised "transparency" in these military operations. But observers doubted these vows will silence the growing criticism of drone attacks.
The president called for measures to protect "our most fundamental right as citizens" – the right to vote. He announced that he has appointed a bipartisan commission to come up with ways to protect voting rights. In a dramatic gesture he introduced Desiline Victor, a 102-year-old woman from North Miami, who sat in the galleries. Ms. Victor, Obama said, waited in line for over six hours to cast her ballot last November, refusing to yield to the voter suppression tactics of the Florida Republicans.
The dramatic highpoint came as Obama appealed for Congress to vote for tough measures to end gun violence. He introduced Nate and Cleo Pendleton sitting beside First Lady Michelle Obama in the galleries. They are the parents of 15-yea- old Hadiya Pendleton, a drum majorette who performed at Obama's inauguration. One week later, she was shot and killed in a Chicago park one mile from Obama's home.
"They deserve a vote," Obama thundered. "Gabby Giffords deserves a vote. The families in Newtown deserve a vote. The families of Oak Creek and Tucson and Blacksburg and the countless other communities ripped open by gun violence – they deserve a simple vote."
Photo:President Barack Obama, flanked by Vice President Joe Biden and House Speaker John Boehner of Ohio, gives his State of the Union address during a joint session of Congress on Capitol Hill in Washington. Charles Dharapak/AP