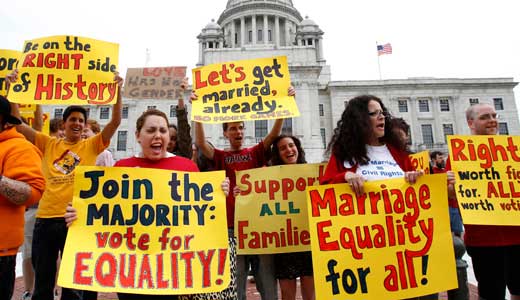 President Barack Obama declared yesterday that he supports the right of same-sex couples to marry, a landmark proclamation made just one day after the state of North Carolina voted to amend its constitution to make such marriages impossible in that state.
Obama became the first sitting U.S. president to endorse the right of gay and lesbian couples to marry.
The president told ABC News that, after reflection, he had decided, "For me personally it is important for me to go ahead and affirm that I think same-sex couples should be able to get married."
On Tuesday North Carolina voters approved a constitutional amendment forbidding not only same-sex marriage, but also civil unions for gay and lesbian couples.
Gay and lesbian voters were a key part of the broad coalition including union members, Black, Latino, Asian, Native American communities, women, students and other groups that came together to elect the president in 2008.
Public opinion polls now show a majority of Americans agree with the president. In the latest NCC/Wall Street Journal poll on the matter, 49 percent of the public backs gay marriage rights with 40 percent in opposition.
Obama explained that he came out in support of same-sex marriage because he realized, in time, that civil unions, which he previously supported, were not sufficient.
"I have to tell you that over the course of several years as I have talked to friends and family and neighbors when I think about members of my own staff who are in incredibly committed monogamous relationships, same-sex relationships, who are raising kids together; when I think about those soldiers or airmen or marines or sailors who are out their fighting on my behalf and yet feel constrained, even now that 'Don't Ask Don't Tell' is gone, because they are not able to commit themselves in marriage, at a certain point I've just concluded that for me personally it is important for me to go ahead and affirm that I think same sex couples should be able to get married." Obama said.
The president's announcement follows by less than a week Vice President Joe Biden's televised support for same-sex marriage.
"I am absolutely comfortable with men marrying men, women marrying women and heterosexual men and women marrying one another and they are all entitled to the same exact rights, all the civil rights, all the civil liberties," Biden said on NBC's Meet the Press. "And quite frankly I don't see much of a distinction beyond that."
Biden's statement was followed a day later by Education Secretary Arne Duncan's pronouncement on MSNBC's Morning Joe also in support of same-sex marriage.
While some in the media said the president acted to garner financial support from wealthy gay and liberal donors, or that he is seeking the votes of liberal suburbanites most saw his announcement as an act of unprecedented courage.
On MSNBC, Pearl Berlin, 80, a lesbian who has spent 45 years in a relationship with another woman, Lennie Gerber, said, as she held Gerber's hand, that she was "thrilled that I have lived long enough to see the President of the United States of America, get on television and affirm the love and joy we feel for each other. This tempers the sadness that I felt yesterday when people in my state told me that everyone, except lesbians and gays, was created equal."
Gay and lesbian rights groups hailed the historic announcement.
"Thanks to President Obama's leadership, millions of young Americans have seen that their futures will not be limited by what makes them different," said Joe Solmonese of Human Rights Campaign.
"And now, in supporting marriage equality, he's extended a message of hope to a generation of young LGBT Americans, helping them understand that they too can be who they are and flourish as part of the American community."
GOP presidential candidate Mitt Romney repeated his opposition to both same-sex marriage and civil unions yesterday.
"I have the same view on marriage that I had when I was governor and that I've expressed many times," he said following the president's statement. "I believe marriage is a relationship between a man and a woman."
Observers note it will be difficult for opponents to accuse the president of political expediency on this issue, however. Of the 18 states making up the "toss-up" or "lean" categories in battleground electoral maps, 10 have banned same-sex marriage and civil unions, whether by constitutional amendment or law. Just two – Iowa and New Hampshire – have legalized gay marriage outright.
Leaders of major unions have come out in support of the president's pronouncement, giving him key support in the event of expected attacks from the right wing. Fox News and Rush Limbaugh have already accused the president, for example, of "waging a war on marriage."
"Working people believe in equality and fairness," AFL-CIO President Richard Trumka said, "and that's why we are happy to stand with millions of Americans and President Obama in supporting marriage equality."
Trumka said, "We should respect and honor our friends, neighbors and family members who want to take care of their families and their loved ones – whatever their sexual orientation."
President of United Food and Commercial Workers Joe Hansen said, "We have a long history of standing up for fair and equal treatment of all workers – regardless of what they look like, where they come from, what language they speak, or who they love."
Despite some states' bans on same-sex marriage, there is a shift in public support. This has happened most dramatically among independents, who back marriage rights for gays 46 percent to 37 percent. Three in 10 Republicans say they, too, support gay marriage rights.
"President Obama's announcement was historic," said John Bachtell, vice chairman of the CPUSA.
"It reflects the rapidly changing attitudes of the American people for equality for gays and lesbians. His announcement elevates the fight for democracy and democratic rights while putting those obstructing the right of same-sex marriage, primarily the Republicans and extreme right, on the defensive."
Photo: At a rally in front of the Statehouse, in Providence, R.I., May 3, 2011, calling for marriage equality for gays and lesbians. Steven Senne/AP