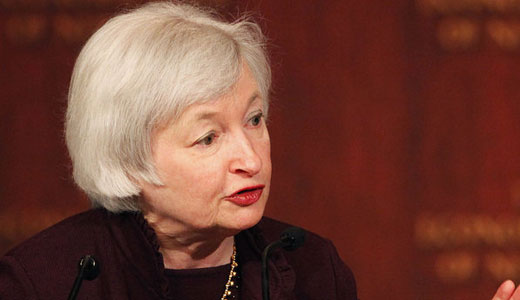 WASHINGTON – President Obama has nominated Janet Yellen, Federal Reserve vice chair, to run the Federal Reserve, the most important central bank in the world.
If confirmed by the U.S. Senate, Yellen will be the first woman to lead the Federal Reserve in its 100-year history.
Terry O'Neill, president of the National Organization for Women, praised the nomination, describing it as "another crack in a glass ceiling that needs to be shattered. O'Neill said that "in the middle of a government shutdown brought about by bitter extremism, Dr. Yellen's nomination is an opportunity for Republicans to show they really can work with Democrats – they should take it."
Yellen won confirmation to her original term on the Federal Reserve in a 94-6 vote, and sailed through her confirmation as Fed Vice Chair on a voice vote.
In addition to women's groups, the nomination of Yellen is getting high marks from labor and its allies who see her promotion as a sign that the Federal Reserve will acknowledge that bringing down unemployment is no less important than keeping inflation in check.
"The AFL-CIO applauds President Obama for nominating Janet Yellen," the nation's largest labor federation said in a statement today. "Prof. Yellen is a brilliant economist with a strong record of leadership."
Yellen has earned a reputation as the Fed official most concerned about unemployment and least concerned about inflation.
"With employment so far from its maximum level and with inflation running below 2 percent, I believe it's appropriate for progress in the labor market to take center stage in the conduct of monetary policy," she said in March.
Yellen served as president of the San Francisco Federal Reserve Bank where she says she got a firsthand look at the over-heated real estate market. She was first among her colleagues to warn of the impending and disastrous housing bubble, a major factor in the Great Recession.
"President Obama's nomination of Janet Yellen to be the next chair of the Federal Reserve is encouraging news," said Josh Bivens, an economist at the Economic Policy Institute. "Most importantly, she has had a correct diagnosis of what is driving the chronic joblessness crisis in the U.S. economy: aggregate demand for goods and services remains too weak to support full employment."
Bivens said that the "contractionary" fiscal policy pursued in recent years has caused the recovery from the Great Recession to proceed much more slowly than it otherwise would have.
"Government spending over this recovery has been nowhere near the trajectory it was on after every single other recession since World War II," he explained. "Had it been equivalent to the increased spending trajectories that happened after those prior recessions, 90 percent of our excess unemployment would be gone by now. And, the unfortunate thing is that we just didn't do things to slow the recovery but we actually did things to additionally damage the economy.
"Soon after the recession hit, we began on a path to austerity – this was damaging enough but then, on top of that, we threw in the sequester. Even without the sequester we were on a path to 700,000 fewer jobs at the end of 2013. With the sequester, it's worse."
Obama selected Yellen after a former economic adviser, Lawrence Summers, withdrew from consideration in the face of strong opposition from progressives in the president's own Democratic Party. With Republicans opposing anything Obama does and the opposition of liberal Democrats it would have been impossible, observers say, for Summers to win Senate confirmation.
"In any case," said Bivens, "Yellen is a much better choice because she doesn't have Summers' long record of deregulating the financial sector.
Bivens said he was also impressed by Yellen's "willingness to admit" that in the early 2000's the Fed didn't "worry enough" about the housing bubble and deregulation. "She has the ability to come out and say 'we were wrong.' That's encouraging." Yellen made those admissions he was referring to at a March forum held at AFL-CIO headquarters in Washington D.C.
Republicans can be expected to challenge the president's nomination of Yellen. Conservatives disapprove of her position that inflation is less worrisome than unemployment. Senator Richard Shelby of Alabama, a Republican, said he has concerns about her "proclivity to print money."
"I voted against Vice Chairman Yellen's original nomination to the Fed in 2010 because of her dovish views on monetary policy," Sen. Bob Corker of Tennessee, another Republican said. "We will closely examine her record since that time, but I am not aware of anything that demonstrates her views have changed,"
Bivens said that both Republican senators were echoing the big business policy of pushing aside concern for employment and highlighting concerns about inflation. He explained that in recent years the Fed has tried to bolster the economy by annually purchased roughly $80 billion in treasury bonds, thereby infusing more cash into the stagnant economy. Yellen is expected to continue, if not step up this policy.
"While this helps working people and, when combined with keeping interest rates low helps a bit more you can't solve joblessness with just using one monetary policy vs. another," Bivens said. "Job creation requires massive federal spending to create the jobs the private sector is not creating."
Yellen is expected to continue, if not strengthen, the Fed's commitment to keep interest rates steady at least until the U.S. jobless rate goes down to 6.5 percent, as long as inflation does not go above 2.5 percent. The official jobless rate now is 7.3 percent.
Photo: Mark Lennihan/AP