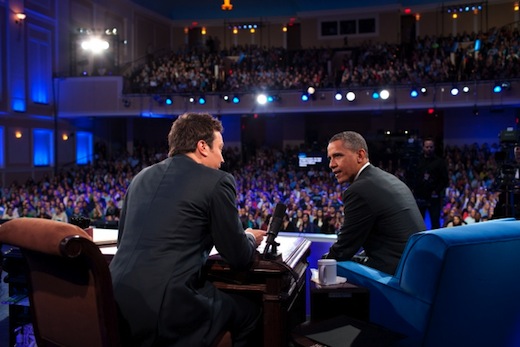 CHICAGO – President Barack Obama is on the road again, this time to warn students about a pending interest rate hike on college loans if Congress doesn't act. Travelling to campuses in politically important presidential battleground states like North Carolina, Colorado and Iowa, the president says he wants Congress to keep the current interest rates.
If the rates are allowed to double on July 1, students will pay on average $1,000 more in interest on government-guaranteed Stafford loans. Students carry on average $25,250 in debt while facing the highest unemployment rate in recent history at 9.1percent, according to projectstudentdebt.org. Two-thirds of college seniors graduated with loans in 2010.
The president told students that he and First Lady Michelle Obama were "in your shoes" and didn't pay off their student loans until eight years ago.
"I didn't just read about this," he said. "When we married, we got poor together."
(Story continues below video embed; President Obama "slow jams" the news on Jimmy Fallon show.)
U.S. student loan debt is estimated at $1 trillion, surpassing credit card and auto-loan debt. Just over 14.5 million people under the age of 30 owe $294.93 billion with a growing number of Americans over the age of 50 – 6.3 million – owing $134 billion.
Shannon Enorense, a computer science major at Northeastern Illinois University here, is a returning student who isn't worrying about loans – this time.
"I've paid for my education out of my pocket, thanks to finding gainful employment in my 20s – something that will be a challenge for the younger generation until we are out of this recession and more jobs are created," she said via email.
After working and going to school for the past 20 years, Enorense graduates next month. The average student debt for graduating seniors in Illinois is $ 23,885.
Enorense said she didn't pay too much attention to interest rates on her student loans when she was younger.
"I signed on the line," she said. "Paying it back was something I would think about 'when I grew up'."
Enorense said she fears the younger generation may be more focused on getting through college than debt after graduation.
Younger students, she said, "may not be paying attention to the loan rates because their mindset isn't on paying it back, but instead just getting through the semester with good grades. I feel sorry for them because the job market is flooded with educated workers, and if you are hired you will likely be paid less than you deserve. Paying back the loans with a higher interest rate will be like signing up for a 30-year fixed mortgage. It seems like it never ends."
Enorense said Congress should definitely keep the rate low.
"It will give students from all economic backgrounds a chance to higher education. With globalization threatening our job market, everyone needs the opportunity for education so they can compete. If it is too expensive, many will forfeit their chance," she said.
In response to the president's tour, GOP challenger Mitt Romney got out his Etch-a-Sketch and changed his position on the pending hike. He now opposes it. Yet, House Republicans are balking at extending the 2007 interest rate cut, saying the $6 billion cost would be a burden to taxpayers.
That is short sighted, critics say.
"Republicans would rather pile that burden on the backs of taxpayers-to-be, specifically the 7.4 million students who now have federally subsidized Stafford loans and the millions more who will need them," writes The New York Times in an April 24 editorial.
"House Republicans are far more interested in cutting taxes, largely for the rich, than they are in helping low- and middle-income students get a college education," the editors said.
Photo:President Barack Obama talks with Jimmy Fallon during a taping of "Late Night With Jimmy Fallon" at Memorial Hall on the University of North Carolina Chapel Hill campus in Chapel Hill, N.C., April 24. (White House/Pete Souza)