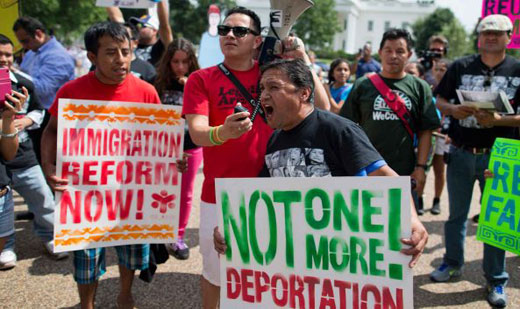 The following is a statement released by the president of the AFL-CIO, Richard Trumka, on President Barack Obama's speech, calling on Congress to pass immigration reform.
Today millions of immigrants received needed reassurance from the president that despite chaos in Washington, immigration reform can get done. We commend President Obama for renewing his commitment to passing immigration reform this year and urging Republicans in the House to act quickly. As pointed out by the president our current system, which allows businesses that exploit workers through wage theft, lack of benefits and intimidation, is unfair to all workers and unfair to responsible businesses that play by the rules. Republicans who support business should be able to get behind this.
The legislation passed by the Senate while imperfect aims to solve many of the problems with our current system. And the recent bill introduced by House Democrats is also a step in the right direction. We stand firm in calling for a permanent solution that puts 11 million aspiring Americans on the path to citizenship.
But absent from the president's speech was the mention of our current deportation crisis. Every day more than 1,000 aspiring Americans are deported, mothers and fathers separated from children. While we work toward a long-term solution, we urge the president to put an end to deportations of people who will soon be eligible for the roadmap to citizenship. Ending deportations is the right thing to do as a country that honors families and the quest for the American dream.
Editors' note: Dream Activist issued an urgent call to prevent the deportation of one of the #Dream30 and for all 30 to be allowed to come home to their families. You can make the calls and sign the petition here: http://action.dreamactivist.org/bringthemhome/